Charlize Theron Says Reading the Bombshell Script Felt Like a "Gut Punch"
The actress, who played Megyn Kelly in the 2019 film, discusses her mother's reaction to her shaved head, her first obsession, her fears, and more.
---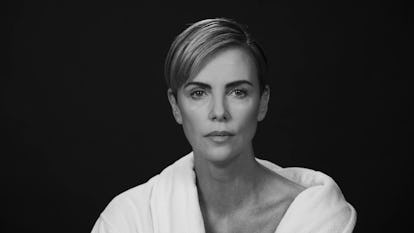 When Charlize Theron first encountered the script for Bombshell, the 2019 film that's racked up more than a dozen award nominations, she was instantly hit by the weight of the subject matter—the sexual harassment allegations lodged against Fox News head Roger Ailes.
Reading it, she tells Lynn Hirschberg in her Screen Tests interview, left her "feeling like somebody had kind of like punched me in the gut. There was something very visceral about reading it that just was very easy to imagine and felt like it had all this potential to be incredibly dramatic, and irreverent, and funny, and dark."
Still, the South African actress didn't automatically think of herself for the role of Megyn Kelly—in fact, she initially approached the film more from the point of view of a producer.
"I read it…[thinking] that this movie is so needed right now. The synergy of the time, of making this right now and the cultural conversation that's happening right now—I've just never had anything like that in my entire career," Theron said. "That felt really special. I was like, I should take advantage of that."
At this point, however, it's hard to imagine any other actress so completely inhabiting the news anchor's role. Theron's resemblance to Kelly in the film is so uncanny that fans and reviewers have gone on about it at length. And apparently, no one was as thrown off as Theron's own mother.
"Yeah, she freaked out. She brought the kids to set a couple of times and I think it started for her there," Theron said.
"I remember the day I shaved my head," she added. "I drove into her driveway and I didn't even tell her I was going to shave my head. I just walked into her house like nothing was going on and she stopped and just went, 'Oh.' I realized [with] my mom now, nothing is a shock anymore."
Related: Charlize Theron on Therapy, Adoption, and Her Love for Temptation Island