Watch: Charlize Theron Speaks
The actress opens up over the years in four video interviews.
---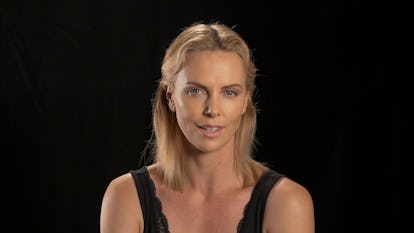 W's May 2015 cover star talks about being a mother, shaving her head, and more in her most recent video interview with W Editor at Large Lynn Hirschberg, but this isn't her first time in front of our camera. In 2013, she explained what it was like to grow up without front teeth, her obsession with musicals, and what to do with breast-enhancing "cutlets" on a date; and in 2012, Theron and her Prometheus co-star Michael Fassbender revealed why it can be fun to die on screen and how uncomfortable it can be to film a nude scene. Watch them all here:
Charlize Theron Through the Ages
While some celebrity style stories involve more than a few early missteps, Charlize Theron's starts out strong and only gets better. In one of her first appearances at the premiere of "Mad City," the newcomer looked lethal in a sleek black camisole dress, barely-there sandals, and a shiny blonde bob that looks as fresh now as it did in 1997.
Photo by Getty Images.
Theron added a bit of shine for the 2000 premiere of "Reindeer Games" with a one-shoulder silver dress, black square-toe sandals, thick bangs, and a metallic mani. Remember it was 2000, this was cool.
Photo by Getty Images.
By 2004, Theron was a bona fide star—and naturally, she dressed the part. Accepting the Academy Award for Best Actress for her role in "Monster," she looked anything but in a gold Gucci gown, a diamond cuff bracelet, and Old Hollywood waves.
Photo by Getty Images.
Fresh off her Oscar win, Theron ruled the 2005 Golden Globes in a midnight blue Dior gown and a dark black 'do.
Photo by Getty Images.
Nominated for her role in "North Country," Theron took to the 2006 Oscars in one of her best looks yet: a forest green silk leather dress by John Galliano for Dior. Though she lost to "Walk the Line" star Reese Witherspoon, her look—complete with black nails, gold gems, and a teased up 'do—won serious style points.
Photo by Getty Images.
For the 2007 premiere of "East of Havana," the actress got into character as Producer of the film in a sleek black and white silk suit, oxblood nails, and severe, slicked-back hair.
Photo by Getty Images.
Continuing her flawless red carpet streak—and role as the face of Dior—Theron stunned at the 2008 premiere of "Hancock" in a fluffy crème Dior frock, a chartreuse clutch, and leopard-print sandals.
Photo by Getty Images.
While Theron's lilac Dior Couture gown at the 2010 Golden Globes landed her on Worst Dressed lists around the globe, we consider the look a success: it was perfectly accessorized, daring, and, best of all, got everyone talking.
Photo by Getty Images.
At the 2012 Golden Globe Awards, the actress glowed in a diamond-accented blush dress by Christian Dior Couture. Nude ankle-strap sandals, a diamond headband, and an embellished clutch sealed the deal on this winning ensemble.
Photo by Getty Images.
Nowadays, Theron continues to steal the spotlight on and off the red carpet—and often in Dior. Here, the star shows her penchant for shine and the color black at the premiere of her new film "Dark Places" in Paris.
Photo by Getty Images.