Charlotte Casiraghi, Grace Kelly's Granddaughter and Karl Lagerfeld Favorite, Is Engaged
Princess Grace Kelly of Monaco's granddaughter seemingly confirmed the news at the Rose Ball.
---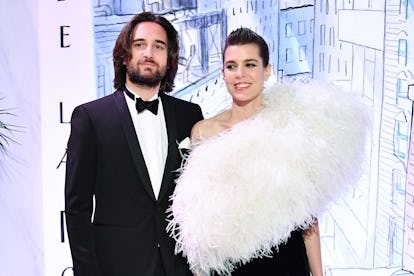 Photo by Pascal Le Segretain/ SC Pool – Corbis/Corbis via Getty Images
Congratulations are in order for Charlotte Casiraghi, ninth in line to the Monegasque throne, daughter of Princess Caroline of Monaco and granddaughter of Princess Grace Kelly of Monaco, on her engagement to Dimitri Rassam. After dating for a year, the glamorous couple attended Monaco's charitable Rose Ball last night, with Casiraghi wearing a diamond ring on her ring finger—plus a stunning black Yves Saint Laurent dress because, you know, it's a ball and whatnot.
Also at the event, which benefits the Princess Grace Foundation, were a beaming Princess Caroline, on the arm of Chanel's Karl Lagerfeld; Charlotte's brother Pierre Casiraghi and his wife, Beatrice; and Princess Alexandra of Hanover. The perfect family affair to celebrate a new addition.
Hello!'s sister publication Hola! reported the engagement earlier this month, and according to their source, the wedding will take place "this summer in Sicily, where Dimitri's mother, actress Carole Bouquet, has a stunning villa."
According to the Daily Mail, Rassam is a French film producer and his mother is a friend of Princess Caroline. Both Rassam and Casiraghi have a child apiece from previous relationships; Charlotte is the mother of 4-year-old Raphaël, and Dimitri is the father of a 6-year-old girl.
The low-key couple was recently spotted together at the London civil ceremony for Alessandra de Osma and Prince Christian of Hanover, Casiraghi's step-brother. That couple's wedding ceremony, a few months later, drew princesses Beatrice and Eugenie and supermodel Kate Moss to Peru, so we can only imagine what the guest list will be like in Sicily.
With Prince Harry and Meghan Markle's upcoming nuptials quickly approaching, it certainly begs the question: Is it royal cuffing season?
Related: Kate Moss and Princesses Beatrice and Eugenie Attended a Royal Wedding in Peru This Weekend
Princess Charlotte and Prince George Are the Ultimate Kid Jet-Setters
Catherine, Duchess of Cambridge, Prince William, Duke of Cambridge, Prince George of Cambridge and Princess Charlotte of Cambridge depart Victoria on October 1, 2016 in Victoria, Canada.

Getty
October in Victoria, British Columbia, can be a bit chilly, and young Princess Charlotte demonstrated that she knows the art of layering. Trading white ankle socks for warmer tights, the little Princess paired a burgundy cardigan over a floral printed dress (a signature of hers!) with of course, matching Mary-Janes.

Getty
Princess Charlotte of Cambridge and Prince George of Cambridge look out of the window of the plane as they arrive at Warsaw airport during an official visit to Poland. Prince George wears a blue and red checked button down shirt for his arrival in Europe.

Getty
A few days earlier, the young royals arrived in Warsaw, Poland, which was the first leg of their royal tour.

Getty
Prince George may be past his terrible twos, but the young royal did not seem as eagar as his younger sister to practice his royal wave and shake hands with German diplomats. However, he still looked the part by wearing on of his go-to pairings, a button-down shirt tucked into shorts, worn with a belt and black shoes.

Getty
Duchess Catherine looked fresh and lovely in an all-white ensemble, while Princess Charlotte stole the show in a red printed high-waist dress, with little white socks and red mary-jane shoes.

Getty
Last fall, the young royals performed had their first overseas adventure, accompanying Mum and Dad on an official Royal Tour of Canada. Charlotte's bow was a sweet touch, while Prince George's knee-socks were the perfect accessory for a growing toddler.

Getty
In Canada on her first Royal Tour last fall, Princess Charlotte received her first lessons in the royal wave, while dressed in a blue printed dress, white ankle socks, and blue mary-jane shoes.

Getty
The royal family is currently touring Germany, with stops in Berlin, Heidelberg, and Hamburg. Here, Prince William, little Prince George, Duchess Catherine, and Princess Charlotte arrive in Berlin to a red carpet welcome.

Getty
Prince George and Princess Charlotte arrive at Berlin's Tegel Airport during an official visit to Poland and Germany on July 19, 2017 in Berlin, Germany.

Karwai Tang
Duchess Catherine holds the hands of her two children, and walks with the young royals down the red carpet. She may have opted to dress Prince George and Princess Catherine in matching shades of blue in honor of Germany's flower, the cornflower.

Getty
Prince George and Prince William, Duke of Cambridge arrive at Warsaw airport ahead of their Royal Tour of Poland and Germany on July 17, 2017 in Warsaw, Poland.

Karwai Tang
Prince William, Duke of Cambridge, Catherine, Duchess of Cambridge, Prince George of Cambridge and Prince William, Duke of Cambridge arrive at Berlin Tegel Airport during an official visit to Poland and Germany on July 19, 2017 in Berlin, Germany.

Franziska Krug
Prince George, Princess Charlotte of Cambridge and Catherine, Duchess of Cambridge coordinated in pastel pinks and purples before departing from Hamburg airport on the last day of their official visit to Poland and Germany on July 21, 2017.

Karwai Tang
Prince George boards the helicopter in a button-down shirt and shorts.

Samir Hussein
Prince George, Princess Charlotte of Cambridge and Catherine, Duchess of Cambridge coordinated in pastel pinks and purples before departing from Hamburg airport on the last day of their official visit to Poland and Germany on July 21, 2017.

Pool/Samir Hussein