Slide Into Charlotte Lawrence's DMs If You Must, but Make It Funny
The musician, Balmain model, and Instagram star explains how to get her attention.
---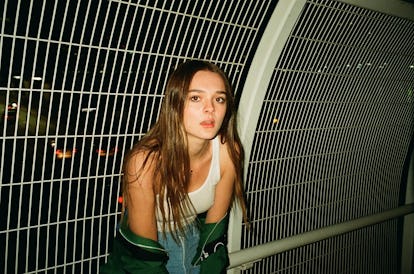 Charlotte Lawrence
Charlotte Lawrence may descend from network television gentry, but her success as a musician is a result of her own talent. After the 18-year-old daughter of Scrubs and Cougar Town star Christa Miller and the creator of both those series, Bill Lawrence, recorded a song with Yungblud that appeared on the soundtrack for season two of 13 Reasons Why, Lawrence released her first six-track EP and scored a spot as the opening act for rising EDM star Lauv. After a few mini-tours around the country, the model-turned-musician is now heading across the pond to embark her first major tour, beginning in Europe and coming to the States in October. But first she kicked off New York Fashion Week by releasing her single "Stole Your Car" on Kendall Jenner's Apple Beats One radio show, Za Za Radio, not to mention starring in Balmain's "Balmain Beat" video for the label's fall/winter campaign and performing at JBrand events in Los Angeles.
On a recent day in New York, the bubbly singer, who makes moody bedroom pop that touches on her sometimes very personal trials with anxiety or love, spoke to W about her ascendant career and how she's handling having half a million Instagram followers (it can't hurt that she's friends with Kaia Gerber, Kit Keenan, and Busy Philipps). She lifted up her arm to reveal a small tattoo: the word Young, the title of her debut EP. Her next EP, Reckless, will be released in the fall (and will also probably make its way to Lawrence's arm as a tattoo, she joked), followed by an album to be released in December that will be a combination of the two:Young & Reckless.
Who are your biggest musical influences?
There are so many! Neither of my parents can sing or play any instruments, but my father is an incredible writer and my mom has the best music taste. So I grew up listening to the coolest music, and I think that's what inspired me to start writing. I was always singing. I started writing poetry when I was like 10 or 11, and then started going into actual sessions, working with producers and songwriters and going out of my comfort zone when I was like 12 or 13. I'd say the musical inspirations that really got me hooked on music would be Damien Rice, Bon Iver, Joni Mitchell. Very soulful, incredible songwriters. Their songs, and obviously their voices, the melodies, and the instruments are beautiful, but the lyrics very much stand out in every song. I think that I took that aspect from these musicians, no matter what type of song I'm releasing, whether that's me and a piano or a crazy pop song—that the lyrics have to matter. Obviously, gotta throw in David Bowie and Prince and the legend legends, but honestly Damien Rice is an icon for me.
So writing the lyrics comes first for you before the melody? Are you writing from personal experiences or totally imagining other worlds and stories?
Every song that I write is authentic to me and is real. No matter what the song is saying, it's fully about something that I'm going through at the time, and it's personal. Most of my songs are about stories and things that actually did happen. I could be angry about a guy or have had an anxiety attack the night before, and I'll write a whole story about that exact instance. I can have 20 songs about one person. I'll never write anything that's not real to me and not actually happening to me. I am so against ever singing something, being on something, writing something that is not real to who I am.
Are there any contemporary musicians you're listening to right now?
Right now I'm in love with Phoebe Bridgers. I'm obsessed with her! Her album, Stranger In the Alps, is my favorite album right now. Her type of music is so cool because it's very simple. If you're just listening to it when you're doing something else, it's just a pretty guitar song. But if you actually listen to the lyrics, they are so insane, and intricate, and different, and weird! I don't know how she does it. I think she's one of the best writers literally of our generation; I'm not joking. And one of my best friends is this girl, Gracie Abrams, and she hasn't released anything yet, but I've known her since I've been little, and I'm obsessed with her. She posts these little clips of her songs on Instagram, just of her playing the guitar, every single day. She writes every day, and she's about to release some stuff. Her lyrics are kind of like a Phoebe Bridgers vibe. Gracie and I are the same age and Phoebe's a little bit older than me, but they're my inspirations for writing.
You mentioned following your friend's music on Instagram, so let's jump into some of the Social Q's. What was your first experience with Instagram? Choosing your handle, your first post, and all that.
Oh my gosh. I created an Instagram right when it came out. I was not allowed to have one, I was maybe 11 years old. It was @cocosmokeyo234. I thought I was hot shit. I would have my little brother, who was like four at the time, hold a fan and I'd just take selfies and post them. It was so weird. I hope that account is fully off of Instagram! My mom found out about it because some other mom was like, "Your daughter has a public Instagram!" [Laughs.] My mom was like, "You have to delete that; why are you doing that." Then I did, and I recreated Instagram maybe two, three, four years ago. I have no idea. [Laughs.] I don't know! My Instagram is just me with my friends. I post what I'm doing. I try hard to be very real on it. Obviously as a musician and being in the entertainment business, every single thing is about advertising and posting your music. Promo, whatever. All aspects of that is through social media. I honestly think that without my Instagram account I wouldn't be nearly as close to the place that I'm at now, you know what I mean? But I also wanna be real! Post what I like, post what I'm doing. Most of the time I'm not doing shit. [Laughs.]
What's your go-to selfie tip?
I think when I was 11 I knew better than I know now! I was on a roll with the selfies, I had the fan blowing on my face. I would say, find your angle. I have yet to find my angle. But I say play with it, find your angle, find a filter, and just let that shit roll. Also, smile! I think smiling is important. It gets boring when you're not smiling. I do that sometimes. Gotta remember to smile.
Who are some of your favorite people to follow?
Oooh, I love following meme accounts. Little guilty pleasure. There's this account called @ward_hair, and he's a hair stylist. He's a big, successful hair stylist, but every day he'll post like five or six crazy memes, and then he'll delete them because they're always crazy. It's so funny to follow him because he's this dope hair stylist with kids and everything. There's also a good account called @grapejuiceboys. Fantastic. You gotta give in and request. @insta.single, there's great ones. There's also this whole strain of accounts, where it's like, kids doing things, drunk people doing things, high people doing things, animals doing things. It's just videos of people being psycho, it's hilarious. Also, this account called @velvetcoke is really cool. They just post 50s, 80s, 90s throwbacks of musicians and actors, whatever. It's a moodboard. It has a vibe to it, it's very Tumblr-esque. Busy Philipps, she's one of my closest family friends. My mom and I die about her Instagram stories, she's amazing. I love her. Shout out to Busy!
Do you have a finsta?
I do have a finsta! I follow all the meme accounts on my finsta! That's the trick. You get a finsta and then you request all the meme accounts because why would I be wanting to follow 10 meme accounts on my real account? Gotta keep up with your friends!
Is there anything that pisses you off on social media?
A lot of times seeing the very promotional posts or advertisements gets frustrating because I'm like, just be real! Be you! But I do the same shit if I'm releasing a song, so I can't really say that. [Laughs.] My favorite accounts are when people are unfiltered, cool, being themselves. It feels like you're really taking a glimpse into their life and they're cool, normal people. I like the non-manufactured.
What's the best way to slide into someone's DMs, especially if you're into the person?
I have this screenshot of a little boy going down a slide, and it says, "Hey, slid into your DMs like." [Laughs.] You gotta make it funny. If you're gonna slide, you gotta make it funny! 'Cause I don't really slide unless the guy won't go first. You gotta slide sometimes.
How do you tell a friend that they're doing too much on social media?
I just say, "Chill." I have the best group of friends, and they're dope on social media. I love following them. But sometimes you'll see a picture and it's really edited or it seems a little strange, I'll just be like, "Hey, maybe a chill a little on that post." [Laughs.] You gotta watch out for your buddies! Keeping it classy, keeping it cool.
Your friend Kit Keenan, she makes an appearance on your Instagram a lot, and so does Kaia Gerber. How'd you become such close friends?
Funny story: Kit is one of my best friends! Her mom [the designer Cynthia Rowley] designed my mom's bridesmaids dresses. I've known that family since I was little, and we became best friends I think three or four years ago, when we met in the Hamptons, then in Malibu again, and just became close. She is so sick! She's so creative, and cool, and such a good friend to have. She's so interesting and interested in art, and designing clothes, and writing, and film. She's so eccentric and cool. I love her, she's dope, she's a good one to follow. Gotta surround yourself with good people. With social media, it's like, yes a lot of times it's a look into people's lives but a lot of times it's a front. You gotta make your friends in the real world and know that you're there for each other. My most important thing is loyalty and kindness, and love. I have such an amazing friend group.
You're very open on Instagram, but is there anything you would never post?
What would I never post? Hateful shit. I'd never post anything hateful. I've never once posted, replied to, commented, or liked any comment or picture that was whatsoever hateful. Unless it's against Trump. I'm down for that. [Laughs.]
How do you block out the haters?
Surprisingly, I don't really have any crazy haters. I'm saying that now, crossing my fingers, but all the people that follow me and like my pictures and do all that stuff, they're so supportive. It's amazing. I've had one or two mean comments that you see and stick with you, but it's like, why would you be following me, and liking and commenting on my shit, if you're just going to be mean? That confuses me. If you don't like me, don't follow me! Sorry about that!
How do you unplug?
Oh my God, ready for this? I am so good at unplugging because I never charge my phone. When it dies, I just don't charge it. I will have my phone off for two days, my managers will try and call me and will end up texting my mom or calling my house phone because I'll literally have my phone off for two days, as I'm in bed. The charger will be next to me, and I'll be too lazy to plug it in. I never, ever charge my phone! So I'm very good at unplugging. It's a little stressful, though, when I finally turn it on after two days and I have a bajillion texts from people, but I love it. My advice to everybody is that you gotta unplug at least once a week for a day. Honestly. I know it's a very hard thing to follow.
Related: King Princess, Your New Summer Obsession, Sounds Off on Queer Representation in Pop Music, and Why She's Intrigued by "DM Culture"