Kit Keenan, Cynthia Rowley's Daughter, Is Following in Her Mom's Footsteps
The 19-year-old scion recently launched her own fashion line, called KIT.
---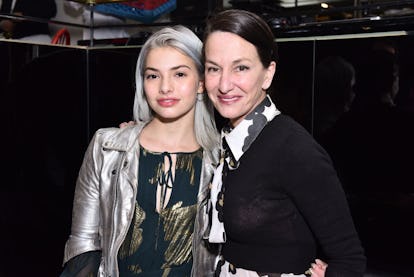 Jared Siskin/Getty Images
Kit Keenan, the 19-year-old daughter of Cynthia Rowley, hasn't fallen far from the family tree. In 1988, Rowley released her first capsule collection of women's wear, and now, 30 years later, her daughter is following suit with her own namesake collection.
This summer, Keenan launched KIT, her first line of clothing, which includes both lace dresses and blouses, as well as hoodies, tees, and other streetwear looks. "KIT was created for the girl whose style is constantly changing, the girl who can't be confined to one 'brand,'" the designer says on the website for her new collection, while promising to offer something with a different "vibe" every drop. So far, Keenan has dropped two caches of her collection on her brand's site, in addition to selling them through a pop-up shop at the Surf Lodge in Montauk. As for the label's moniker, KIT not only comes from the scion's very own first name, but also stands for "Keep It Together."
Of course, it makes sense that the fashion scion would take inspiration from her designer mother. Raised in New York, Keenan is currently studying at the University of Southern California, but she has made it a point to show up at a handful of industry events with her mother by her side, including this year's CFDA Awards in Brooklyn. Keenan has also appeared in campaigns for her mother's label, including one called Shredding in Heels, wherein she dared to surf some waves in a wetsuit and heels.
According to an interview with Town & Country, Keenan also cites the elevation of streetwear brands like Supreme as a motivating factor in her decision to launch her own label and gear her clothes more toward women. "I saw this huge trend of kids my age graduating from the Supreme frenzy as it became more and more institutionalized. They were looking for younger brands that had stakes in other parts of culture besides just street skating. But most of the brands that I saw inserting themselves into that space were solely targeted towards men," Keenan said.
Even if you are only just now getting to know the budding designer, chances are her face is already familiar—Keenan has been popping up slowly but surely, even in some slightly unexpected places. For example, her mug was on the cover of N.E.R.D.'s long-awaited return, No_One Ever Really Dies. According to an interview with Phaze magazine, the shot was taken by Keenan's friend Erik Ian. "The idea for the shoot was supposed to be really centered around youth culture, and the foil is kind of like f'ed up grillz. They ended up liking the photos he did of me so they went with those," she explained.
Aside from appearing in short fashion films for her mother, lending her face to album art, and walking the red carpet at all of the major fashion events of 2018, Keenan can be spotted (most likely on Instagram) supporting her close friends Charlotte Lawrence, the emerging pop artist and daughter of the Scrubs actress Christa Miller, and the supermodel Kaia Gerber. They make a rather badass crew.
Related: Charlotte Lawrence, Daughter of Christa Miller and BFF of Kaia Gerber, Wants to Be Known for Her Moody Pop Music