Charlotte Lawrence, Daughter of Christa Miller and BFF of Kaia Gerber, Wants To Be Known For Her Moody Pop Music
Despite being scouted by modeling agencies, the 18-year-old scion is spending her energy on her music.
---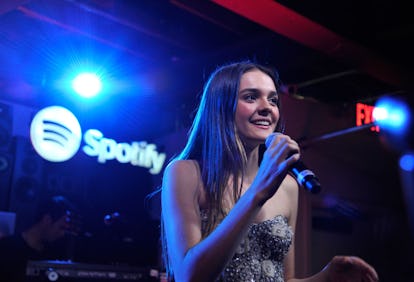 John Sciulli
You may not know the name Charlotte Lawrence quite yet, but that is likely about to change.
The 18-year-old scion has grown up surrounded by Hollywood—her mom, Christa Miller, is an actress recognized for her roles on television comedies like Scrubs (which her dad, Bill Lawrence, created) and Cougar Town, and her best friends come from prominent entertainment families as well. But whether she's hitting the festival circuit or goofing off in her kitchen with friends like supermodel Kaia Gerber and Kit Keenan (the daughter of Cynthia Rowley), Charlotte Lawrence is determined to focus on her career.
Despite being signed to IMG Models, Lawrence has spent most of her energy on another creative endeavor. She doesn't really know where her musical talents came from (she once revealed to Teen Vogue that both of her parents are "tone-deaf and play no instruments, so nobody knows how I got into music"), but the scion began officially releasing music almost three years ago, after stunning her family with her voice for years. A song featuring Lawrence, titled "Falling Skies," was included on the season two soundtrack for 13 Reasons Why and her latest solo project—a six-track EP titled Young—marks the debut of an up-and-comer with real talent. Anxiety, stress, and relationships are all par for the course in Lawrence's lyrics, which lean into a relatable authenticity that could garner critical acclaim.
Before embarking on her first solo tour, the musician is occupying her time with sharing acoustic covers of her favorite songs with her 365,000 followers on Instagram, where her pals like Gerber often make appearances. In fact, Lawrence is so close with the Crawford-Gerber family that all showed up to support her performance at Spotify's "Louder Together" event in March, alongside her own parents.
In an interview with WWD, Lawrence expanded upon her desire to be seen as a musician before anything else. "I want to brand myself as a musician and have people love me for being a musician, not for being an Instagram girl or a model," she admitted, but judging by the fact that she's already sold out concerts in major cities across North America before even releasing an album of her own, fans of Lawrence already think of her as a promising musician worth getting excited about.