Night Shift
Before Bungalow 8, before Le Palace, even before Studio 54, there was Chez Régine.
---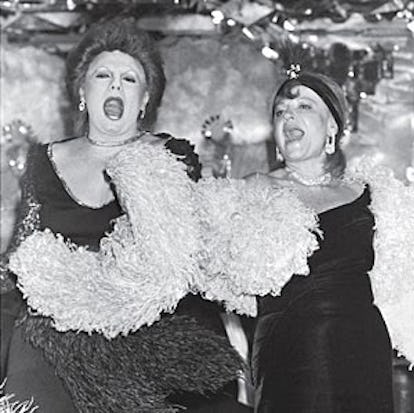 Before Bungalow 8, before Le Palace, even before Studio 54, there was Chez Régine. Billed as the first discotheque, it was opened in Paris in 1956 by former hat-check girl Régine Zylberberg. Her goal, she told W in 1973, was "to bring back luxury." She got financing from the Rothschilds, and soon they and everyone else in Paris society were regulars at the boîte.
The flame-haired Régine dispensed gold membership cards and invented the now ubiquitous practice of bottle service. Male dancers performed in drag, and partyers stayed till dawn. "I'm not sure where I am or what time it is," Anne Anka, wife of Paul Anka, told W at a 1977 Chez Régine gathering.
Themed fetes—like Bastille Day and Russian New Year's Eve—became a tradition. The biggest bashes, however, were reserved for Régine and computer engineer Roger Choukroun's wedding anniversaries. For their 10th, in 1980, he gifted her with a pet cheetah, which prowled its cage as 500 guests looked on. Seats were scarce. "It's so funny to see such well-dressed people eating off their laps," observed Countess Isabelle d'Ornano in W.
When Régine debuted a New York outpost in 1975, W told readers what to expect: "Andy Warhol holding court at the bar; couples making love in the ladies' room; the Social Pros—Françoise de la Renta, Mica and Ahmet Ertegun—reigning from a discreet corner…; the designers—Calvin Klein and Giorgio di Sant'Angelo—with a bevy of beauties."
Ten years later the club was still going strong. "I am so busy that I just hire them out to be me," Régine told Whttp://cache.gawker.com/assets/images/jezebel/2008/10/shia102808.jpg in 1985, speaking about her drag queen employees. At her peak, she had 19 clubs, three perfumes, a magazine and a deal with the Queen Elizabeth 2 cruise ship. The club queen has since left the nightlife behind, focusing on her music career, but her legacy lives on. Fellow nightclub impresario André reopened Chez Régine during Paris Fashion Week this past October, and it immediately became the destination du jour.
Photo: The Fairchild Archive