Chiara Ferragni Paused on Taking Her Honeymoon So She Could Hang With Sarah Jessica Parker at an Intimissimi Show
The Blonde Salad was back to work just four days after getting married.
---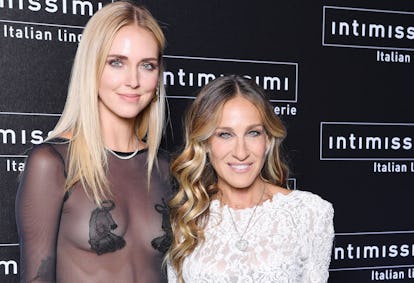 Daniele Venturelli/Daniele Venturelli/Getty Images
If you routinely check your explore page on Instagram, or this very website, then you have already seen the extravaganza that was Chiara Ferragni's wedding to Italian rapper Federico Leonardo Lucia. From her three custom dresses by Dior's Maria Grazia Chiuri to the jaw-dropping backdrops, Ferragni's nuptials set a new bar for influencer weddings. (And the bar was already impossibly high.) But while Ferragni's 14.7 million and counting followers have been eagerly awaiting her followup, aka her honeymoon, the Blonde Salad blogger is already back at work.
Just four days after exchanging vows with her husband, Ferragni attended a fashion show for Intimissimi in Verona, Italy. Ferragni didn't just pause her honeymoon for the work opportunity, she also did so while hanging out with Sarah Jessica Parker, who flew in for the runway presentation. "Meeting Sarah Jessica Parker at Intimissimi show," she wrote on Instagram stories, "A dream."
Parker shared the moment of the pair hugging upon arriving at the show, writing, "If on the rare occasion you're invited to leave home and go to Verona, you might just come across @chiaraferragni. And when you do, you kiss European style."
Ferragni also shared her favorite moments from the show, like Irina Shayk's mesh lingerie look and the very sheer bodysuit that the influencer wore to the show. Meanwhile, SJP wore a white lace top and teal skirt, a different look than the silk pajamas she wears as an ambassador for the brand in a new campaign, which she celebrated, telling WWD, "I can now wear pajamas on the streets, which is great for everybody, not just for me."
Between SJP and Ferragni, Intimissimi couldn't have found better ambassadors. For one, the Ferragni effect is real: After her wedding it was revealed that Ferragni earned Dior $5.2 million in media coverage, which is almost twice as much as Meghan Markle earned Givenchy with her wedding dress. One-fifth of the media value Ferragni brought Dior came from her own Instagram posts, too, specifically $1.6 million. With her honeymoon around the corner, Ferragni will no doubt be bringing more looks soon — and more brand awareness for the designers behind them.