Nicole Warne's New Zealand Wedding Is the Stuff Influencer Dreams Are Made Of
Nicole Warne wore five custom outfits from the likes of Valentino and Oscar de la Renta.
---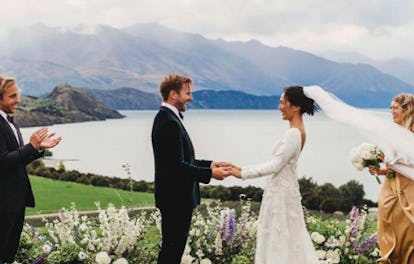 instagram.com/garypeppergirl
Many brides-to-be plan their weddings these days based on social media photos of other ceremonies, but when your own account already serves as inspiration for others, you make up your own rules, as Nicole Warne did. The Australian fashion influencer, whose Instagram following as @garypeppergirl is 1.7 million and counting, set a new bar for Pinterest with her recent ceremony and reception in New Zealand.
For the occasion, Warne wore not one but five custom pieces, designed for her by the likes of Valentino and Oscar de la Renta. "I knew I wanted to wear a mix of international and Australian designers but nothing too bridal," she tells Brides. "I ended up with five custom looks for the three-day celebration in Wanaka." That included a Valentino haute couture gown and veil, which she exchanged vows in, a white velvet gown by Oscar de la Renta, a white satin dress by Dion Lee and a Maticevski pantsuit, which she wore for her rehearsal dinner. As for her ceremony look, Warne says, "My main goal was I wanted it to feel modern, so I loved the crop top with long sleeves."
Not to be outdone by the bride — though, with those looks, how could you not be? — the groom also went the custom route. Warne's new husband, Luke Shadbolt, a photographer she met in 2007, wore a dark green velvet tuxedo by Armani, as did his groomsmen. "I couldn't tell him what to wear," she says. "I never can, so I shouldn't have been surprised when he came back from his fitting styling and said he went with a velvet suit!"
Warne's bridesmaids also got to wear custom pieces, which the bride commissioned from local designer Dion Lee. "I didn't want my bridesmaids to match as that felt too traditional for me," she says. "So I referenced my favorite look from Dion's recent collection and asked him to create four different looks with a cohesive theme in a beautiful gold satin."
As for the wedding location, Lake Wanaka, New Zealand, Warne and Shadbolt chose it for its proximity to their family and friends. "We wanted a destination close enough for all of our family and friends to easily travel to from Australia," she told Brides. "We also wanted somewhere they could keep exploring and create their own adventure."
As if the highly stylized wedding wasn't enough of an adventure, the couple embarked on a helicopter ride to get the perfect shots after the ceremony to the mountain, Roy's Peak. "Every element was so considered and styled in a way that combined well, even though there were a number of looks and feels," she says. "It all came together beautifully and cohesively."
Related: Nicole Warne's Guide to a Well-Documented Jet Set Lifestyle