The Chilling Adventures of Sabrina Holiday Special: Everything We Know
"A Midwinter's Tale" will cast a spell on you this holiday season.
---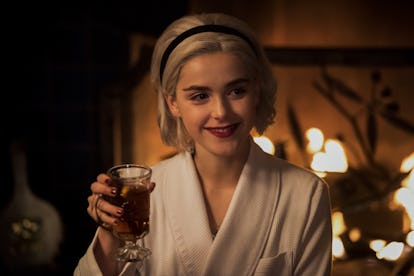 Dean Buscher/Netflix
If you thought The Chilling Adventures of Sabrina was just a spooky show suited for the Halloween season, you thought wrong.
The show's holiday special, which has been dubbed "A Midwinter's Tale," will premiere on Friday, December 14, as part of "It's Beginning to Look a Lot Like Netflix," the platform's big push for Christmas movies and one-off holiday episodes of popular series like The Chilling Adventures of Sabrina, Neo Yokio, and Fuller House, so that they can compete with all of the holiday content coming from Freeform, Lifetime, and the Hallmark Channel.
"A Midwinter's Tale" will follow the Church of Night's winter solstice celebration, which naturally includes some pagan rituals and haunting tales told in front of a Yule log. The special will also include flashbacks to a simpler time, before Sabrina Spellman ever had to grapple with the decision to pledge her soul to the Dark Lord, and the series has finally found its young Sabrina. They're keeping this one in the Netflix family, as McKenna Grace, who stars in season one of the streaming giant's adaptation of Shirley Jackson's The Haunting of Hill House as a sensitive middle child with great dance moves, has been cast in the role. This appropriate decision tracks for Grace, who does bear a striking resemblance to Kiernan Shipka (who plays teenage Sabrina), and has also racked up IMDb credits for playing the "young" version of main characters in films like I, Tonya, in which she portrayed Tonya Harding as a child, to Margot Robbie's teen and early 20s version of the character; and Captain Marvel, in which she will play a young Carol Danvers (the older version of the character is played by Brie Larson). Even in The Haunting of Hill House, Grace plays the younger counterpart to Kate Siegel. Additionally, Grace received the Shipka seal of approval, which came in the form of an Instagram post and caption that reads "DREAMS DO COME TRUE."
Of course, it wouldn't be much of a "special" episode without the introduction of some new characters. We're getting an addition from the Joss Whedon universe this time around. Alexis Denisof, known for playing the vampire slayer Wesley Wyndam-Pryce on Buffy the Vampire Slayer and Angel, has been added to "A Midwinter's Tale" and will recur in the second season as Adam Masters, the nice-guy doctor who is engaged to Mrs. Wardwell (Michelle Gomez), but returns to Greendale after some time away only to discover that Mrs. Wardwell was overcome by Madam Satan many episodes ago, and is now essentially a demon.
Fans of the series will also be delighted to discover a new warlock has entered the mix in the form of Jedediah Goodacre's Dorian Gray, the owner of a nightclub called, rather appropriately, Dorian's Gray Room. And since Dorian Gray is the intellectual property of Oscar Wilde, there will be a secret portrait of the nightclub owner hidden away from everyone else, so you might want to dust off your old copy of that book you haven't read since it was assigned in your high school English class if you want to pick up on any easter eggs the series creators will likely drop into this subplot.
Everyone else from the first season is slated to return for the special as well—including Sabrina's rival, Prudence; Sabrina's aunts; her boyfriend, Harvey; and her best friends from school. Let's just hope that this holiday special provides us with an explainer on the accent inconsistencies that plagued the entire first season of the show.
Related: A Complete Guide to The Chilling Adventures of Sabrina's Disparate Accents