Chloë Grace Moretz: Generation W
This kick-ass actress is way too cool for school.
---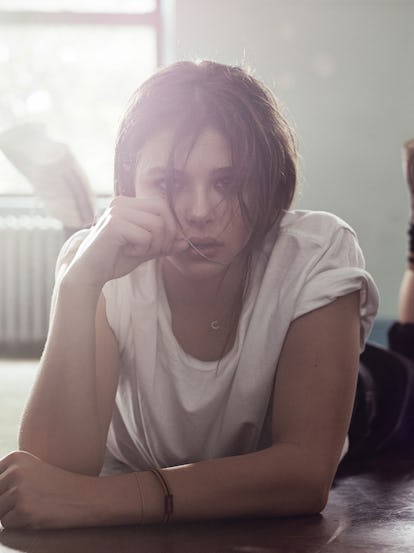 When Chloë Grace Moretz was 4 years old, her brother Trevor, who was 14, dressed her up as Princess Leia and directed a film of her trapped in a sinking raft adrift in the family pool in their Atlanta backyard. Trevor, who wanted to be an actor, was the first to realize his sister's cinematic potential. "From the beginning, Chloë was completely comfortable with the camera," he told me recently. "Even as a tiny child, she had something." In 2002, the Moretz family partially relocated to New York so that Trevor could pursue his theatrical aspirations at the Professional Performing Arts High School. But after 6-year-old Chloë began practicing lines with him, Trevor, recognizing her innate talent, switched focus from his career to hers, ultimately becoming Chloë's acting coach/producer/mentor/guru.
He may also be her salvation in the increasingly competitive and tangled world of child acting. On set and elsewhere, Trevor is always nearby, offering guidance. Chloë has so far avoided the pitfalls of being either a squeaky-clean Nickelodeon kid (who turns into an unmitigated mess, like Amanda Bynes) or a perfect movie daughter (with real-life lousy parents, à la the talented Lindsay Lohan). Instead, following in the path of former child stars like Jodie Foster and Natalie Portman, Moretz has forged a career out of the kind of darker roles that smooth the transition to adult parts. When she was 13, she became famous as the foulmouthed violent vigilante Hit-Girl in the 2010 action film Kick-Ass (the sequel came out this summer); and she was utterly convincing as a lost vampire in Let Me In. This month she appears as the high school misfit with telekinetic powers in the director Kimberly Peirce's remake of Carrie. "This part is different from anything I've done," Moretz said after the shoot for this story, in a recently closed school in New York. "I've tried to absorb things I've learned from old movies. Trevor has taught me the importance of great movies in shaping culture. And it's a good way to learn different styles of acting."
Moretz (and Trevor) headed upstairs to an empty classroom, the kind of place Moretz, who is tutored on set, does not often see. Unlike her tall blond brother, who sat close by but did not intrude or hover, Moretz has an exotic, vaguely goth quality: full lips, dirty-blonde hair dyed nearly black, and an uncanny ability to project both vulnerability and mystery with her wide eyes. Poised and confident, she may be the oldest 16-year-old in the world.
What was the first film you made? I booked The Amityville Horror when I was 6. I did about four or five auditions and had to cry at every single one. When you're that young, it's a huge feat to be able to cry, so I did the same crying scene over and over to prove that I could and that I wasn't making myself crazy doing it.
Did you think about something very sad? [She smiles.] A good magician never reveals her secrets.
Okay. Did you immediately love filmmaking? To be honest, I feel most confident when I am in front of a camera. I've learned to think of myself in the third person. When I watch my scenes, I'll say, "She could have done better."
The first time I was aware of you was in Kick-Ass, which was a very intense role for an 11-year-old. Did you take the character home with you? No. I never take anything home with me. Trevor taught me from a young age how to get out of character. He taught me that all the crying and emotion are fake. When I found out about Kick-Ass, I was 10, and I was obsessed with the part. Wanted, with Angelina Jolie, had just come out, and I was eager to do something cool like that, but not the kiddie version. I didn't want to run around with little laser guns and stupid stuff. Kick-Ass was not kiddie at all: My character was killing people from age 6. That would mess with your psyche.
Have you ever dreamed of having a superpower? It's pretty cliché, but I'd like to fly. I would not want to be invisible. I don't want to see things that I don't want to see. I'm a big fan of turning my head and not knowing.
Do you feel that you're missing out on the prom or any of those regular-girl things? No. My proms are the premieres, where I celebrate what I love. What I'm missing is waking up at 6 a.m. and going to a school and sitting in a chair.
The only "kids" movie you've made is Hugo. What was the audition like? When I heard Martin Scorsese was directing, I thought it was going to be racy and really dark, but it was his first "family" film. They told me he only wanted to cast British actors, so I wore a wig and made an audition tape using a British accent. He liked my tape and flew me to New York, and I kept up the act that I was a British girl who had moved to L.A. After I read for him, I said in my regular voice, "Bye, Marty!" He asked where my accent had gone, and I told him the truth. Luckily, he was amused.
Had you seen any of Scorsese's movies? They are probably too adult for you. I've only seen the movie about the plane. Trevor, what's it called? [Trevor looks up and says, "The Aviator."] That's it.
You shot Hugo in England and in Paris. Did being in Europe have an impact on your fashion sense? Trevor has introduced me to tons of fashion, but when we were there, I got obsessed. I used to wear button-down shirts and little sweaters, and I looked like an adult, but now I want to have a Christopher Kane kind of style. I'm moody: I wear a lot of black—but I could reinvent myself tomorrow.
Do you look at old films for fashion inspiration? I love Cleopatra, with Elizabeth Taylor. And Trevor showed me Breakfast at Tiffany's when I was 8 or 9. I love Audrey Hepburn. Watching that film, I realized that through acting you can transport an audience to another time and place and state of feeling.
You realized that at 8 years old? Absolutely. And it changed me forever.
Chloe Grace Moretz: Generation W
Chloë Grace Moretz on W's October 2013 cover.
Hair by Recine for Rodin. Makeup by Diane Kendal for Marc Jacobs Beauty. Fashion: Dior jacket; Calvin Klein Underwear T-shirt; (from top) Tiffany & Co. necklace, David Yurman necklace. Beauty: Chanel Mat Lumière Makeup in Clair, le Crayon Khôl Intense Eye Pencil in Noir, Ombre Essentielle Eyeshadow in Slate, Inimitable Mascara in Noir, Joues Contraste Powder Blush in In Love, and Rouge Coco Hydrating Crème Lip Colour in Plumetis.
Chloë Grace Moretz wears a Prada shirt; Ann Demeulemeester trousers. Calvin Klein Underwear T-shirt; Prada socks; vintage PF Flyers shoes from the Clothing Warehouse, Atlanta (all throughout).

Photographer: Craig McDean Stylist: Olivier Rizzo
"A good magician never reveals her secrets."
Calvin Klein Collection pants; (from top) David Yurman necklace, Tiffany & Co. necklace; (from left) David Yurman necklace (worn as a bracelet), Prada bracelet. Beauty note: Brunettes get texture with Sachajuan Dark Volume Powder.
Chloe Grace Moretz (October 2013)
Prada dress and bracelet; Tiffany & Co. necklace.
Hair by Recine for Rodin; makeup by Diane Kendal for Marc Jacobs Beauty; manicure by Bernadette Thompson for the Bernadette Thompson Nail Collection. Set design by Piers Hanmer. Production by N6.