Chloë Grace Moretz Is Ready for Her Directorial Debut
The Miseducation of Cameron Post inspired the actress to go behind the camera.
---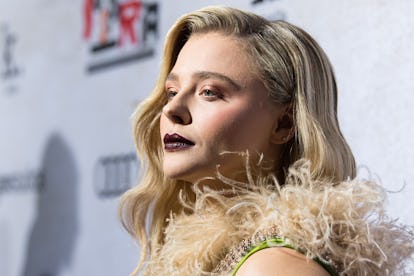 Emma McIntyre/Getty Images
At the end of 2016, after recently wrapping production on the films Brain on Fire and November Criminals, Chloë Grace Moretz did something no one expected: She dropped out of the next films she had signed on to—including the live-action remake of The Little Mermaid (the Disney one, not the recently released Netflix one). Instead, she turned her focus to producing, telling the Hollywood Reporter at the time that she was about to shop around two television series.
"I want to reassess who I am and find myself within my roles again," she told the Hollywood Reporter. "I'm realizing that I can slow down."
Then she read The Miseducation of Cameron Post, which became a film that, as she told an audience at the Vulture Festival in Los Angeles on Saturday, offered some clarity. (During an interview at the Provincetown Film Festival, she described it as "the first movie that really connected to me" post-hiatus, according to Indiewire.)
"This one, in particular, was one for me that kind of hit everything on the head perfectly," she said during the Vulture talk, according to Indiewire. (Moretz has been an outspoken supporter of LGBTQ rights; two of her brothers are gay, and she frequently cites the connection.) "This is a project that gave me the ability to partner my love of my art with my activism, and be able to have a socially aware, socially progressive project but in an entertaining, funny, attainable way."
But it wasn't just that the film appealed to Moretz's social justice inclinations. Observing director Desiree Akhavan working on set, she said, inspired Moretz to embark on her own directorial project with her brother (likely Trevor, her manager, with whom she's frequently spotted). "I've always been fascinated with what it's like to be a director," she said during the Vulture panel. "You're not just a director, you're a conductor," she added, directing the remark toward Akhavan.
Still, she's not about to release the next Cameron Post any time soon: "We're starting small, though, with a short film," she went on. "We're not trying to bite off more than we can chew."