Chloe Lonsdale: My Love Affair with Denim
The designer reflects on ten years of her label M.i.h.
---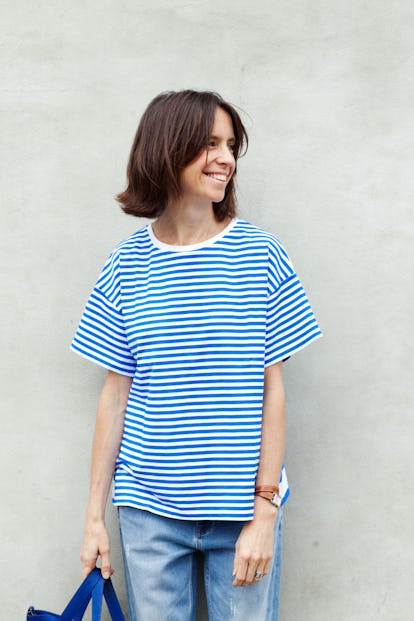 Chloe Lonsdale, the creative director of M.i.h, has denim in her blood – her father founded Jean Machine, the iconic denim store in 70s London, and her mother was a model. She launched M.i.h ten years ago after discovering her father's old denim stock. Here, Lonsdale on a decade in the denim trade.
Favorite pair of jeans you ever owned: My favorite jeans are one of the first jeans we ever made: a non-stretch Marrakesh flare. They embody everything we are about – authenticity, '70s ease and blue jean spirit.
A wash or silhouette you're excited about right now: We have been working hard to recreate the feel and look of a perfect pair of vintage jeans, high-waisted with no or minimal stretch in authentic washes. I'm really exciting about the cropped flare with a raw hem. They feel cool, current and nicely vintage.
What do you try to accomplish with every collection? Our whole ethos is built around what denim girls want to wear and designing the whole picture – a crisp shirt and a mannish tailored jacket alongside the great pair of high-waisted jeans. It's really focusing on the way that denim girls want to dress, rather than trying to stay ahead of the game.
Why did you choose to design and focus on jeans? My denim story began the day I discovered my dad's trunk full of jeans in our attic when I was 14 years old. It was full of old, classic stock from the 1970's and collectors Silver Tab Levis, it was a real treasure trove. From that day, I wore his jeans every day for three years. It was the start of my love affair with denim.The best thing about denim is that it evolves with every wear and truly gets better with age. It instantly feels cool whether it's a favorite pair of jeans, a long sleeve button-up dress, or a vintage denim shirt.
Tell us one secret or trick of the trade: Our core denim jeans are sewn to the curved shape of a bum, rather than flat as most jeans are sewn. This creates the perfect rounded shape and means no gaping at the back.
Denim style that you wish you could resurrect: I would love to bring back the Topanga, a cropped high-rise flare in non-stretch, vintage wash denim. The ultimate fashion jean for the denim girl.
Is there a city that inspires you? In London we'll mix vintage and new, high and low, and it's a bold place with the shapes and influences we'll try. It inspires me to always trust what I love and try things out rather than playing it too safe. It's my home and the way girls dress here is in my blood. It's a real denim city, in surprising ways.
Favorite denim icon? My Mum, who was the original model for the brand in the 70s, was and continues to be my muse. No woman looks better in jeans and a t-shirt than her – it's a look at the core of what we do.
Photos: Chloe Lonsdale: My Love Affair with Denim
Chloe Londsale. Photo courtesy of M.i.h.
M.i.h. Jeans. Photo courtesy of the brand.
M.i.h. Jeans. Photo courtesy of the brand.
M.i.h. Jeans. Photo courtesy of the brand.
M.i.h. Jeans. Photo courtesy of the brand.
M.i.h. Jeans. Photo courtesy of the brand.