Chloë Sevigny's Favorite Things
The actress and designer shares her 7 must-haves.
---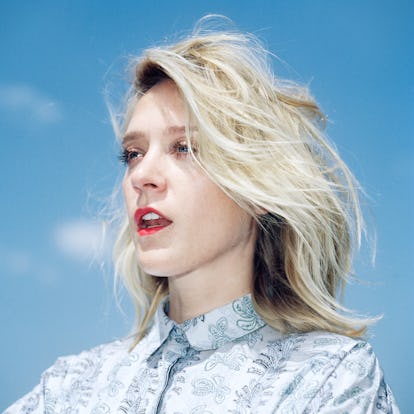 At 40, Chloë Sevigny is still "the coolest girl in the world," as the writer Jay McInerney dubbed her two decades ago. Certainly, she hasn't lost the indie sensibility that first got her noticed by the fashion world. Her spring collection for Opening Ceremony, filled with slightly perverse ruffled pinafores and oversize trenchcoats that take their cue from Christian Slater's character in the film Heathers, pays homage to her youth. "I want to constantly remind myself of that free-spirited girl," she says. To help, there's Chloë Book, a self-curated photo album documenting her iconic style, out in April from Rizzoli. Here, Sevigny shares some other things currently on her mind.
Plaid Skirts "In high school, I was always envious of the girls who played field hockey when they wore their uniforms to school on game day. A simple plaid skirt is classic and adorable. It's the jeans of skirts—very versatile. I have one in my spring collection for Opening Ceremony that's light in both color and weight."
Bose QuietComfort Headphones "I travel a lot and cannot believe I didn't make this investment sooner. These headphones cancel out all the surrounding sound and allow you to hear new things in the music you've been listening to for years."
Mary Shelley "I'm reading The Poet and the Vampyre, about the notorious summer when Mary Shelley, her stepsister Claire Clairmont, and Shelley's future husband, Percy, visited Lord Byron in Geneva. They were such radicals. It was on this trip that Byron suggested a short-story contest, and the seeds of Shelley's gothic masterpiece, Frankenstein, were planted."
Watercress "It's my favorite superfood. I eat watercress with eggs in the morning; on my sandwiches; or just tossed with olive oil, a little lemon, and some fresh-cracked pepper and salt."
Jean Harlow "She was one of the greatest faces in Hollywood history: an odd beauty with more sex appeal than anyone I've ever seen onscreen. Harlow came from one of the wealthiest families in the Midwest but was typecast as a tramp and a gangster's moll—a classic example of Hollywood pigeonholing."
Tatcha Beauty Products "My makeup artist, Daniel Martin, turned me on to this line, which is based on geisha beauty rituals. They are the most luxurious products I've ever used."
Brooklyn's Prospect Park "Designed by Frederick Law Olmsted, who also did Central Park, it has all the beauty and grandeur of Manhattan's most famous park, but its trails are less groomed, so you really get the sense of being out of the city."
Photos: Chloë Sevigny's Favorite Things
Chloë Sevigny. Photograph by Mark Peckmezian.
Chloë Sevigny. Photograph by Mark Peckmezian/Courtesy of Opening Ceremony.
Bose QuietComfort Headphones. Courtesy of Bose.
Watercress. Courtesy of Maximilian Stock Ltd./Getty Images.
Jean Harlow. Courtesy of George Hurrell/Getty Images.
Tatcha beauty products. Photograph by Tim Hout.
The Poet and the Vampyre. Courtesy of Pegasus Books.
Watch W's most popular videos here:
Makeup: Daniel Martin; Hair: Jeff Francis.