Jenny Slate and Chris Evans Are Hanging Out Again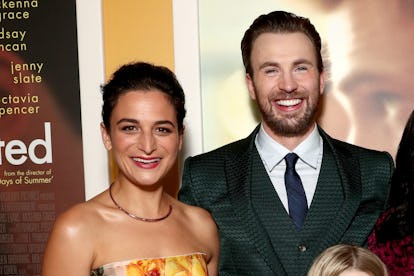 Todd Williamson/Getty Images
Amidst all the breakups that have happened this year, at least one of your favorite Hollywood couples might be giving their relationship another green light. Possibly.
The delightful Jenny Slate and noted nice guy Chris Evans, who reportedly dated for a handful of months upon the completion of their film Gifted last year before "complimentary uncoupling," have been getting cozy on some dinner dates in Atlanta. Per a report in Us Weekly, the duo were spotted enjoying the company of each other while eating food on two separate occasions in the Georgia city. "They seemed like a couple," a source told the magazine. "[They were] laughing. He reached across and touched her arm a couple of times. They seemed like normal people on a date." A second source added that they "looked very much together," so take that as you will. Of course, who wouldn't be laughing when having a meal with Slate?
Slate and Evans amicably broke up in February, after which Slate poignantly opened up about the perils of dating an A-list figure such as Captain America—mostly that she didn't know if they would remain friendly after breaking up. "We're not on bad terms, but we haven't really seen each other, spoken a lot," she explained. "I think it's probably best. I'd love to be his friend one day, but we threw down pretty hard. No regrets, though. Ever."
Slate also revealed her trepidation into starting a relationship with Evans, due to the fact she (erroneously) believed they were on different levels of attractiveness. "To be quite honest, I didn't think I was his type," she said. "Eventually, when it was like, Oh, you have these feelings for me?, I was looking around like, Is this a prank? I mean, I understand why I think I'm beautiful, but if you've had a certain lifestyle and I'm a very, very different type of person—I don't want to be an experiment … I'm considered some sort of alternative option, even though I know I'm a majorly vibrant sexual being."
So, who knows what's going on: a full fledged reunion or just two mature, adult people who can stay friends with an ex. In either case, good for them and all the people who held up their relationship as a goal.
Related: Jenny Slate on Her New Film Landline, the Best '90s Trends, and Why She Loved Wonder Woman
Chris Evans Remembers Back to When He Got Dumped: