Chris Hemsworth Is Actually the Most Popular Hollywood Chris, According to His Birthday Instagrams
See how Chris Hemsworth's family and Avengers costars celebrated his birthday.
---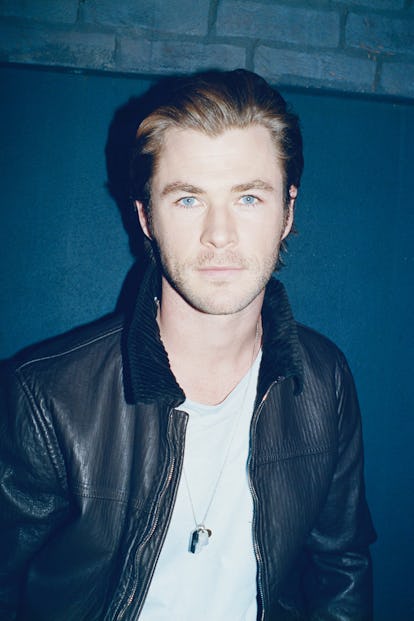 JUERGEN TELLER
Thor, the ageless god of thunder, is 35. On Saturday, Chris Hemsworth, the actor best known for portraying Thor in the Marvel Cinematic Universe, celebrated his birthday in an intimate party with his wife, Elsa Pataky, and their three kids, India Rose, Tristan, and Sasha.
"Immediately after this shot was taken my son viciously attacked me from behind (due to his ninja training) and slammed my face into the flaming candles," Hemsworth captioned a photo he posted to his Instagram on Saturday. In the post, he's pictured alongside Pataky, both smiling at the camera, a birthday cake with five candles (one for every…seven years?) and adorned with strawberries and "Happy Birthday" in cursive. Pataky, importantly, holds a wine key in one hand. And a couple of tufts of hair—presumably the kids'—can be seen in two corners of the photo. "I'll now be playing Deadpool if @vancityreynolds pulls the pin," he concluded.
And while the party itself was exclusively a family affair, Hemsworth's friends, family, and collaborators all made sure to wish him well on Instagram. Dwayne "the Rock" Johnson composed a customized version of the "Happy Birthday" song that concludes, "You're the greatest, Chris, and that's a fact—after Evans, Pine, and Pratt." (He filmed himself singing, impressively in tune—after all, he voiced Maui in Moana—in his home gym, which he calls "the iron paradise.") But given the outpouring of funny, weird, corny homages to Hemsworth on his birthday, there's a strong argument to be made that the actor is actually the most popular of the Hollywood Chrises. In addition to the Rock's serenade, which Hemsworth reposted to his own Instagram, there was an ad lib from musician Leon Bridges coordinated by Thor: Ragnarok star Tessa Thompson; Josh Brolin, writing "Maybe not as good as @leonbridgesofficial," nevertheless posted his own efforts to sing to his Avengers costar; and both Hemsworth brothers, Liam and Luke, posted their own eccentric birthday wishes. Pataky herself also shared a selfie of the two, captioned, "Happy birthday to my biggest child!" See how Hemsworth's friends and family celebrated his birthday on Instagram, below.