Chris Hemsworth and Matt Damon Are on Vacation Together on a Boat in Spain
They've found the secret to family vacations.
---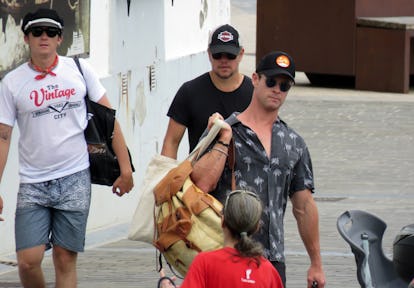 Europa Press
Just a few months ago, most of the world wasn't aware that Chris Hemsworth and Matt Damon were even friends. Now we just expect the pair to show up together on vacation in the far-flung reaches of the globe. After the pair (and their families, naturally) spent Easter together in Hemsworth's native Australia, the leading men duo is now enjoying another co-family get away in San Sebastian, Spain. Though you probably don't have a Hemsworth of your own to jet off to San Sebastian with, let these two to demonstrate the secrets to the perfect family vacation.
Hemsworth and Damon, along with their respective wives Elsa Pataky and Luciana Barroso, spent yesterday cruising the Bay of Biscay on a catamaran with children, family, and other friends in tow. While the general public can take a cruise on the boat themselves for just €11 per adult and €6 per child, it seems as if the families had chartered the boat out for the day for their private use.
A shirtless Hemsworth and his bikini-clad wife Pataky took to jumping off the top deck into the ocean below. Damon, apparently, wasn't as game.
Though Hemsworth and Damon have never costarred in a proper project together, their friendship goes back to Hemsworth's early days in Hollywood as a newly arrived Aussie. The duo's wives are also friends, and the couples have been spotted double-dating around Hollywood as well. It might also explain Damon's brief cameo in Thor: Ragnarok. (In case you're wondering, Damon's lifelong friend Ben Affleck is cool with it all.)
We're betting the key to the cozy joint-vacation habit lies in their children. Damon has three daughters with his wife Barroso, aged between seven and 12 years old. The Hemsworths have a six-year-old daughter and three-year-old twin sons.
While family vacations always seem fun on paper, sometimes the idea of taking a family unit and forcing them to spend even more time together in closer quarters can lead to tensions. While we're sure that the young Hemsworths and Damons are well-behaved children, some kids don't care. They'll throw a fit in the middle of a five-star Jamaican resort just because their little brother is looking at them wrong. Throwing in another family, though, eases some of that tension, and gives the kids a good reason not to look like a mini terror in front of their friends. It works even if that other family isn't famous, or you're not on a chartered boat in the Bay of Biscay.
Something to think about as we all patiently await for the next stop of the Hemsworth-Damon family vacation spree.
Related: Miley Cyrus and Liam Hemsworth Are Going to Be More Private After Breakup Rumors