Matt Damon Joined Chris Hemsworth for an Easter Vacation in Australia With Their Families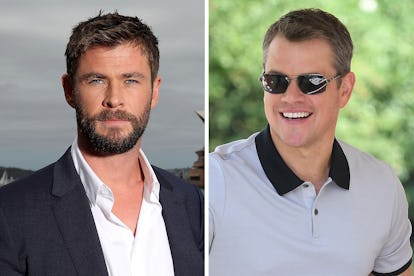 Composite. Getty Images
Ben Affleck should be careful—Matt Damon might have a new best friend. The 47-year-old actor brought his wife, Luciana Barroso, to Australia to hang out with Chris Hemsworth, 34, his wife, Elsa Pataky, and various friends for what looked like a leisurely weekend of music, beer, and sun. The Thor: Ragnarok star shared snaps of the entire crew, including Damon and Barroso, at a local music festival, Byron Bay Bluesfest, on Easter Sunday. "@bluesfestbyronbaycrew at it again !! Best festival goin round!" Hemsworth captioned the group picture. Pataky also posted a picture of the crew enjoying a pint of beer without Hemsworth. She wrote, "Fun times with my favourite people! Missing you @chrishemsworth."
Though Hemsworth and Damon might seem like an unlikely pair, the two actors have taken trips around the world together more than once. In 2017, the couples traveled to Monaco for the Grand Prix Formula One race and some yacht trips, and the Damons have made the trip to Australia multiple times. Perhaps his friend and native Aussie is the real reason why Damon threatened to move down under after Donald Trump became president?
But the love between these two actors goes way beyond vacations to tropical locales. Way back in 2014, Hemsworth praised Damon in an interview with GQ. "We became friends around the time I started to work, and I've really benefited from watching how he handles himself," Hemsworth said. "Matt's just a normal guy who has the movie-star thing figured out." And, when Hemsworth was bestowed the honor of People magazine's Sexiest Man Alive, he gave credit where it was due. "I learned everything there is about being sexy from Matt," Hemsworth said on Jimmy Kimmel Live! in 2014.
Though it's clear that the actors have a special bond, original best friend Affleck will surely always hold a special place in Damon's heart. After Affleck's mythical Phoenix back tattoo was recently revealed to the world, Damon defended his best friend's "artistic expression"—proof that Damon has all of his friends, uh, backs.
Related: Matt Damon Might Buy Brooklyn's Most Expensive Home Ever