Matt Damon Is Maybe Moving to Australia Because of Donald Trump
Because he wants to raise his kids in a safe place.
---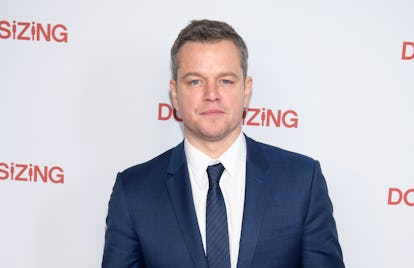 Noam Galai/WireImage
In the wake of Donald Trump's freewheeling presidency, some Americans have toyed with the idea of making moves to leave the country for more politically stable places. (See: Canada's frequently-crashed immigration site). Matt Damon is now apparently one of them. The actor, who has been outspoken against Trump for quite some time, has reportedly purchased a new residence in Australia's Byron Bay, New South Wales, as the Sunday Telegraph reports per Page Six, and he allegedly plans on relocating his whole family there.
"Matt's telling friends and colleagues in Hollywood that he's moving the family to Australia" purely because of Donald Trump's policies, reports Page Six. "Matt's saying the move will not impact his work — as he will travel to wherever his projects are shooting. He's also telling friends he wants to have a safe place to raise his kids."
The rumors come a handful of months after it was reported that Damon was purchasing Brooklyn's priciest piece of real estate to date: a $16.645 million Brooklyn Heights penthouse that consists of several units fused together with six bedrooms and a 3,366-square-foot terrace, which is substantially larger than the average American home size of 2,500 square feet, as The Atlantic noted in 2016.
The actor's opposition to Trump won't come as a surprise to those who've been following along with his interviews. Back in July of 2016, Damon cringed at the possibility of a Trump presidency, telling Peter Tavers, per ABC News, "Trump actually could win… It makes me nervous. It's a binary choice…. There's no way we can let this guy be the [president]. To let that dude have the nuclear football, are you kidding me? That's dangerous. He's impulsive and rash, and doesn't seem to think deeply about too many things."
Last fall, in the wake of white nationalist riots in Charlottesville, Damon spoke out about Trump once again telling The Hollywood Reporter, per Entertainment Weekly, "I just feel naïve at this point. It was shocking to see those kids — they looked 20 and 30 years old — in button-down shirts, with Tiki torches, walking down the street. I thought, 'Those people are a lot younger than me. Who raised them?' Again, I naively thought that, behind our generation, [another one] was coming with more awareness and inclusiveness, and that everything was getting better with each generation. And to see these young, aggrieved, white boys walking with their torches and screaming 'Jews will not replace us!' It was just shocking. Then the night that the President [made his] 'many sides' comment was absolutely abhorrent."
Related: Minnie Driver And Alyssa Milano Offer Perfect Responses To Matt Damon's Problematic Comments