Chrissy Teigen Shares a Photo of Baby Miles, the Spitting Image of Dad John Legend
Chrissy Teigen used Instagram to show off her son's adorable smile.
---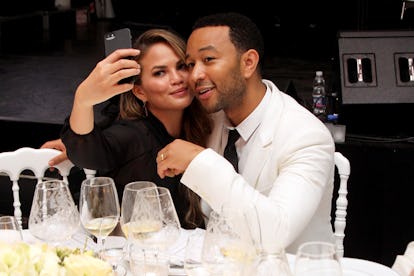 Andrew Goodman/Getty Images
There has never been, even for one second, any question about the paternity of Chrissy Teigen's children. She and John Legend are a devoted couple and if they'd adopted or something, they would have let their fans know. And if for some reason you are even in doubt about that, all you have to do is look at baby Miles's face: it is John Legend's face. His genes are strong.
Baby Miles, seen here in an adorable video posted by Teigen, is basically a miniature version of his dad. As one commenter pointed out, "its like u gave birth to your husband omg." This little dude, indeed…
Like, if you just showed someone a picture of that baby and asked what baby that was, the first guess would be "John Legend's baby," and the second would be "that is John Legend when he was a baby."
And this isn't the first time we've seen Legend's face on a baby body. His daughter, Luna, looked just like him when she was tiny, too. I mean, look at this girl:
Since Miles's arrival earlier this summer, the family has basically been in baby bliss, at least on Instagram. In addition to marching for immigrants' rights, recording new music and new music videos, and, as always, stirring things up in the kitchen, they've been getting in lots of cuddle time with the kids.
And before you coo over how cute the Legend family is, remember that it's actually the Stephens family. Legend is John's stage name. Stephens family, you are so cute!
Related: Chrissy Teigen Owns Donald Trump Once Again, This Time Clapping Back at His #MeToo Comment
John Legend, David Beckham, and More of the Most Social Media-Savvy Fathers on Instagram