Chrissy Teigen Shut Down Someone Who Said She Looked Better "Before the Boobies and Fillers"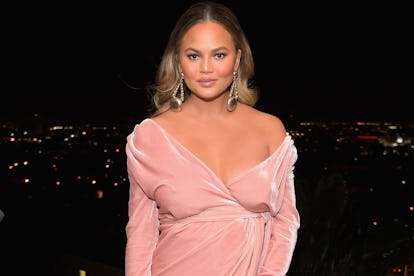 Charley Gallay/Getty Images
At this point, nearly nine years into her tenure as the Queen of Twitter, Chrissy Teigen's social media clapbacks could fill an (undoubtedly bestselling) book, and her millions of followers would still be clamoring for a sequel. The latest chapter of said bestseller came on Thursday, after a naïve Instagrammer thought, for some strange reason, that they could get away with lobbing a backhanded "compliment" Teigen's way without facing her hilarious and completely justified wrath. Clearly, they must be new here.
The drama began when Teigen posted a delightful throwback photo of her and then-boyfriend, now-husband John Legend at the 2008 Grammy Awards. "10 years ago. This tan!!! Lmao," she captioned the photo. The foolishly bold Instagram user soon dropped in their two cents: "Wow so stunning here!! Before the boobies and fillers, so natural and stunning. You both still look great," they commented. Understandably, since Teigen did not ask for comments on her 2008 or 2018 appearance, she wasn't having it. "Boobies and fillers? F*ck off with your backhanded sh*t," she replied, adding, "2 babies and 10 years. Bye, b."
Teigen had every right to shut down the faux compliment, and for the record, after carrying two babies and living her life for 10 years, it would be more Benjamin-Button-esque if Teigen's appearance hadn't changed.
2018 is already off to a strong start for the social media maven. No, she hasn't had to oh-so-helpfully school a certain First Daughter about the dictionary definition of the word "otherwise" (yet), but she has used her sizable platform to offer to pay Olympic gymnast McKayla Maroney's fine for breaking her NDA and speaking out about the sexual abuse she endured at the hands of former team doctor Larry Nassar. She also recently documented on Twitter the time she really had to go to the bathroom, only to find that her toilet was missing, but that's another story for another time.
Related: Chrissy Teigen's Plastic Surgery Admission: Calm Down, She Was Just Joking
Why You Should Make Like Chrissy Teigen and John Legend and Get to Marrakech, Morocco