Chrissy Teigen Owns Donald Trump Once Again, This Time Clapping Back at His #MeToo Comment
"His brain is eating itself."
---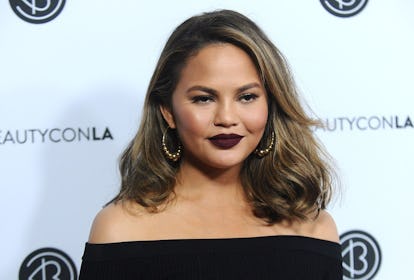 Jason LaVeris/FilmMagic
Try as he might to silence her, Donald Trump cannot escape Chrissy Teigen's clap backs. After Trump—who has dozens of sexual misconduct allegations against him—mocked the #MeToo movement, which aims to expose and eradicate sexual misconduct, Teigen broke down factual errors in his comments.
When questioning senator Elizabeth Warren's heritage, Trump suggested that she be subjected to a DNA kit, before dismissing the "#MeToo generation." "We will take that little kit, we have to do it gently because we're in the 'Me Too' generation," he said at a Montana rally on Thursday night. "We will slowly toss it, hoping it doesn't hit her and injure her arm."
Teigen, who knows how a DNA heritage test actually works (most, like Ancestry and 23andMe, involve collecting a saliva sample), immediately pointed out Trump's misunderstanding. "How does this dipsh-t think 23 and me works?," she wondered on Twitter. "Where does he think you swab?" Then she asked some followup questions: "And why would you have to toss it?," she tweeted, "where is he going with this? his brain is eating itself."
Today host Megyn Kelly also responded to Trump's #MeToo comments, but in a much more perplexing way. Kelly, who once spoke out against the late Fox News CEO Roger Ailes for sexual misconduct, had the words flash on her show, "Is #MeToo Too Big?," while wondering if the movement has been "expanded to the point of ridiculousness by some," as the Daily Beast notes.
Teigen's latest remarks are long in a line of disses she's hurled at Trump on Twitter. She tweeted her criticism for the 45th president way before he became that. Back in 2012, she iconically tweeted, "I literally pose half naked for a living and u are still the biggest attention whore I know." A couple of months later, Teigen tweeted, "@realdonaldtrump hey! been a while. I fucking hate you."
Then, in 2016, she really stepped it up, sharing instructions on how to deactivate a Twitter account with Trump.
Trump eventually could no longer handle comments like these, and ended up blocking Teigen last July. "After 9 years of hating Donald J Trump, telling him 'lol no one likes you' was the straw," she tweeted at the time.
The joke is on Trump, though, because in May a judge ruled that Trump can no longer block people on Twitter. It didn't take long for Teigen to resurface with the perfect response (one that Trump has yet to try to respond to): "Well well well," she wrote. "We meet again @realDonaldTrump."
Related: Donald Trump Can No Longer Legally Block Chrissy Teigen or Anyone Else on Twitter