A Newly-Pregnant Chrissy Teigen Also Has Bangs Now
Model Chrissy Teigen takes to Instagram to unveil her newest look.
---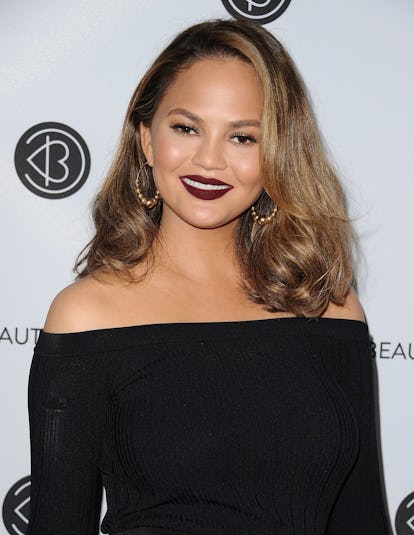 It's no doubt that Chrissy Teigen is the queen of all things social media, and yesterday the supermodel, author and mother took to Instagram to make a few announcements. First up: the model revealed in one very cute baby bump-debuting video starring daughter Luna that she and husband John Legend are currently expecting their second child It was a major announcement by the Internet-beloved couple that set Twitter ablaze on a slow, holiday-adjacent Tuesday evening. But wait, there's more.
Taking to Instagram once more to share with her 15 million followers, Teigen showed off her newly chopped, tousled bangs via hairstylist to the stars, Jen Atkin. In a congratulatory post, Atkin shared, "Congrats to @johnlegend and @chrissyteigen on the addition to their family…Chrissy's new bangs (oh and another baby)." Teigen has always been known for her long, caramel highlighted bombshell waves and messy top knots, but no doubt Teigen's new look will be one to follow (and with Atkin's Kardashian-whispering, maybe one that will soon pop up on the famous family.)
And while models like Emily Ratajkowski and Suki Waterhouse have also been experimenting with their looks as well with playful and colorful wigs, Teigen's proves that her new do is the real deal. In the video, Atkin tugs at Teigen's scalp to prove,"It's really her hair," as Teigen exclaimed, "It's my hair! I love it, you are talented."
Having always been fearless on social media with her witty Twitter one-liners and Instagram pranks, it's no surprise that Teigen took on the daunting beauty look of bangs without any hesitation. Well, maybe just a little. Earlier in the day, Teigen took to Twitter to post a poll asking if she should make the chop. The answer options? "Bangs (Cute!) (Yolo!)" and "No Bangs (Instant life regret!)" Apparently, there's nothing like a new baby to make you say, "Yolo." At least, when it comes to a haircut.
Related: Chrissy Teigen is Pregnant with Baby Number Two
Privacy Settings: Chrissy Teigen, Lily Aldridge and 8 Supermodels Show a Side You Won't See on Social Media