See Chrissy Teigen and John Legend's Family Vacation in Bali
The couple's go-to vacation spot involves a run-in with a giant wasp.
---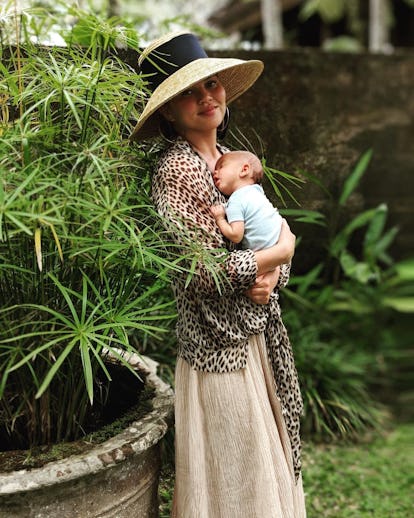 @chrissyteigen
Last summer, Chrissy Teigen and John Legend made an Olympic sport of summer vacation, taking daughter Luna Simone to Laguna Beach, California; Lake Como and Venice in Italy; and then to Bali over the span of several months. This summer, just a few months after the birth of their second child, son Miles Theodore, they have returned to the Indonesian island, bringing both of their kids to take in the lush scenery that abounds on Bali.
Earlier in the week, on July 22, Teigen tweeted, "Have survived first 15 hour flight with 2 year old and newborn. One more leg to go." They must have made it the rest of the way because, four days later, Teigen and Legend were both Instagramming live from Bali; Teigen even saved a Story Highlights titled "Bali" to her profile. (There's the occasional tweet, too, but Teigen's Twitter profile seems more often to channel her relatable internet persona, with her Instagram representing the aspirational, world-traveler one.)
Teigen has documented pretty much every angle of her vacation, from what they're doing—hanging out with the kids, riding in golf carts, fitting in the occasional workout—to what they're eating and even her holiday reading list (Party Monster, the basis for the Macaulay Culkin film of the same title, followed by In Cold Blood). Legend also offered a preview of the guest house they've taken over for their stay, apparently part of an Airbnb deal.
Of course, there are also hazards associated with a stay in a remote destination like Bali—such as the fact that Bali lies on or near several fault lines in the Indian Ocean. The Teigen-Legends braved an earthquake that shook the island on Saturday evening, which clocked in at a 6.4 on the Richter scale and, according to a report by The Guardian, had killed 14 as of the time of publication.
There's also the unfamiliar local flora and fauna to contend with. In one Instagram Stories post, Teigen and Luna Simone can be seen in friendly proximity to an alarming-looking flying ant creature; Teigen captioned the clip, "I swear to god if one of you tells me this is a deadly bug I will vomit." Twitter and Instagram followers, naturally, did just that, pointing to it as a tarantula hawk wasp, a kind of wasp with an incredibly painful (and paralytic) sting that is named for its primary prey, the tarantula (it injects an egg into the arachnid, and when it hatches, it feeds on its host till it's ready to leave its nest). But, thanks to a fact-check by the Washington Post (gratefully retweeted by Teigen), this was swiftly debunked—an entomologist consulted by the news outlet said she believed it to be a paper wasp rather than a tarantula hawk wasp.
Anyways, it was all fine, they're having a great time, and we all get to live it vicariously.
Chrissy Teigen Really, Truly Had the Best Summer of Us All
Luna Simone threw out the first pitch at the Mariners vs. Twins game in Seattle, Washington, June 2017.

@chrissyteigen
John Legend, proud dad, prepares for the first pitch—to be thrown by daughter Luna—at a June Mariners vs. Twins game in Seattle, Washington, June 2017.

@johnlegend
Luna, in a custom Mariners jersey, on the field with parents Chrissy Teigen and John Legend during the game where she threw the first pitch in Seattle, Washington, June 2017.

@chrissyteigen
Legend, Teigen, and Luna make the most of a tour stop in Chicago, Illinois, taking in the Lincoln Park Zoo (with a giraffe for company), June 2017.

@johnlegend
Chrissy Teigen with Luna Simone in Laguna Beach, California, June 2017.

@chrissyteigen
Chrissy Teigen traveled to Boston to wish John Legend a happy Father's Day while he was on tour, June 2017.

@chrissyteigen
John Legend with a very curious Luna Simone in Bali, July 2017.

@johnlegend
The whole family traveled to the Indonesian island of Bali, trying out some traditional looks along the way, July 2017.

@chrissyteigen
Teigen with her daughter Luna in Bali, July 2017.

@chrissyteigen
Teigen played paparazzi to her husband and daughter when they stopped in Lake Como, Italy, July 2017.

@chrissyteigen
Next stop, Venice, Italy, where Teigen has been Instagramming her (it bears saying, impossibly chic) adventures with her daughter, August 2017.

@chrissyteigen
The best mother-daughter dates are the ones on the pedestrian streets of Venice, as Luna and Chrissy Teigen demonstrate all too well.

@chrissyteigen