Meet Christian Combs, P. Diddy's Son Who Just Walked for Dolce & Gabbana
The most musically minded of six siblings, Combs is determined not to just walk runways but to follow in his dad's footsteps.
---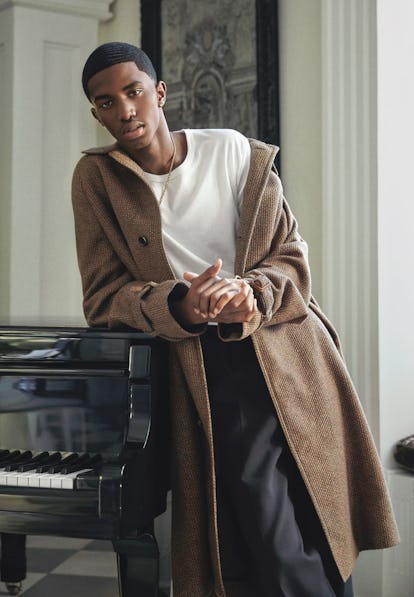 Photograph by Olivia Malone, Styled by Sean Knight; Grooming by Sydney Sollod for Peter Thomas Roth at The Wall Group; retouching by clubhouse; digital technician: Luz Gallardo; Photography assistants: Brook Keegan, Ryan Mosse; fashion assistant: Jake Sammis
You'd be excused for confusing Christian Combs with his daddy—as in Puff Daddy, P. Diddy, Sean John Combs. The striking similarity comes up all the time, but who's ­complaining? "I think it's dope. He's always been my role model, so I'll take it as a compliment," says the young Combs, 19, with a chuckle. "I mean, I think I'm a little more ­handsome, but he's not bad." That uncanny resemblance certainly wasn't lost on anyone who watched Christian walk in Dolce & ­Gabbana's two most recent shows in Milan, along with other hip-hop progeny. Although his own style veers "more streetwear, more Supreme," the budding rapper looked every bit the male model in a "superfresh" custom leather jacket over a tricked-out ruffled shirt and pinstriped trousers. The rather regal look was topped with a gold crown, a nod to his rap moniker, King Combs.
The most musically minded of six siblings, Combs is determined not to just walk runways but to follow in his dad's footsteps; he signed with Bad Boy records for his debut album, King Combs, which drops this fall. It, too, is a chip off the old block, with its "nostalgic '90s sound" harking back to the golden age of hip-hop. Combs is also developing a collection with Dad's clothing label, Sean John, and hopes at some point to launch his own line. His role model for that? The famed Harlem tailor Dapper Dan. (Sorry, Pops.)
Watch: 9 Famous Kids Who Ruled the Runway at New York Fashion Week 2017