Christie Brinkley Has Plenty of Reasons to Smile
The supermodel and entrepreneur is helping change the world, every five minutes.
---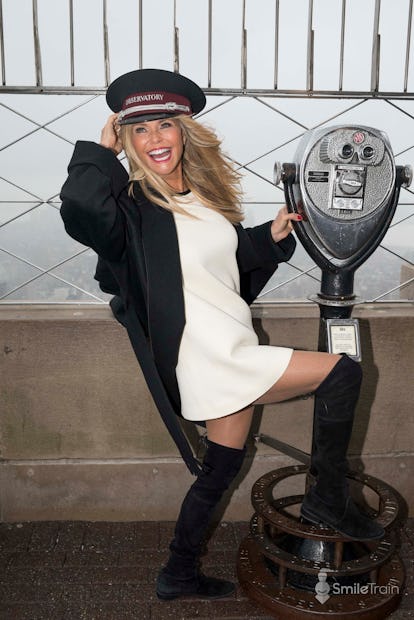 Yesterday afternoon, legendary supermodel Christie Brinkley was in New York at the Empire State Building to celebrate Giving Tuesday—and her charitable collaboration with Smile Train. "During the entire month [of December], we will be giving $50 dollars to the charity for every Smile Kit sold," she said. "Every 5 minutes a child is getting a surgery, and every time it happens there is a system that they've enabled that allows that community to continue to give surgeries. Over a million children have gotten the cleft surgery." Here, the American icon reveals her biggest beauty blunder, best professional advice, and more.
What's your first beauty memory? When my mom cut her hair and made it platinum. I remember thinking my mom looks so instantly chic and glamorous. This was back in the '60s, and I remember being very aware suddenly that I had this beautiful mom.
What was you biggest beauty blunder? When I tried to do my makeup for the first time and pulled out all my eyelashes out with the eyelash curler. I just went 'oh okay,' and the entire row of eyelashes was on that little machine. It was a little shocking, and it was mainly the sound of it that I remember so clearly, this popping noise. It's been all good since then.
What's beauty advice have you given your daughters? My biggest thing is I harp, and harp, and harp on is sunblock, because I've seen the damage that I've done to myself and I want to protect them. We all know at this point that the sun is the number one photo-ager of your skin, and that if you protect it you're going to be protecting the future health of your skin and your beauty.
What beauty professionals can you not live without? Well, for events like this, Mitch [Barry] and Sandy [Linter]. I can do my makeup perfectly if I'm not going anywhere, but the second it's for an event, I get stressed and then I put too much on or whatever. It's really good to have a foolproof team.
What are you currently obsessed with? My line Christie Brinkley Authentic Skincare has created the limited edition Smile Kit, which includes my face wash, scrub and day cream. My day cream is absolutely the best all-day treatment you can put on your skin — it creates your own elastin and collagen. It also has the broadest sunscreen in America, because it also has IR defense which is very rare in the states. In Europe, they're on to it.