Christina Aguilera Is Back at Last, and She Has Got Something to Say
At the age of 37, Xtina is making her comeback. Here, she opens up about her tumultuous past—and her rebirth.
---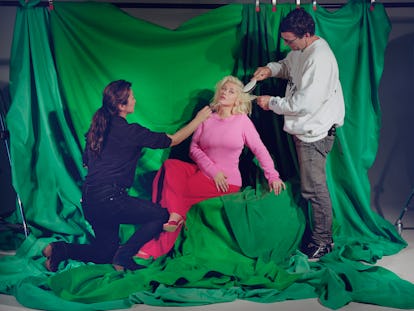 Christina Aguilera just needed a break. The singer, on the cusp of a major comeback at the age of 37, had just been released from a day in New York spent getting reacquainted with the metabolism of the pop star album cycle, which she hadn't experienced in the six years since 2012's Lotus. There had been a photo shoot followed by a video taping followed by an industry appearance, all crammed into a five-hour sprint during which Aguilera was touched and clothed and instructed and observed closely by people she'd just met. Most distressing of all for her, though, was how the day had begun: with a one-on-one meeting with Anna Wintour.
"Of course I was nervous," Aguilera said. "I mean, my goodness!"
Now, after a respite alone in her hotel room at the Four Seasons, she re-emerged relaxed and refreshed, her shoulder-length platinum hair pulled back into an efficient bun, wearing a layer of natural makeup. Aguilera, who has owned the calling card of tiny person with the ginormous voice since she was belting out Whitney Houston covers at elementary school talent shows outside Pittsburgh, padded out of her bedroom freshly scrubbed, having shed the armor of her blinding white Michael Kors pantsuit for black Adidas track pants, a white tank, and a black silk polkadot kimono that looked like it could've come from the studio of Yayoi Kusama. She curled up on a gray couch with her bare feet tucked beneath her. Although there was no one else in sight—somewhere in the massive suite were a publicist, a manager, and two assistants, and in the hallway was a bodyguard twice her size—Aguilera seemed capable of bursting into laughter that could fill a TV studio at any moment. She can still be irrepressible as her voice.
"But it ended up being great!" she said of her meeting with Wintour. "I left the office and everyone was like, 'We've never heard her laugh like that.'"
"Anyway, my head's still on," she continued, pulling her kimono tightly around her shoulders. Even with everything going on, Aguilera's first order of business, she told me, was the progress of her younger sister's engagement party, which she was planning as the maid of honor. "I just want everything to be special for her. She's one of those people who never thinks about anyone else, so I'm very mama-bear with her." The timing couldn't be worse, of course, with Aguilera's comeback imminent. "Ay yi yi," she said, and rolled her eyes. "When is it ever the best time for anything?"
In January, Aguilera finally addressed her long-awaited return by having a little fun with a fan who memed her Hollywood Walk of Fame star by placing sticky notes over the photo to form the question: "Dear Christina Aguilera, where the f** is the new album?" To which Aguilera replied, "It's coming, bitches…." In early May, she released the first single from Liberation: "Accelerate," a sultry vibe-out produced by Kanye West, and a reminder to her fans that Aguilera, who hasn't made the tabloids in years for being too rowdy, still knows how to get down—and a signal to a potential new audience who might have come to it because of Ty Dolla $ign and 2 Chainz, who take the song in new and surprising directions for Aguilera. "There's something loose and admirable happening here: Everyone is trying new things, and the disarray verges on flamboyance," Jon Caramanica wrote about "Accelerate" in the New York Times*.
Others, though, were left disappointed by the instrument noticeably underused in the song: Aguilera's famous voice. "She should be wrapping her golden throat around something like Demi Lovato's operatic 'Sorry Not Sorry,'" advised Pitchfork.
On Wednesday, she did, releasing "Fall in Line," featuring Lovato, who along with Kesha and Katy Perry is among Aguilera's natural pop successors. "Fall in Line" could very well be Liberation's "Beautiful," a fiery barn burner for little girls with dreams that allows Aguilera to really wring her voice for every drop of might be called ecstatic schmaltz. And, like "Beautiful," the song really works.
"I'm a soul singer—my voice just goes there," Aguilera said. "It's actually hard for me to sing songs straight."
Soul, of course, is defined by the way it transforms centuries of struggle into something beautiful and full of sorrow at the same time. As an artist, Aguilera, who idolizes Etta James and even formed a bond with her before she died, has at times been a sufferer in need of something to suffer. Her album, which will at last be released on June 15, has been endlessly delayed. The six-year hiatus is due to a number of reasons: Aguilera kept meeting collaborators she wanted to work with (Anderson Paak, Che Pope, Mike Dean, and Kanye West are all credited as producers on Liberation). She's also been busy raising her 10-year-old son, Max, with her ex-husband Jordan Bratman, and her 3-year-old daughter, Summer, with her fiancé, Matt Rutler. And then there's the thorny deterrent we've come to identify Aguilera with of late: The Voice.
"It was such a hamster wheel," Aguilera said, sounding dismayed by the memory. She had signed on as one of The Voice's original judges, along with Adam Levine, Cee Lo Green, and Blake Shelton, in 2011, sometime after the release of Bionic, her foray into electronic music (and a critical and commercial flop of sorts, though it still has a certain fandom today). In case you're the rare person who has never seen it, the NBC competition show's gimmick is that its judges sit in huge chairs with their backs to the contestants, so as to make their decisions solely on the quality of the singing. It smartly played to Aguilera's strengths, at least at first. "And then I felt like things really started to shift and change," she said. "I signed on to a show where the blind audition element was something interesting, something genuine. After a while, though, you start to see that everyone is good-looking." She laughed. "It wasn't a comfortable place for me to be, where I'm just part of a money-making machine. When I stop believing in something, then it's like, What am I doing here? I think I did choose to, no pun intended, take a chair for so long and do something very commercial for my little ones. But at a certain point I felt like I'm not even doing them a service by cheating myself and what I'm here to do. They should be seeing Mommy live her best life."
Aguilera left The Voice in 2016, but not, she clarified, because of what the gossip insinuated—that the romance between Blake Shelton and new judge Gwen Stefani was sucking all the air out of the show, and away from Aguilera. "Oh my God, no!" she said of the reputed feud with Stefani. "No, it never had anything to do with any one person at all. And I actually think it's really cute Blake and Gwen found love in that chaotic environment." She laughed. "I fought for a long time to get two females in the chairs. And, for a long time, I was just told it wasn't the demographic. But just know that I was a fighter behind the scenes."
As disillusioning as she may have found the experience, The Voice gave Aguilera what she's always needed as an artist: something to push against. "Once again, I found myself in that place where I'm being told what to do, what's going to be acceptable or unacceptable, what's okay or not okay." She sighed. "It's like, God, you know, I'm a mother of two now." She wagged her finger at me. "The genie is out of the bottle."
Since "Genie in a Bottle" peaked at number one on the Billboard 100 in 1999, Aguilera has made her own artistic oppression part of her origin myth. Defiance has driven some of the greatest successes of her career. She positioned herself as the anti-Britney while promoting her smash-hit self-titled debut album, telling Rolling Stone, "I think my personality is fighting to come out, and that personality is fighting with the image that everyone else has of me." A year later, she fired her manager, Steve Kurtz, partly for his overly controlling management style. In 2001, when "Lady Marmalade" ruled radio for months, she told MTV, "I just get really bored with sticking to the norm and having the proper conservative image. That's just so not me. When 'Lady Marmalade' came out, so many executives were like, 'She can't do this.' 'It's too Rockwilder and Missy.' 'It's too urban.' And I was like, 'I'm doing it.' Even with certain outfits that I wear, or speaking openly about my past… I'm not going to sit there and lie. Whether you like me or hate me, that's me." And for the most part, we loved her for it.
Of course, next came Stripped, Aguilera's second full-length English-language album and probably still her landmark achievement in pop culture. The record was executive-produced by Aguilera at just 21 years old, although by then she had already become Xtina—her darker, more sexualized alter ego who appeared on magazine covers with her hair extensions dyed black—which would eventually become a personal shorthand. (Cosplay is an essential element of Aguilera's record releases; while promoting 2006's Back to Basics, a double album inspired by the blues and jazz singers of the 1920s, '30s, and '40s, she told the New York Times, "For me the visual is just as important as the music. I would never record without my red lipstick. It was my way of getting into character, sort of like Method singing." And during our conversation, she exclaimed at me, in a sort of rallying cry for her "even more stripped-back" image for Liberation: "Freckles forward!") When the music video for Stripped's first single, "Dirrty," debuted on MTV in 2002 with Aguilera in assless chaps amid a heaving, muddy nest of raunch, it horrified many. Fellow pop stars Shakira and Jessica Simpson both said she had gone too far, and Saturday Night Live roasted her, with Sarah Michelle Gellar as Xtina. (What a time….)
In 2018, though, a few glimpses of brazen sexuality barely register as provocation in a celebrity age where Kanye West's Twitter exists. "I know, I know," Aguilera said of West, who in addition to "Accelerate" produced "Maria," the third track on Liberation, which features a Jackson 5 sample and which Aguilera calls her favorite song on the album. Earlier that day, West's meltdown on TMZ Live, during which he declared slavery "a choice," had aired. "Kanye, you know, he says things. His mind works in mysterious ways," Aguilera said. "I'll just say that. I've always been a fan of his music…. If anything, he gives with his gut." (Aguilera actually growled here, for emphasis.) "You can feel it in his beats. It's genuine. It feels like his truth, even if it's not going to go over well. But he really spoke to me. Even in that conversation we had, he would go on about other subjects and stuff like that. But then he would kind of remind me of myself. Like, oh, okay." Aguilera laughed. "He just has a different way of thinking and he'll trail off in his own thoughts. You get the sense, though, that there's a good guy there. Sometimes we're all just a little misunderstood."
Aguilera has always identified as a bit of an outcast. She was born a military brat to Shelly Fidler and Fausto Aguilera, an Ecuadorian U.S. Army sergeant, and lived everywhere from Staten Island to Japan to Pittsburgh. Before she was cast on The Mickey Mouse Club, with Justin Timberlake, Britney Spears, JC Chasez, and Keri Russell, at age 12, Aguilera auditioned for Star Search and made it to the semifinals before being eliminated. That, too, led to being excluded: After her TV appearance, Aguilera has said, her mother's tires were slashed and her classmates shunned her. (She was homeschooled after ninth grade.) At home, things were even worse. Her father allegedly physically abused her mother until she divorced him when Aguilera was 7. In response to witnessing such violence, Aguilera would run up to her room and put on her tape of the Sound of Music soundtrack. Julie Andrews's voice, free and wild, seemed to release her from the trauma. "I would open up my bedroom window, and I would just imagine the audience," Aguilera told Rolling Stone in 2000. "I would just sing out."
In a way, the fallout from The Voice reawakened Aguilera to what had always been her mission as an artist: to make songs that have a message, for the people who need one. "For a while, I felt like I was asleep at the wheel," she confessed. She needed to get back to using her voice to inspire others to find theirs, Aguilera said, "because in a lot of ways, I saw my mom just not have hers."
Of course, Aguilera's signature anthem for the unheard, unnoticed, and unloved is still "Beautiful," the second single from Stripped that followed the controversial "Dirrty." The song, written by Linda Perry, proved to be the album's real taboo buster, especially when the music video directed by Jonas Akerlund was released in December 2002. Featuring a gay male couple passionately kissing, an anorexic teen scrutinizing her body, a black girl ripping pages of white models out of a magazine, a transgender woman putting on her undergarments, and other marginalized peoples, the video felt revolutionary at the time. "I wasn't even prepared for how upset some people were going to get by some of the visuals," Aguilera recalled. "Even people who I knew around me who were gay and completely out, they were even a little taken aback. Like, 'I just wasn't ready to see that onscreen like that.'" The ballad later won a GLAAD award and made Aguilera a gay icon, but, with its simple, powerful chorus ("I am beautiful, no matter what they say/Words can't bring me down"), it's also an anthem for anyone who has ever woken up feeling less than good about themselves.
"I was 11," Demi Lovato recalled to me over email. "This song helped me get through really bad days with body image issues."
That fight continues, of course, for Aguilera, who has long been publicly outspoken about body positivity, since at least 2003. Now that she's a mother of two, the message of inclusivity might be more important than ever for her to embody. At the Billboard Music Awards on Sunday, Aguilera and Lovato will perform "Fall in Line" together. The intro features the voices of Aguilera's 3-year-old daughter Summer and her friends, declaring their intentions: "When I grow up, I want to be a screenwriter.… I want to be a superhero.… I want to be a boss.… I want to be the boss.… I wanna be president." The song is a straightforward plea to those little girls to not back down from their dreams in the face of oppressive masculinity: "And I'm gonna pay for this / They're gonna burn me at the stake / But I got a fire in my veins / I wasn't made to fall in line / No, I wasn't made to fall in line," goes the soaring chorus. (In a bit of a production stunt, the song also has the Auto-Tuned voice of a proverbial man standing in the way, chanting: "One, two, three, right—two, three / Shut your mouth / Stick your ass out for me / One, two, three, right—two, three / Who told you you're allowed to think?" As Aguilera knows well, antagonists, especially male antagonists, can be powerful inspiration.)
"Liberation is about me getting back to that little-girl me," Aguilera explained. "You hear 'Fall in Line' and maybe think it was inspired by this time"—of #MeToo and Trump—"and it's not. It was created years ago. It's something I've always felt very strongly."
She leaned forward, her face furrowed in concentration. "I always look at my old message T-shirts in my keepsake bin," Aguilera said. "And I wore one on the cover of Us back in the day. It said—wait, I don't want to get it wrong…"
As she tried to remember, her publicist suddenly appeared in the room. He had been listening in, apparently, because he held his phone out to show us a picture from Aguilera's Instagram, near the bottom of her feed, which had recently been wiped in preparation for the Liberation cycle: There was early Xtina, in a slideshow in which she appears young, pierced, and midriffed, wearing a small white T-shirt that read, "A man of quality is not threatened by a woman of equality."
"Yes!" Aguilera shrieked, laughing. "Boom!" She clapped, clearly overjoyed. And for a second, she even looked girlish, like she was having fun again.