Christina Aguilera Shades MTV Over Britney Spears and Madonna's 2003 VMAs Kiss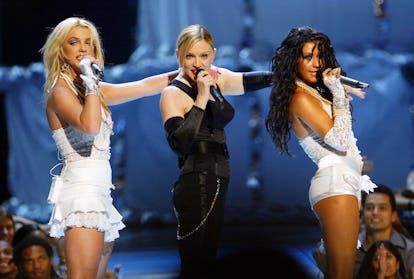 Kevin Kane/Getty Images
The 2003 MTV VMAs will forever go down in history as the day Britney Spears kissed Madonna, but something else happened that day that the history books seem to have left out: Christina Aguilera also kissed Madonna. But instead of airing the moment onscreen for the world to see, MTV opted to cut away to get Justin Timberlake's reaction.
In a new interview for his SiriusXM show, Radio Andy, host Andy Cohen asked Aguilera the question that has likely been on the minds of many fans for the past decade and a half: Did it bug her that they cut away for her kiss?
"It was weird," Aguilera reveals. "And you know why they cut away for it? They cut away to get Justin's reaction. It was a 'Justin's reaction' shot." The pop superstar goes on to explain that Timberlake and Spears were exes at the time, and calls the move a "cheap shot." "That's annoying to me, because I don't think people totally realize she made out with both of you that day," Cohen, who was in attendance at the 2003 VMAs to watch the moment live, tells his guest. "I definitely saw the newspaper that day and was like, 'oh, well, I guess I got left out of that one,'" Aguilera recalls.
When Cohen asks Aguilera if it bugged her that Spears got all the credit, she responded, "I had my own performance that night, it was 'Fighter' with Dave Navarro, and it was a kick-ass performance, so she can have that."
The rumored beef between Spears and Aguilera has been longstanding, spanning back to their Mouseketeer days, long before they were household names. And, it turns out, Timberlake may have been the impetus behind the whole thing. "Even back then, he had swag," Aguilera told James Corden during her April appearance on Carpool Karaoke. "There was me and Britney—well, now, you know—there was a thing back then."
This isn't the first time Aguilera has shaded Spears about the kiss. In an old interview with Blender, Aguilera says that Spears agreed to do the Madonna kiss because she "needed a gimmick."