Britney Spears's "…Baby One More Time" Was Almost a TLC Song Before It Changed Pop Music
TLC, Robyn, and Simon Cowell all had a crack at it, too, before Britney made it iconic.
---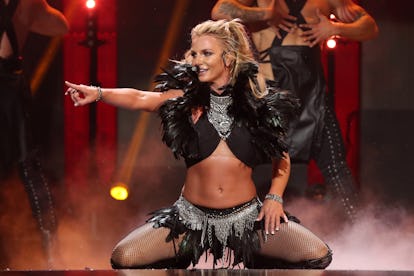 Christopher Polk/Getty Images
Britney Spears has been in the public eye since she was 11—she was cast in the Mickey Mouse Club in 1992—but it wasn't until her 1998 single "…Baby One More Time" that she emerged fully-fledged, chrysalis-like, as the pop star we now know, the one who would go on to Vegas residencies (one already behind her, one ahead for 2019) and best-selling celebrity fragrances And of course, despite a highly public breakdown that was the subject of gleeful tabloid coverage, she has made a comeback for the ages, painting, posting Instagram thirst traps, landing a major fashion campaign, and embarking on a North American tour.
"… Baby One More Time," which would go on to top the Billboard Hot 100 for two weeks, heralded Spears's arrival as a pop icon—who, according to a new piece in The Guardian revisiting the song's unknown history, set the stage for the pop acts (Christina Aguilera, Charli XCX, Katy Perry) to follow. But it almost wasn't her song. Written by Swedish pop auteur Max Martin, "…Baby One More Time" was first offered to TLC under the title "Hit Me Baby (One More Time)."
"Do I think it's a hit? Do I think it's TLC?" member T-Boz said in 2013, according to The Guardian. "Was I going to say, 'Hit me baby one more time?' Hell no." The band, apparently, thought the lyrics were a reference to domestic violence; in fact, as John Seabrook wrote in his book, The Song Machine, Martin and co-producer Rami Yacoub thought "hit" was slang for "call."
Then, Robyn had a shot at it, as did the Backstreet Boys; Simon Cowell tried to nick it for his new boy band Five, with whom Martin had previously written; and then, finally, it was destined for Britney Spears. (Cowell, apparently indignant that Martin was giving the song to a relatively untried musician, is reported to have said of Spears, "No one can be successful with a name like that.") It was retitled, given Spears's label's understandable concerns about "Hit Me Baby" being misconstrued. They recorded in Sweden, Martin supervising as they laid down "…Baby One More Time" and three more singles that would appear on the album of the same title. Then Spears set off on a tour. And when the song was finally unleashed on the world, it sold 500,000 copies on its first day (because in 1998, apparently, people bought music). The subsequent music video—which was of Spears's own devising, after she vetoed the concept from director Nigel Dick—only reinforced her new, decidedly non-Mouseketeer image, and inspired countless Halloween costumes in the process. It's Britney, bitch.