Britney Spears Just Landed a Major Fashion Campaign—Why Has It Taken This Long?
The singer is the face of Kenzo's La Collection Memento N°2 campaign.
---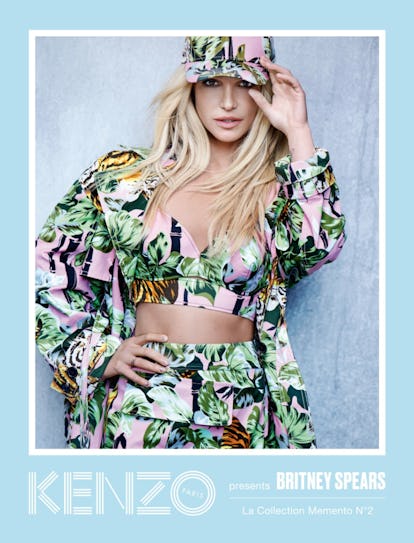 The image of Britney Spears conjures a onslaught of iconic fashion moments. A school girl uniform punctuated by fluffy pink scrunchies. A pair of jorts matched with a bunch of scarves fastened into a bra and a yellow banana snake. A belly-button piercing.
But two decades after she first burst into the pop culture stratosphere, Spears is now fronting another major style moment that is perhaps her biggest high fashion coup yet; today, Kenzo announced that the pop star will be the face of the La Collection Memento N°2 campaign, which the company revealed on its Instagram Tuesday morning.
Photographed by Peter Lindburgh, the images see Spears dressed in the brand's latest collection, which was inspired by the 1986 Paris runway debut of KENZO Jean. And as the press release notes, "Britney is certainly an icon and the quintessential queen of denim." It's true; no one helped usher in the early-aughts craze of low-rise jeans quite like Spears—what better way to show off that belly-button ring? And then, of course, there was the now famous full Canadian tuxedo gown worn to the American Music Awards alongside then-boyfriend Justin Timberlake, who did his part by wearing his own denim tuxedo.
This campaign is certainly a far cry from that particular moment, though, and remarkably marks Spears's first major luxury campaign. In fact, it is only her second fashion campaign to date; back in 2010, she designed a collection for Candie's, Kohl's in-house fashion label, and fronted the collection's campaign, but that's it. It's hard to believe that it's taken nearly 20 years for Britney Spears—Britney, bitch!—to land a major fashion campaign, but here we are.
Of course, Spears has always known she's worthy of the spotlight. Her homemade fashion shows that she regularly posts on Instagram are unfailingly delightful. She's had enough memorable music video ensembles to warrant "Britney Through the Ages" as a popular group Halloween costume. There was a contestant on RuPaul's Drag Race who based his entire persona on her! If that's not cause for a fashion campaign, then what is?
It certainly begs the question—what other pop stars of yore deserve their own fashion campaigns? Christina Aguilera—who, to be fair, starred in Versace's 2003 campiagn—looked downright unrecognizable—in a good way—earlier this year at a Stella McCartney party, and if anyone supports the intersection of music and fashion, it's McCartney. Hedi Slimane previously cast Courtney Love in a campaign for Saint Laurent, so surely he is on the lookout for a new rock muse for his upcoming debut at Céline; may we suggest—and stay with us here—Avril Lavigne? She's still got the punk edge that Slimane loves so much somewhere down there, and he is certainly a sk8er boi at heart. Also, Céline ties worn over white ribbed tanks? Chic. And what about our less remembered fallen pop heroes? There's got to be a young brand—Vaquera? Matthew Adams Dolan? Galvan?—that could do to cast a Stacie Orrico, Willa Ford, or whatever member of Dream is available for some tongue-in-cheek nostalgia.
So, fashion brands, let's do this. Next time it's time to cast your ads, instead of booking the closest Hadid, just break out that defunct HitClips and see what speaks to you. We trust they'll be waiting by the phone.
Related: The 6 Pop Divas Who, Like Gwen Stefani, May Be Primed For a Las Vegas Residency
Halle Berry Presents a Dramatic Interpretation of Britney Spears's "Oops, I Did It Again"