Chasing Tail
Tired of the pancakelike posterior dealt her by genetics, Christina Han set off on a mission to add some junk to her trunk.
---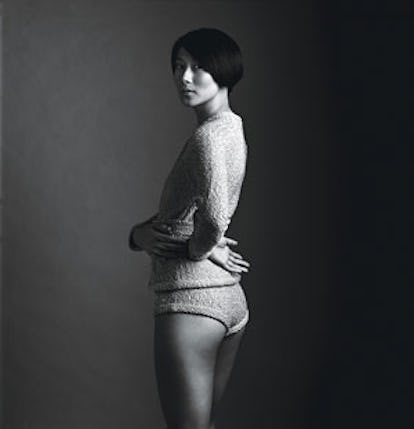 Pippa Middleton, J. Lo, Kim Kardashian, and virtually the ­entire female population of Brazil all have something that I want. I don't mean to be ungrateful—I thank my mother ­every day for passing along her flawless-skin DNA. But the flat tush I could have done without. For as long as I can remember, jeans have been my enemy (and no, strategic pocket placement does not make a bumpin' bottom), while long sweaters, T-shirts, and blazers have helped disguise a backside that is, sadly, a mere continuation of my back. The final straw: The models strutting their way down many of the spring runways sporting one pair of curve-hugging, retro-fitting shorts after ­another. ­Balenciaga's were high-waisted, Dolce & Gabbana's bloomeresque, and Prada's and Louis Vuitton's left almost nothing to hide. So I decided to put my barely there derriere through a booty boot camp.
The author at the outset of her mission.
My guru was David Kirsch, the ­Manhattan-based trainer to the stars. Karolina Kurkova was the first to dub him Master of the Ass, after he sculpted her rather meager raw material into something substantial. "You have a banana body," Kirsch said, as he examined my backside in his Madison Square Park office. "You're not totally hipless, but you have a flat butt." Kirsch wrapped a measuring tape around the thickest section of my lower body: 35½ inches. (J. Lo's backside is rumored to top out at around 42 ­inches.) "It's fixable," he assured me, agreeing to take up my cause as a kind of challenge, with one-hour sessions three times a week.
For the next three months, Kirsch had me frog-jumping, donkey-kicking on all fours, and platypus-walking—in a plié squat with my hands behind my head. As an avid gymgoer, I didn't expect to break much of a sweat just lunging and squatting. I painfully discovered I was wrong and limped around slightly bowleggedly for a few weeks. My ass, as they say, was on fire.
After nearly 10 weeks, though, I had an epiphany: Midway through a session, I poked a finger into my lower left cheek—a new habit of mine—and discovered some meatiness. Though the subtle sloping I was going for seemed slow to materialize, plastic and wood seating were no longer agony for my tailbone. It seemed as if, finally, baby was getting back. (It wasn't all blood, sweat, and tears: Kirsch's routine also involved eating more proteins and leafy greens and abstaining from what he calls the ABC's: alcohol, bread, coffee—along with dairy, sugar, and fruit.)
Then I heard about an Equinox class called Brazil Butt Lift. How could I not check this out? I tracked down its inventor, Leandro Carvalho, at his private East Village studio. Carvalho has famously helped shape the rears (or, as he calls them, the "bum-bums") of Doutzen Kroes and Gisele Bündchen with workouts inspired by one of his first clients, fellow ­Brazilian Alessandra Ambrósio, by mixing Carnival-style dance and capoeira with kickboxing, lunges, and squats. He saddled me with 2.5-pound ankle straps to make all of it even more challenging. (In Brazil, 10-pounders are the norm.)
"Brazilians have the bum-bums they do partly because of great genetics," Carvalho said. "But it's still common to see some that are pear-shaped or square or drooping. We have to work very hard to keep them in shape." After just 45 minutes of heart-­pounding, backside-breaking intensity, I began to think of the shapely Victoria's Secret Angels less as deities and more as runway-stomping badasses in bedazzled wings.
When that burn wore off a few days later, I attended Kate Albarelli's glute-toning class, Figure 4, which has a cultlike following at Pure Yoga on the Upper West Side. As I stepped into her brightly lit studio, Albarelli gave me a quick assessment. "You have a heart-shaped butt," she said approvingly. "You're starting to get that nice chisel on the sides—that's the gluteus medius." Albarelli then assured me that the hamstring-lifting motions in her class would help form the bubble of my dreams—then kicked my ass with her pulsating arabesques, in which the active leg stays in the air for far, far too long. While each set was supposed to hit a count of 20, I could barely do six. (Her workout, based on barre exercises she used during her 15 years as a professional ballet dancer, also incorporates free weights, yoga, and core exercises.)
A few thousand squats and leg lifts and frog jumps later, my booty still won't be mistaken for Rihanna's, but there is a bit of sumthin' sumthin' that wasn't there before: a half-inch of it, to be precise. Though ­after parading my improved badonkadonk around for a bit, it seems clear to me that it's not so much the size that matters as the shape it's in. Now that my tush can actually make contact with fabric, I look good in anything spandex—bikini bottoms, workout gear, a newly purchased pair of Alexander Wang leggings. How proud am I? When I strut down the sidewalk in skintight jeans, I can't help but channel an old ­Destiny's Child favorite: 'Cause my body's too bootylicious for ya, babe. That proud.
Styled By Lindsey Frugier; Makeup By Kristie Streicher; Photography Assistant: Danielle Atkins. Jill Stuart's silver cotton jacket and briefs. Vince's white micro-modal tank top. Adidas by Stella McCartney's orange polyester leggings.