Buzz Worthy
Inspired by the latest wave of models sporting cropped locks, Christina Han discovers the kindest cut.
---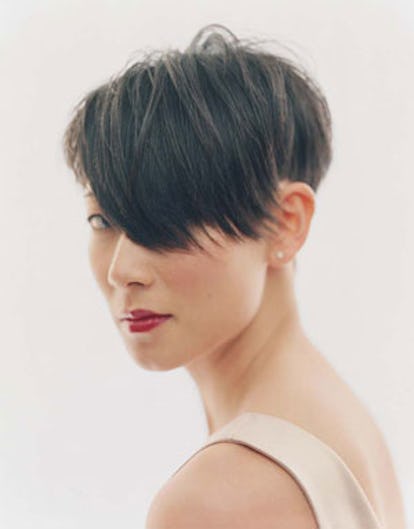 I WAS FIVE YEARS OLD the first time I had my hair cut short. I had hoped for a pretty pixie—though Twiggy wasn't exactly on my radar back then, that was the general idea—but instead walked out of the salon looking like a miniature Bruce Lee. A wardrobe of frilly dresses and skirts was the only thing that prevented outsiders from confusing me with my brother. The crop took what felt like years to grow out, and the trauma lasted far longer. For the next two decades, I clung to my long locks as if they were a prized family heirloom—until now.
The itch to shear my chest-length tresses started building this past February, during New York Fashion Week. It was impossible not to notice the slew of models—perhaps taking a cue from fashion's current obsession with androgyny—sporting fades and buzzed necks with stylized, Brit punk–inspired fringes on top. At Narciso Rodriguez, newcomer Kristina Salinovic's messy, side-parted crop caught my eye; at Ralph Lauren, I couldn't stop staring at Tunisian-born Hanaa Ben Abdesslem's dramatic fade. But the girl who really sent me over the edge was Britt Maren, whose career exploded after Guido Palau lopped eight inches off her 'do last fall. Every one of these girls looked effortlessly, intensely, and enviably cool. Suddenly, the thought of one more sweltering New York summer with my show horse–thick ponytail—pieces of which inevitably stuck to my Nars-glossed lips—felt unbearable.
The writer, before.
I consulted my closest friends (one was for it; the other threatened to cry) and then broached the subject with my boyfriend. Though I warned him that we might end up with matching coifs, he safely (and very sweetly) said, "You'll look beautiful no matter what you do." Finally, I brought it up with my boss, who, of course, immediately saw a potential story. "How much do you like your job?" she tested me (half) jokingly when I hesitated, citing my lifelong fear of being sheared. So I worked up the nerve and made an appointment with Garren.
The New York–based scissor wizard behind Victoria Beckham's post–Spice Girls pixie, Selma Blair's punk 'do, and Loulou de la Falaise's tousled, ear-skimming shag, Garren is the short-cut king. Still, despite knowing that I would be in the greatest hands, I showed up at his salon in the Sherry-Netherland hotel armed with a folder full of tear sheets, which Garren good-naturedly set about studying. "It has to be cool, not pedestrian—like a skater-boy look," he said, flipping through my images of models and movie stars, with the occasional printout from Scott Schuman's street-style blog, the Sartorialist, thrown in for a dose of reality. "It helps if you have a long neck and delicate features, which you do. For people with shorter necks, it's a little harder."
And then, before I had a moment to reconsider, his scissors were snipping off thick, six-inch-long clumps of hair, which fell heavily onto my shoulders before hitting the floor. The next time I caught my reflection in the mirror, I was sporting a rather chic, chin-length bob. Then an undeniable buzzing sound sent a chill up my spine: Garren shaved the entire back of my head. "I'm leaving a chunk so it flops over your eye," he said, as he moved on to my sideburns and temples. "It gives a sense of mystery." When he put the shaver down, he began snipping the three to five inches that he'd left on top into a jagged-edged cap that just barely tickled my ears. I had less hair than Justin Bieber.
While it was startling, I was instantly obsessed. For the rest of the day, I couldn't stop touching my softly bristled tresses, which felt like a duckling's new feathers. I unabashedly checked myself out in every surface, and even chose a prime window seat on the subway just to gaze at my reflection. My neck looked longer, more elegant; my face had finally come out of hiding.
Instead of feeling a loss, I finally understood the liberating effect of cutting it all off. In early 1967, Mia Farrow's winsome pixie catapulted both her and Vidal Sassoon's careers; going short did the same for model Linda Evangelista in 1988; and, more recently, Ginnifer Goodwin's tousled tomboy look lent the classically cute actress a modernity. I felt like the newest member of the club. With all due modesty, I looked good. Like quit-my-job-and-give-me-a-contract good. Maintenance is another upside. Time-consuming blowouts are a thing of the past: The new 'do air-dries in the time it takes me to get dressed. A spritz of Garren's Designing Spray Tonic to tame any flyaways, a quick finger comb, and I'm out the door.
My makeover has been met with a variety of reactions, most of them very positive. A few friends didn't recognize me and some accused me of adopting a punkier style—though my built-on-basics, Rag & Bone–heavy wardrobe hasn't changed a bit. My mother, on the other hand, was aghast when I sent her an iPhone photo on the way out of the salon. "You look crazy," she said in Korean, convinced that her hair ribbon–wearing, lacrosse-playing, prep school–attending daughter had been transformed into a goth (I'm hoping to convince her otherwise when I see her in person). But my own feelings are most in line with my boyfriend's. He took one look and said simply, "Cool."
Styled by Carolyn Tate Angel. Han wears the Row's Silk top; makeup by Maral Balian at Warren-Tricomi at the Plaza.