The Odd Couple: Christopher Kane & Donatella Versace
She's Milan's most notorious doyenne. He's a working-class Glaswegian. But Donatella Versace has found an unlikely fashion soulmate in 28-year-old Versus designer Christopher Kane.
---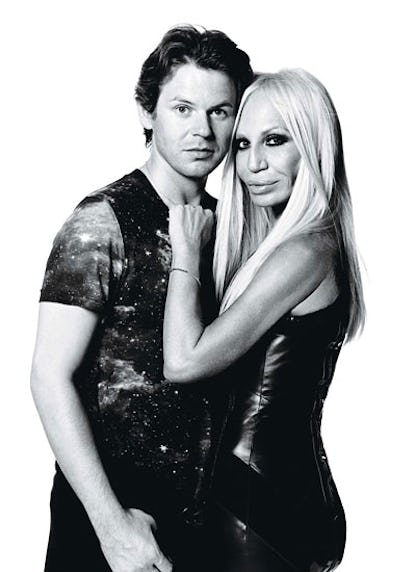 Christopher Kane cannot help but reel every time he visits the Versace headquarters in Milan. It's not just the legions of "miracle workers," as he calls the staff, who are there at his disposal. Or the "amazing" white coated couture seamstresses, whom, he says, "you just want to plug into your computer and download." Or even Gianni's spectacular apartment, which Donatella has kept like a shrine since her brother's death in 1997, with his favorite candles burning and beautiful flowers throughout. It's also the staff lunches: the plates of melon and Parma ham, the light-as-chiffon lasagna that Donatella claims has hardly any calories, the seafood. "Omigod, the seafood!" Kane tells me on a muggy July day in East London's edgy Dalston neighborhood, adding that he and his sister Tammy "are like two wee piglets with the seafood. You almost want a paper bag to take the leftovers home!"
Sitting in the middle of his studio off the Kingsland High Road, Kane is wearing tight black jeans (women's size 28), a black volcano-print T-shirt of his own design, and Prada sandals; Tammy, his muse and business partner, has on a blue gingham frock from Kane's spring 2010 collection and men's brogues from Church's. White and spacious, with an espresso machine in the kitchenette and 15 staffers toiling away upstairs, their current headquarters is a big step up from the ramshackle place the pair worked out of until three years ago. In those days they shared their tiny living room with two seamstresses; outside, empty Jack Daniel's bottles piled up by the front door. Today the empties neatly stacked by the garbage are white wine bottles. "Yes," Tammy says with a twitch of a smile, "as you can see, we've pro-graissed."
Although the atmosphere is eerily quiet, you could call it the eye of the storm. Kane's spring 2011 collection will debut on the runway in six weeks, and so far he has neither a venue nor acceptable fabrics. (When the textile samples came in, says Tammy, he absolutely hated them.) Six days after the Christopher Kane show, the two will be in Milan, where Kane's Versus collection will be shown on the catwalk for the first time. It's a lot for a 28-year-old designer to navigate—even one widely acknowledged to be the biggest talent to come out of London's famed Central Saint Martins design school in the past half decade. His nails, not surprisingly, are bitten to the quick.
"Meteoric" is the word most often used to describe Kane's rise in the fashion world. Just five years ago he was a stringy-haired working-class kid from suburban Glasgow. At his first show, in September 2006, he debuted a conga line of jangling fluorescent bandage dresses that Browns in London, Maria Luisa in Paris, and Milan's 10 Corso Como immediately picked up. Business, Tammy says, has "quadrupled" in the time since.
The house of Versace, meanwhile, has spent much of the past decade on the opposite trajectory. According to Newsweek, sales dropped from $1 billion annually in 1997 to less than half that in 2007. In 2004, with Donatella in rehab for drug addiction, Versus—the line her brother had given her in 1989—was shuttered. These days Versace as a whole is in better shape, says CEO Gian Giacomo Ferraris, who signed on last year. In March he told Reuters that sales were up 10 percent for the year. Still, Versace's total revenue is reportedly only about a 10th of Gucci's. Bringing on Kane, whose designs, like Gianni's, so cleverly teeter between fresh elegance and sex-soaked vulgarity, is clearly an attempt to rekindle some of the old magic. "Versace went through a very bad moment," Donatella admits. "The team, the management, was not in place. But it's going through a rebirth. We are back together now, full of energy, full of fight for the new direction. It's very important for everyone to know we are still here and we are here to stay, including"—she chuckles mischievously—"me."
The day after my first meeting with the Kanes, Donatella is perched on a sofa in the Dorchester Hotel, enthusiastically inhaling cigarettes and reminiscing about the early days of Versus. When Gianni handed her the reins of the label, she had no formal training in design and no idea how to sketch. Proving to her brother that she could succeed meant everything to her. "Gianni gave it to me because he wanted a different approach," she says, batting away smoke with a tanned hand. "Younger, tougher, edgier, really connected to the music world, you know? So for me it was so precious; I cared so much about doing a good job."
Though the collection was well received in Milan, it wasn't until the late Nineties, when the line was shown in New York (its "spiritual home," is how Donatella puts it), that it really took off. "I remember one big show at Roseland," she says. "Bono was there. Courtney Love—that's when Courtney was still good. Madonna. Nobody had celebrities in their front row, but we had them all. I remember Lourdes kept wanting to go onto the runway. I was like, 'Madonna! Keep her there! Please!'"
Despite looking much as you'd expect, with that mahogany skin, extraordinary prow-of-a-boat nose, and child's body—today encased in a tight black T-shirt and even tighter striped flares, a massive canary diamond on her finger—Donatella, 55, isn't the scary caricature she's often made out to be. Her gait and manner are almost girlish, and one can tell by her droll tone and habit of self-deprecation that she has learned not to take herself too seriously. "I'm full of inspiration," she says. "I want to bring Versace into the future, to keep it relevant but keep it close to the original DNA. Christopher, he understands this so well. He puts his stamp, yes, but he is so respectful of the brand. Wait till you see the next Versus collection. Lots of prints, lots of printed stockings, lots of length—sexy but naive. When I see the samples I'm like a kid in a candy store: I want more!"
As if on cue, a beefy bodyguard posted at the door announces the arrival of Kane, a shy presence with a faint sheen across his blunt, boyish features because of the humidity outside. Popping a petit four in his mouth before giving the delighted Donatella a kiss, he looks around the suite at all the ormolu and chintz, and likens it admiringly to "a mini White House."
Donatella asks after Kane's mother, Christine, for whom she has brought a "geeft"—a black patent-leather Versace bag. Then the subject quickly turns to Tammy, who has recently become engaged. "Oh, my God, the wedding dress," Donatella says with mock dread. "How we do it? You do the left side, I do the right, eh?"
Donatella first approached Kane about resurrecting Versus in the summer of 2008. It was the culmination of a slow wooing process that had begun two years earlier when, right after his graduation show, she offered him an in-house position at Versace—and was politely but promptly turned down. "I knew he was going to say no," she says. "He wanted to start his own company, and I respected that." She did persuade him to do some consulting on both the ready-to-wear and couture collections, for which he sent her reams and reams of complicated sketches. Although no stranger to hiring young blood from London—after Gianni's death she filled the Versace atelier with edgy Brits—Donatella had rightly clocked that Kane was different, able to magically update her brother's aesthetic without stripping out its roots. "I never thought I'd find anybody I could trust like I trust Christopher," she says. "And now it's so strange. I start to say a sentence, and he finish it—just like me and Gianni." Compounding her enthusiasm was the fact that her daughter, Allegra, who inherited 50 percent of the company when her uncle died, appeared to get on with him. "Well, she's a very intelligent girl," Kane says. "You can talk to her about everything, not just fashion."
Kane's initial designs for Versus—a capsule accessories collection of Swarovski-studded gladiator platforms, biker boots, and bags—was a critical hit when it debuted in March 2009. Ditto the two seasons that followed. The first was a collection of dresses, many featuring that super-identifiable Versace symbol: the safety pin. The second was a grouping of bright, bouncy, stiff-skirted frocks. The upcoming runway show, at the Versace Teatro, will be the first time Versus has been seen on the catwalks of Milan in more than a decade.
"To restore Versus like it used to be means to bring this collection once again on the catwalk, to show in a proper location and in a proper town, and to intrigue the VIP," Donatella explains. "And it will keep getting bigger and bigger. But not too big. Not yet. Because we are not ready. If you do it big, then you've got to do it big. I never really gave Christopher a proper party before either, but I will."
Before that, however, Kane has another party to attend, his 28th-birthday fete, which Tammy is hosting at a club called Dalston Superstore in just a few hours. Naomi Campbell, Beth Ditto, and designers Marios Schwab, Erdem Moralioglu, and Gareth Pugh are on the guest list, as are Christine, Kane's sister Sandra, and his nephew Thomas—all of them in town from Scotland for a "wee visit." Donatella, too, has been invited, but unfortunately she needs to head straight back to Milan to approve samples for both the Versace and Versus shows. "If you see Naomi, will you give her a big kiss for me? Promise?" she asks before taking off. "And make sure you have fun tonight. Relax, eh? You are like Gianni. You never think you are good enough. You worry too much!"
The similarities between Gianni and Christopher extend beyond temperament and a shared love for sexy frocks. Like Gianni and Donatella, Christopher and Tammy are exceedingly close, more like twins than mere siblings. Growing up in Newarthill, a depressed suburb of Glasgow where unemployment, alcoholism, and drug addiction are rife, the two often slept in the same bed, though both had rooms of their own. Christopher, younger than Tammy by five years, was a bright but delicate boy who was doted on by Christine, a cleaning woman and school lunch lady. A little plumper than he is now (Scotland is the birthplace of the deep-fried Mars Bar, after all), he had few friends and hardly ever went out, preferring to stay home fastidiously videotaping runway footage off the satellite TV, poring over the latest issues of Vogue and Harper's Bazaar, and assembling a collection of clipped Versace ads. Perhaps the strangest childhood habit the pair indulged in was grooming each other, almost like apes. "Me and Tammy love to pick and squeeze," says Christopher. "Some people find it disgusting, but I watched a wildlife program explaining why chimps pick one another—it releases adrenaline or endorphins and that relaxes you. When bored we'd even put salt in our hair and pick it out. It makes me laugh to think back."
In 1991 Versace opened its first UK store in Glasgow's Italian Centre, just as the Versace phenomenon was exploding across the globe. At the tender age of 12, Kane dipped into his saved-up pocket money to help Tammy buy a pink vinyl dress from the boutique to wear to a school dance. (At the time she had peroxided hair not unlike Donatella's and lived in five-inch heels.) "You'd see people in Glasgow with those black and yellow bags," recalls Christopher, "and you were, like, va-shoom with your eyes—a connection, you know?"
The pink vinyl dress was hardly the last contribution that Christopher made to his sister's wardrobe. To this day, she test-drives all of his designs. "I'll wear a 3,000-pound dress down Kingsland High Road, I don't care," she says. "I just don't understand design teams who don't wear their own clothes." Gianni, too, was instrumental in creating his sister's look, not only outfitting her but encouraging her to adopt her now signature platinum dye job.
It was Tammy, meanwhile, who encouraged Christopher to try for a place at Central Saint Martins. "I was working as a shopgirl at Karen Millen in Glasgow when he called and told me he'd got in," she remembers. "I just screamed." The two moved into a flat share in East Dulwich, and they continued to live together until 2007. Even today their apartments are just a 10-minute walk apart, and when they go on business trips, they almost always share a room. "Well, that's the fun of a hotel room, isn't it?" they both offer, out of sync by only a fraction of a second. "Being able to watch TV and have a gin and tonic and a Ferrero Rocher chocolate out of the minibar with someone else?"
Louise Wilson, a legendary professor at Central Saint Martins, recalls Kane turning up to virtually every fitting with Tammy in tow. "We had no idea she was his sister. We all thought what a rare treat it was to have the same fit model 24-7 for anyone—let alone a first-year design student."
Kane cut an introverted figure on campus, a Versace-obsessed lone ranger who didn't mix much with the other students, whom he remembers as "Margiela- and Comme-loving intellectuals." He made his first dress—a nude ultra-body-conscious sheath—out of stockings he'd bought for a pound a pair at the local market. "Everyone was going on about using a 100-pound-a-meter fabric," says Kane. "So when Louise said, 'It's brilliant—make another fucking six of these,' it was kind of a slap in the face to all of them. They were all so opinionated. What's the point in being so goddamn opinionated? You need to like everything. Louise taught me that."
Fashion journalist Sarah Mower recalls seeing Kane's work around the same time in a Lancôme-sponsored runway competition held at the college. The judges were society girls who, according to Mower, "were making faces about his clothes because they were 'so vulgar'—all that elastic and the jingling brass rings. I stuck my head above a rack and exclaimed, to no one in particular, 'Well, I think this is head and shoulders above the rest!' His work looked sick and colorful and sexy, and even though neither I nor any of those society girls could possibly wear it, I had that funny burning weirdness you get when you know something is good."
Six months later Mower was writing a piece about a Versace revival (Marc Jacobs had just referenced Gianni's work on the Louis Vuitton runway) and went back to Central Saint Martins to search for this boy who was so clearly influenced by the label. She found him draping his graduation collection in the studio and lamenting about a dress that he was convinced needed silver mesh, a Versace mainstay that was too difficult and expensive for him to source. "As it happened, I was flying to Milan to interview Donatella for the piece, and I said, 'Give me the pictures from your Lancôme show, and I'll ask her if she'll send you some.'" Donatella not only immediately obliged, but the next thing Kane knew he was invited to the Versace show in Milan and seated in the front row. "He was like a child," Mower says. "He had these big saucer eyes. And he was so reticent about taking a place in the front row, so worried that people would think he was a crasher, that he crouched at my feet in the handbag well."
Unassuming as he was, Kane had no doubts about starting his own label with Tammy, just months after graduation. For their first show, they landed a sponsorship deal from an artificial sweetener company called Canderel and some funding from the British Fashion Council. Topshop donated the space. "They need each other so much, it reminds me of me and Gianni," Donatella says of the pair. "I don't think he can do it by himself. Tammy's sooo strong. She gives him so much security and confidence in himself."
Today Kane's label has annual revenues of about $4.5 million, is carried by 150 retailers worldwide, and has a new men's capsule collection hitting stores in January—all in an era when established London designers like Luella Bartley are going bust. Tammy admits that there is still hand-wringing when bills come in, and perpetual dread that orders will not be produced in time for retailers. And it's true they've had their share of disasters, such as when 23 samples were stolen from the spring 2008 collection a week before the show. But the company does seem doused with a certain amount of fairy dust. "Oh, we believe in all of that stuff," Tammy says matter-of-factly. "We've definitely got guardian angels. But it's also because we've never, ever been greedy. We always kept it small. We were always really selective about who we sold to." Once, Victoria Beckham called and asked the pair to send her a dress—and was cordially told no. "Yes, but let's get this straight," says Kane. "I've got nothing against her. I think she's really great. I think she's really beautiful. I just wasn't in a position to gift celebrities at that point. So in the end she bought it."
Perhaps one reason Kane is so laissez-faire about developing a celebrity clientele is that he's not looking for a poster girl or a muse. In his eyes, Tammy is the quintessential Christopher Kane woman—just as in Gianni's eyes, Donatella was the ultimate donna. Not only does Tammy run the business but she remains to this day the sole fit model. "See, a model isn't a real girl," Kane explains. "A model can't give you feedback or be critical, like a sister."
Back in the studio, the week after our meeting at the Dorchester, pretty, young Tammy look-alikes are busy-beavering away at their desks. And even though it's late July, bolts of fabric for the fall 2010 collection are still rolling in: supple black patent leather intricately embellished with crystals, naughty black lace, and transparent chiffon embroidered with prim pastel flowers. Kane calls it his "nuns gone bad" collection, having found inspiration in Black Narcissus, the 1947 Powell and Pressburger film about a convent in the Himalayas. Kane approaches a rack of clothes waiting to be shipped to the stores and picks up a black patent-leather A-line skirt with a bouquet embroidered over the crotch. "When we were children, my mum referred to the vagina as a flower and the penis as a tulip, which always kind of stuck," he explains, gazing fondly at the garment. "Having the flowers placed over that area right there, to me, signifies a coming-of-age, a blooming. It's very Priscilla Presley, in a way, when she first married Elvis."
That might sound overly provocative—or, in Kane's words, "a little wanky"—but his points of reference have always been left of left field, even by London standards. The leather and velvet fall 2007 collection was based on both the Delaroche painting of Lady Jane Grey's beheading and Sylvester Stallone's Rambo. For spring 2010, he managed to combine references to Kool-Aid cult killer Jim Jones with what he describes as "Sunday best worn at gospel church." The spring 2007 collection, meanwhile, was inspired by his fascination with child beauty pageants. "It's sick, I know, but they're so precious with their skin and their big teeth and their curls," he says. "They look like Fabergé eggs all dressed up like that."
"Look, what counts in this job is creativity and ideas," offers Donatella, by telephone from Milan, later that week. "But it must be wearable, too. You have to have two sleeves and a hole to put the head in, which sometimes British designers forget. But Christopher, he knows how to make edgy and modern into reality. He's like my brother. He knows how to make a woman look great; I don't even have to say it. He just knows…that's the beauty of Christopher. That's why he's so different and so precious and why I adore him."
And to hear Donatella tell it, it's a love affair that's built to last. When asked whether, a decade from now, Kane might have moved from emulating Gianni to standing in his shoes as head of the entire house, she doesn't hesitate. "He knows how to put Versace forward—all its values," she says. "At the moment Versus is enough. But I can see him there, yes. For sure."
The Odd Couple: Christopher Kane and Donatella Versace
Donatella and Christopher Kane.
Versus's silk satin bustier dress.

Photographer: Mert Alas & Marcus Piggott Stylist: Alex White
Versus's silk satin bustier dress. Solange Azagury-Partridge ring.

Photographer: Mert Alas & Marcus Piggott Stylist: Alex White
Versus's silk satin dress.

Photographer: Mert Alas & Marcus Piggott Stylist: Alex White
Versus's leather jacket.

Hair by Paul Hanlon at Julian Watson Agency; makeup by Lucia Pieroni at Streeters for Clé de Peau Beauté; manicure by Yuna Park at Streeters. Model: Lara Stone at IMG. Produced by Larry McCrudden for the Custom Family; digital imaging by D-Touch; postproduction by Dreamer Post. Photography assistants: Gareth Horton and Maurizio Bavutti. Fashion assistants: Eileen Hayes and Katie Casamassimo. Special thanks to Fast Ashley's Studios.

Photographer: Mert Alas & Marcus Piggott Stylist: Alex White