Christy Turlington on Aging, Wellness and the Defunding of Planned Parenthood
In a new interview, the supermodel talks beauty and her pivot to activism.
---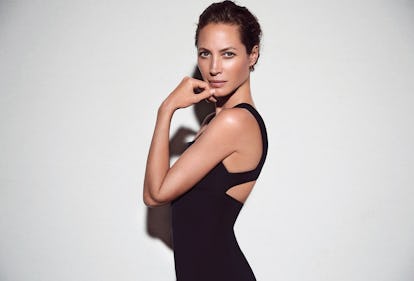 Christy Turlington was one of the original Supers, that holy modeling trinity that once included Naomi Campbell and Linda Evangelista. A natural beauty who later became as famous for her commitment to yoga—yes, that was her on the cover of Time magazine in 2001 spreading its gospel—as for her modeling, Turlington continues to command fashion's attention whenever she chooses to appear in a new campaign—she is Calvin Klein's eternal Eternity star, appearing in its new fragrance Eternity Intense with real-life husband Edward Burns—or speak out about a relevant issue. It's no wonder that the founder and chief executive of the organization Every Mother Counts had a few thoughts about the defunding of Planned Parenthood by the Trump Administration and the impact on mother and infant mortality in the new political climate. Here, the model and activist gets real about wellness, the beauty treatments she actually believes in, and more.
A Celebration of Christy Turlington's Most Iconic Beauty Moments Ever
Posing with supermodel friends Linda Evangelista and Naomi Campbell at the Night of 100 Stars Gala, Christy Turlington wears her short locks in natural waves with a mauve lip. (1989)

Photo by Getty.
At Herbs Ritts birthday party in 1990, Turlington poses with Roger Wilson wearing a tousled pixie cut with sun-kissed skin.

Photo by Getty.
Turlington wears her hair in soft curls with a nude lip at the Bugsy Los Angeles film premiere. (1991)

Photo by Getty.
Debuting her platinum blonde locks at the Vogue Magazine Celebrates 100th Anniversary party, Turlington wears a subtle grey smoky eye and a mauve lip. (1992)

Photo by Getty.
Turlington radiates at the Gala Evening to Benefit The New Costume Institute in 1992 wearing her hair in a sleek, curled up do with luminous skin.

Photo by Getty.
At the Grand Opening of Warner Bros. Studio Store in New York City in 1993, Turlington wears a twisted up do with loose pieces framing her face and a glossy mauve lip.

Photo by Getty.
With perfectly blown out locks and a hint of blush on the cheeks, Turlington attends the Benefit Auction For Intercambios Culturales Project For El Salvador in 1994.

Photo by Getty.
Wearing a glossy mauve lip and her short brunette locks softly curled, Turlington poses at the Calvin Klein launch fragrance for "Contradiction" in New York City. (1997)

Photo by Getty.
With sleek straight hair and dewy, rosy cheeks, Turlington arrives at the unveiling of Calvin Klein's Advert at Selfridges Department Store in London. (1998)

Photo by Getty.
Turglinton wears a sleek, dark brunette bob with a dark grey smoky eye at the Sidewalks Of New York film premiere in New York City. (2001)

Photo by Getty.
At the screening for the film Confidence at the 2003 Sundance Film Festival, Turlington wears her hair in natural curls with healthy, luminous skin.

Photo by Getty.
Launching her Spring 2005 Puma Nuala Range at Selfridges in London, Turlington wears her hair in a tousled up do with a glossy pink lip.

Photo by Getty.
Attending the Season 2 premiere of Entourage in New York City, Turlington wears her tousled pixie cut with sun-kissed skin. (2005)

Photo by Getty.
Going back to dark brunette, Turlington wears her shiny locks sleek straight with a nude pink lip at the Ladies Who Launch Live event in New York City. (2007)

Photo by Getty.
Turlington wears her long brunette locks swept over in soft curls with luminous skin and a berry lip at the Metropolitan Museum of Art Costume Institute Gala. (2008)

Photo by Getty.
Keeping her hair in natural waves with a turquoise blue smoky eye, Turlington attends the "Half The Sky" book party. (2009)

Photo by Getty.
At the premiere of Newlyweds at the 10th annual Tribeca Film Festival, Turlington wears her hair down and middle-parted in soft waves with a shimmery gold eye. (2011)

Photo by Getty.
Paring her red lip with messy, natural waves, Turlington attends the Tracy Anderson Method Pregnancy Project The Standard Hotel in New York City. (2012)

Photo by Getty.
Attending the 2nd annual Fashion Media Awards, Turlington wears her shiny, straight hair with a sleek cat eye and a nude pink lip. (2014)

Photo by Getty.
Wearing her hair pulled back into a simple bun with luminous skin and a glossy coral red lip, Turlington attends the 53rd New York Film Festival premiere of Bridge Of Spies. (2015)

Photo by Getty.
Turlington wears her short brunette locks in natural waves with a pink glossy lip at the Adweek's Brand Genius 2015.

Photo by Getty.
Turlington glows at the 102nd White House Correspondents' Association Dinner in Washington D.C., wearing her hair in swept back bun with luminous skin and natural lip. (2016)

Photo by Getty.
You were one of the early adopters of beauty from the inside out, what got you into that? I got exposed to yoga when I was pretty young, like 18 or 19, through my first serious boyfriend. I just loved it right away. I loved meditating. I just could tell that it was good for me and that it was something that I could take with me when I was traveling or when I was busy and didn't have a lot of time. I had these skills that I could kind of rely on that were within me. It also gave me a lot of confidence over time just a sense of my strength and ability. It was pretty empowering, and so I think I was lucky to discover that early. It's just sort of stuck with me since I had it. It's not something that you kind of dabble in and then let it go. When something feels right and feels good and empowering, you know to hold onto it.
Do you do it every day? No. I mean the philosophy of yoga absolutely, like in terms of my outlook on life I try to live yoga glee on a daily basis, but the asana part of it, now less than I used to but probably two days a week is probably average. I also run now, so now, it's sort of a balance between yoga and running.
That's a nice balance. How long have you been running for? For about five or six years, since 2011.
And you run with Every Mother Counts? It's a team for Every Mother Counts. We have run many, many marathons. I've run six so far and a lot of half marathons too, but even when I'm not running, there are other people who are running for Every Mother Counts or for Team Every Mother Counts. People run all the time for us and even just for exercise in their daily runs, there's an app called Charity Miles that you can choose a charity and if you run or cycle or walk, you can just kind of choose that charity and it will unlock dollars. so you don't even have to do anything yourself other than what you already do, so there are lots of ways that people can participate, the nice thing about it is, they can sort of improve on their own health while also contributing to ensuring that other people have access to healthcare.
What inspired you to start Every Mother Counts? It was a process. I hadn't set out to start an organization, but I had a childbirth complication after my daughter was born, and she's 13 now, so it's been a while, and after I had that experience, I had got to learn about the global statistics about maternal mortality and the more that I learned the more that I felt like I needed to do something about it, and so I was able to travel with some other organizations and get exposed to some of the barriers that women face around the world in different countries, mostly developing countries, but then I also learned that the U.S. was ranked pretty poorly, and so I just thought this was information that people needed to know and I decided to make a documentary film as a way to share that information in a more broad way, and so I started my first film in 2008, worked on it for about two years, filming in Tanzania and Guatemala and Bangladesh and here in the U.S., and then when that came out in 2010, Every Mother Counts was kind of created more as a resource to sort of let people know what was happening in what part of the world and which people were doing what. It was kind of more of an information resource, and then it just became clear after a little while that no, there was more of a demand for people to 'How can I get involved and what can I do in a more tangible way,' and so it sort of has evolved and grown over time. Now, we give grants to a number of small organizations, community-based organizations around the world, and we sort of mostly fund initiatives that are focused on improving access, so transportation, training and education of health workers, and also supplies, and we've impacted more than half a million lives, and so it resonates with a lot of people and there's a lot of need, probably going to be a lot more need very soon around the world now.
W Magazine's Supermodel Cover Girls
Cindy Crawford on the cover of W Magazine September 1990
Naomi Campbell on the cover of W Magazine December 1990
Claudia Schiffer on the cover of W Magazine August 1991
Cindy Crawford on the cover of W Magazine September 1991
Helena Christensen on the cover of W Magazine September 1991
Linda Evangelista on the cover of W Magazine September 1991
Claudia Schiffer on the cover of W Magazine November 1991
Christy Turlington on the cover of W Magazine August 1992
Linda Evangelista on the cover of W Magazine August 1992
Kate Moss on the cover of W Magazine November 1992
Naomi Campbell on the over of W Magazine January 1992
Elaine Irwin on the cover of W Magazine March 1992
Amber Valetta on the cover of W Magazine February 1993
Kate Moss on the cover of W Magazine May 1993
Kate Moss on the cover of W Magazine September 1993
Karen Mulder on the cover of W Magazine October 1993
Christy Turlington on the cover of W Magazine's Special Issue 1993
Linda Evangelista on the cover of W Magazine February 1994
Kate Moss on the cover of W Magazine March 1994
Stephanie Seymour on the cover of W Magazine May 1994
Claudia Schiffer on the cover of W Magazine August 1994
Helena Christensen on the cover of W Magazine August 1994
Bridget Hall on the cover of W Magazine October 1994
Kristy Hume on the cover of W Magazine November 1994
Karen Mulder on the cover of W Magazine December 1994
Christy Turlington on the cover of W Magazine January 1995
Kate Moss on the cover of W Magazine February 1995
Nadja Auermann on the cover of W Magazine April 1995
Are you working with Planned Parenthood at all? They're so big and what they do is so clear, and they're so good at what they do, so I would say there's some crossover, but we're tiny. We would never compete with them, but we have partnered on things in the past like No Woman, No Cry came out, one of the obstetricians that we filmed with in Guatemala worked for Planned Parenthood, works for them still in Guatemala, so we have a relationship and they screened the film a lot and were able to reach more people with the film in the beginning, so we had that kind of partnership, but no, I mean I'm personally a huge supporter of theirs, but our stuff is so specific with a handful of providers that are small and wouldn't get support from a Planned Parenthood. They're kind of freestanding, small business owners that are midwives and nurses and doctors who do also offer comprehensive healthcare, but they aren't part of the larger system.
Sure. Are you changing your approach at all or anything with this current climate? We're not changing our approach, but we're probably going to move a little bit faster on our U.S. development. The U.S. has been a part of our grant portfolio for a while, and we have been planning for the last year to start to expand in states that we work in. We started a film series a couple years ago, well a year ago, I guess, relaunched it a year ago, called Giving Birth in America, and they're short films like 12 to 14 minutes, and we aired them on CNN.com. One was looking at maternal health in New York, one was in Florida, one was in Montana, and we're shooting a fourth one in Louisiana now. So, we kind of had a plan to slowly ramp like one film or two films a year, and now, we might need to just move a little bit faster and identify and just kind of…I don't know just move faster really. We have been trying to kind of grow incrementally and go across all of the programs and now it just feels like the U.S. is going to really suffer, and if we can sort of stop the rate, which has been increasing the amount of deaths in this country in the last year, so that's just going to continue, and so we got to sort of put that to an end. And without Planned Parenthood and with the defunding of Planned Parenthood, we're going to see a lot more maternal mortalities and child mortalities.
We Will Not Be Silenced: Political Statements Hit New York Fashion Week Street Style
Bloggers Bryan Boy, Tina Craig, Irene Kim, Aimee Song and Chriselle Lim wear resistance t-shirts by the designer Prabal Gurung. Watch Gurgung and other New York fashion designers speak out on being an immigrant.

Getty
On day three of fashion week, Aimee Song champions the 'No Ban, No Wall' sentiment.

Getty
Rachael Wang, Allure magazine's fashion director, takes a strong stance against hate.

Getty
Model Emily Ratajkowski clutches her handbag adorned with a 'Fashion Stands with Planned Parenthood' pin at the Altuzarra show.

Getty
Outside the 3.1 Phillip Lim show, a show-goer wears Jonathan Simkhai's 'Feminist AF' t-shirt.

Getty
Shea Marie and Caroline Vreeland proudly wear tees showing that "Love Is the Resistance" outside of Spring Studios.

Getty
Homemade resistance added to a military-inspired jacket during New York Fashion Week.

Getty Images
'"The Future is Female" declares a t-shirt worn by Aimee Song.

Getty
Well, it's really good that you're doing what you're doing. Going back to holistic healthy living, do you cook a lot? I saw that someone had done something with great shot of your fridge, and it looked just very healthy and balanced and green. I think it's pretty healthy typically. It's also not very big, my refrigerator. I keep like fantasizing about this double huge refrigerator. I do cook. Not every day, but I do cook a lot and I like to cook. Also, I'm trying to train my children to be able to cook a little bit for themselves, too, because my daughter is 13, and by 13, I could pretty much drive a car. I could do almost anything, and I was like, 'Okay, modern, spoiled children in 2017…' So yeah, she can now make a couple of things herself, which I think is good and empowering for her. Yeah, just trying to have healthy things for them because you tend to learn you know like your parents really are your most important role models, and so those kinds of habits they just copy what they see.
Are you a no bread house? Is there anything that you…? No, we have bread. I don't think any of us…we're not particularly delicate, so we all kind of eat everything. My son definitely has more of a sweet tooth than the rest of us, but it's not out of control, and I don't have candy in the house, but there is probably always ice cream in my freezer.
I have to ask a beauty question. For your skin, what do you like? I use Biotherm Blue Therapy, and I like it because it is really rich and I have dry skin. I'm not a person who is fickle with products. If something is working, then I'll just use it. I'm healthy, so I eat well, I exercise, and all of that stuff can only be complimented with some product. I don't expect a product to be some sort of miracle in a jar and I hate that idea. I really think you need to take responsibility over your…skin is one of the things that you can take responsibility, by the way. You can't choose your nose or your legs or whatever, but you can actually take care of yourself and your skin and take care of you. So, yeah, I'm really looking it right now, and as long as it feels good and I have it in my bathroom, that's what I'll use.
That's a good thing. Tell me about going back to college after modeling. Kind of in the middle actually. I didn't even plan to model, so you when you fall into a career and then you're moving at a fast pace traveling a lot and seeing the world but knowing always that it wasn't a particularly long-term kind of field or career, although in retrospect I would say that's not true, but at the time all that I knew about the career if anything was that it was like a very short-term thing, so in my mind it was like see as much as I can, make the most of the opportunities, and then I had tons of interests from the very beginning. But in the meantime, my sisters were in college and my mom went back to school in her early 50s and I was envious. After traveling a lot, it was like the grass is always greener, and I started to be like well, what are you reading and what are you taking and can I have that book, so I started talking about the fact that I wanted to go back to school, but I still took a couple years before I finally said, you know what, it's only going to get harder the further out of school that I get to go back. I didn't want to just keep hearing myself say it, I'm just going to do it, so I'm replying to New York University and getting in. I applied in the spring and I got in and I started the next fall and didn't have to quit because I was working for Calvin under contract and also with Maybelline, so I was able to still work a little bit but had a lot of flexibility and I don't think I missed a single class the whole time I was in school. I think the beauty of being a return student is you take it very seriously. I had to pay for it myself, so I'm like front row center. I didn't want to miss anything, and I loved it. It was the best four years.
Do you have any advice for young girls now in terms of image and all of these things are so front and center with social media? Yeah. I mean it's hard. My daughter is 13, so I'm watching it and also not relating to it. There is so much of it that it's like how do you stay on top of it and it's so different than anything that we really were exposed to. You know, I guess just that sense of confidence, which is a hard thing to instill in someone, but it's something you can certainly support or I feel like I can be at least aware of some of the kind of behavior, and I'm just paying attention, being as attentive and being present for her to talk to, and she's really open to talking about stuff, but she's also in the age of 13, that's pretty unsophisticated, which is interesting because she's growing up in New York City and I grew up in the suburbs, but she and her group of friends, they seem like a young group of 13, much younger than I was at the same age.
That's awesome. You know she's kind of savvy and can get herself around and do stuff, but she doesn't seem to be interested in superficiality. They also go to a school that has a real strong social justice curriculum and I feel like they kind of get what's important, and right now, I'm not worried about, 'Oh, gosh, will she get involved in the wrong crowd. I feel like I know who she is hanging out with and I know what she's interested in, and I'm not that worried, and she's not following people that I don't think have values that I would want her to follow, but we also have a lot of people in her world like cousins and neighbors and other friends' mothers who are great role models, and so I think the more people you have in your universe that are strong role models the more you will sort of see those things as positives and try to emulate them. So, I would say for any young woman even if it's not obvious that those role models are around them, they might be in school, they might be in their neighborhood, the might be in their building, they don't necessarily have to be under the same roof, but they're there and you know really observing, not being impulsive about your opinions or about sharing yourself with the world but really like watching and seeing and hold back a little bit. There's always time, so I always think like to slow down and try to hold back. You always have the option to do more, but it's harder to go backwards.
"Women's Rights Are Human Rights": 62 Fashion Insiders Speak Out