Chung Ha, the Hardest-Working Dancer in K-Pop, Is Poised for World Domination
One-fourth of K-pop's coolest new supergroup explains how she gets it all done.
---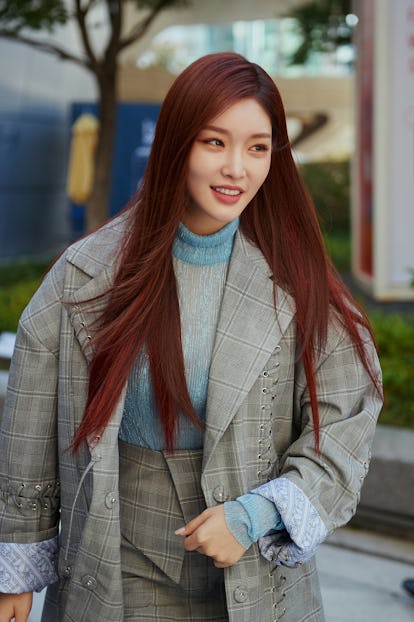 LeeDoWoon
Your introduction to Kim Chung-ha, a budding K-Pop star who records Chung Ha, should probably come via a memorable moment in the second episode of Produce 101, the South Korean reality competition show in which 101 hopeful young trainees vie for a spot among 11 in a girl group.
In the show, tributes from 46 entertainment companies sing and dance their way through a series of challenges, hoping to capture the audience's vote and a place on the final roster. So in the episode, Kim and her MNH Entertainment peer Oh Seojung strut onto the stage to the opening beats of former Wonder Girls member Sunmi's "24 Hours." Though the segment highlights some internecine drama between Oh and another contestant, something about the way Kim moved must have captured the attention of choreographer Bae Yoon Jung, a dance instructor on the show. After they finish their routine, BYJ, as she's known among fans, asks Kim what her specialty is.
"Dance," Kim responds shyly. "Is there anything you've prepared you can show us?" BYJ asks. Kim blanches. "What about the song?" she asks, meaning the one she's just performed. "Just put on anything," BYJ says. And as Beyoncé's voice begins to play—"Let me hear you say Hey, Ms. Carter"—Kim's panicked expression turns to sly confidence. She starts to dance, causing a producer to clasp her hand to her mouth, as the rest of them nod in disbelief. Kim, well, she can move.
One recent afternoon in Seoul, South Korea, Chung Ha was on the move from the Kye Spring 2019 show at Seoul Fashion Week—her first ever fashion show—to the offices of her talent agency in Hongdae, the city's student district, where she changed out of the boxy lace-up blazer and matching skirt she wore to the show. Chung Ha described her street look as "comfortable, simple stuff," but not onstage. "My stylist loves me in sparkles, and I love sparkles," she said.
In the music video for "Roller Coaster," her biggest hit to date, from her second EP, Offset, she plays both a daydreaming girl lounging in an Airstream trailer and her super-glittered alter ego, a fantasy of iridescence. Much has also been made of Chung Ha's penchant for bold, sparkly, technicolor makeup ("that actually came from the outfit first," she explained). More recently, "Love U," the infectious breakout single from her third album Blooming Blue, strikes a similar balance between fantasy and reality, albeit this time awash in summer hues and west-coast sun.
It's been more than two years since Chung Ha placed fourth in Produce 101, which got her a spot in the girl group I.O.I.; and while I.O.I. disbanded, she's put out three solo EPs—her 2017 debut, Hands on Me, and this year's Offset and Blooming Blue. Most recently, she released a single in collaboration with Seulgi of Red Velvet, SinB of GFriend, and Soyeon of G-Idle, called "Wow Thing."
I asked her is if she ever rests, and Chung Ha laughed. "Oh, actually, I don't," she said, deadpan. She started to elaborate, but then seemed to realize she wasn't allowed to discuss her rumored fourth album yet; she did confirm that it's in progress, and not too much of a departure from her previous work. She's not sure if it'll be out this year or next. But she's working on it.
Despite what her early splash on Produce 101 might indicate, Chung Ha, 22, has been singing since before she started dancing. As a choir girl growing up in Dallas (she speaks nearly unaccented English, only occasionally switching to Korean), her earliest memories of appearing on stage are at church. She's wanted to be a performer ever since. She moved back to Korea in late 2010 (her mom wanted to go back) and began dancing around eighth grade. In 2012, she auditioned for JYP Entertainment, earning a spot as a trainee at the management company. But shortly before she joined Produce 101, she signed with MNH, and she's been contracted to them ever since.
"Everything was new," she said of the reality series. "The biggest thing I got from that program was my girls, and my relationships, and all these peer people I met." The group disbanded after just a year and two mini-albums, but her Produce 101 relationships still prove fruitful: When SM's Station x 0 recruited her for "Wow Thing," she found herself working in a supergroup alongside fellow competitor Soyeon as well as Seulgi and SinB, with whom she had done a special collaborative performance in early 2017.
"Wow Thing"'s sunny, retro vibe recalls the vintage sound of Wonder Girls, the K-pop superstars of the previous generation. Chung Ha said she'd gladly reunite with the girls for future songs: "Oh, I wish. I wish," she repeated. "I'm praying. I'm looking forward to it."
And Chung Ha is still thirsty for more collaborations: "You can find yourself more and you can get more colors out in the album," she said. "You can find yourself, learn more through your members and fill the album more, the parts that you can't really fill." The only potential downside, she noted, is that with "so much color in the album," an individual's color might not show up quite so much.
And what is her individual color?
"I always say I'm looking for my color," Chung Ha replied. Might we suggest glitter?