Remembering Chus Lampreave, the Ultimate Chica Almodóvar
The actress, who died this week, was the oldest and canniest of the Spaniard's squad of fabulous chicas, the Edith Massey to his John Waters.
---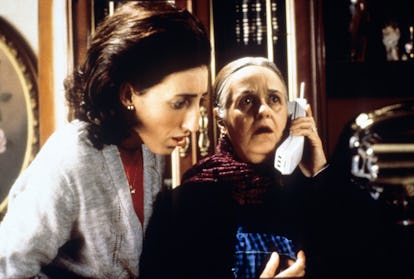 It was a bad week for Pedro Almodóvar. The Spanish film director was implicated in the Panama Papers fiasco, which led to his canceling all remaining interviews and promotional events for his new movie, Julieta, days before its European release. Then, on Monday, Chus Lampreave, one of the most recognizable faces in his coterie of actresses, passed away at 85.
Lampreave began acting in the late '50s but was largely unknown until 1983, when Almodóvar cast her in his black comedy Dark Habits to play Sister Sewer of the Rats, a nun at the Convent of Humiliated Redemptresses who writes bodice rippers in her spare time. Often playing women who were much older than she was — Lampreave was in her fifties when the director began working with her — she was a consummate scene-stealer, capable of upstaging even Almodóvar's screwball antics with perfectly timed looks and quips that were dispensed with a stinginess to rival the miserly characters she portrayed. My favorite scene with Chus Lampreave is in Women on the Verge of a Nervous Breakdown. She plays a meddling apartment super who swears that she is incapable of gossip because she's a Jehovah's Witness. "I can only tell the truth, the whole truth, and nothing but truth," she insists, in one of the film's best lines. Almodóvar clearly liked the character, reprising it in Talk to Her (2002) and again in Broken Embraces (2009).
Though Lampreave became a part of the estrogen army that forms las chicas Almodóvar ("Almodovar's girls"), a group of Spanish-speaking actresses that also includes Rossy de Palma, Carmen Maura, Cecilia Roth and Penélope Cruz, Almodóvar always had a special place in his heart for her.
"When I hear Chus Lampreave, I hear my mother," Spain's most famous mommy's boy told Frederic Strauss in Almodóvar on Almodóvar, a compendium of conversations with the director. "And out of all the actresses I've worked with, she's probably my favorite." It's a refrain that pops up in many of his interviews and is also reflected in the exceptional roles that he created for her, including the self-centered but game-for-anything granny in 1984's What Have I Done to Deserve This? (her grandsons are a teenage drug dealer and his sexually precocious tween brother who's loaned out to a pedophilic family dentist), and the fashion-obsessed mother in 1985's Matador (when her daughter, a model, tells her that she has been raped, her first concern is for the clothes).
It's testament to Lampreave's comedic chops — Almodóvar compares her to Buster Keaton — that even among the director's outlandish characters and situations, and often in fleeting appearances, she managed to stand out like a feather boa at a funeral.
Though she had a hilariously expressive face, made even funnier by the milk-bottle-thick lenses of her reading glasses, she brought an almost Noh-like stylization to her roles. "Her expressivity is due to a complete lack of acting," the director said elsewhere in Almodóvar on Almodóvar. "Rather like certain Japanese actors whose expressionless faces release enormous power, Chus belongs to the tradition of great film comics who express the maximum meaning with the minimum effort."
One story from the set of Volver, Almodóvar's occult dramedy from 2006, involves a scene in which three female protagonists — played by Cruz, Lola Dueñas and Yohana Cobo — visit their elderly aunt, played by Lampreave. The scene had to be shot ten times because she kept cracking them up with her signature senile expressions and deadpan delivery.
In 1996, Almodóvar, who had not worked with Lampreave since Women on the Verge of a Nervous Breakdown in 1987, reunited with the actress on Flower of My Secret, in which which Lampreave gives her most nuanced performance. Just as in What Have I Done to Deserve This? and in Volver, her nameless character has her fair share of senior moments. Lampreave has a blank expressiveness that suggests a state of being permanently disoriented, of being — in her words — as lost as "a cow without its bell."
With her passing, Almodóvar and film fans around the world are equally adrift.
Photos: Remembering Chus Lampreave, the Ultimate Chica Almodóvar
Chus Lampreave at a photo call for El artista y la modelo in Madrid, Spain, September 2012. Photo by Eduardo Parra/Getty Images.
Rossy de Palma and Chus Lampreave in The Flower of My Secret, 1995. Photo © Sony Pictures Classics, courtesy Everett Collection.
Lola Dueñas, Penélope Cruz, Yohana Cobo, and Chus Lampreave in Volver, 2006. Photo © Sony Pictures Classics, courtesy Everett Collection.
Eva Cobo, Pedro Almodóvar, and Chus Lampreave on the set of Matador, 1986. Photo © Cinevista, courtesy Everett Collection.
Chus Lampreave, Carmen Maura, and Marisa Paredes in Dark Habits, 1984. Photo by Mary Evans/Ronald Grant/Everett Collection.