Ciara Opens Up About Motherhood, Marriage, and Self-Care
The musician has sage advice about keeping the spark alive in a marriage.
---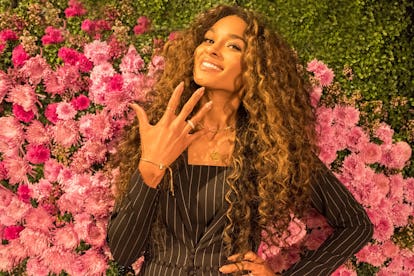 Christina Craig
There are few things more daunting—and seemingly impossible to perfect—than motherhood. But Ciara makes it look easy. Since giving birth to her son, Future, in 2014, and, more recently, 1-year-old Sienna, the musical artist has been documenting all of the trials and tribulations of raising kids, with humor and grace. "Mom Life ?," reads the caption of one photo she's shared, with Sienna crawling onto her legs as she braids her son's hair. And somehow, between such multitasking, Ciara has also found time to work on a new album—and serve as a spokesperson for Pandora.
Mother's Day is the inspiration behind the latest campaign she's fronting for the jewelry company. "[The collection] symbolizes being a mom and what that feeling is," she explains. "There's a limited-edition lock-heart charm and a cute pacifier charm, which I love because as a mom you always want to have a piece of your kids with you." Here, Ciara doles out more thoughts on motherhood—from date night to diaper rash.
What was your first Mother's Day like as a mother? It was so sweet. My husband surprised me in Washington, D.C., where I was on tour. It felt really good to be thought of and I felt like I accomplished something great and [finally] realized it. Sometimes when you're going through emotions, you don't even realize what happens. To really say, 'Wow, I'm a mom and I'm doing all right,' felt good. It was very special.
It's nice to have moments like those to pause and reflect. How do you think motherhood has changed you as a person? It's changed me for the better. It's made me not sweat the small stuff. I think [being a mom] gives you more compassion in life, and more love in your heart. I have to say, I do love giving love [laughs] but I want to give more. There's nothing sweeter than putting a smile on your kid's face; there's nothing sweeter than putting a smile on another kid's face.
Do you have your own Mother's Day routine nailed down at this point, or does it change every year? I wake up and roll with the flow, and take in all the love everyone gives me. My husband has always been really thoughtful and I love celebrating my mom, my grandmother, my mother-in-law, and grandmother-in-law as well—all the women in my life.
How is it different from other holidays for you? It's not so much about what you're doing in your work world. I step outside of who I am as an entertainer. It's about stripping everything down to realness and the necessary moments in life.
How do you make sure that you take care of yourself when you're looking after everyone else in your family? That's a really good question. I've been saying I need to work on taking care of myself more, because naturally I want to take care of everyone else. I think that's one area I can get better in, honestly. What's been helpful for me is making a schedule. When I have things mapped out, I'm able to compartmentalize as I need to. Like, this block is for my phone calls, this block is for my meetings, this block is for my kids, this block is for Mommy and Daddy time.
How often do you have quality time with your husband, Russell Wilson? We traditionally do date night every Friday. I have to say it's been pretty cool because it's the part of the week we look forward to and it gives balance since we're both always on the go. There's something about the energy that goes into preparing for that day.
Have you found a strong community of other moms that you can confide in? Oh yeah. It's crazy because when I look around now, pretty much most of my friends have kids. So it's been really cool to go on that journey together and be able to share notes and things we do to take care of our little ones when something happens—if it's a diaper rash or whatever. It's funny when you get those old-school remedies too, from your grandmother. It's been cool to give my friends advice as well.
What kinds of tips do you give them? The thing I've always shared is you don't want to measure one baby by another. Let your baby roll at their own pace. Also, it will all come to you. Someone told me that before, when I was like, "What is being a mom all about?" It's crazy because you've never done it before and it sounds like this foreign concept, but then your maternal instinct kicks in and you really do figure it all out. You create your own unique plan that works for yourself and your family and that's really beautiful.
You're friends with Kim Kardashian, and your kids have played together. Has she given you any parenting advice? It's been years since our little ones have played together, but she's always been a really sweet girl. You can tell that she really loves her kids. I think there's something sweet about seeing your friends and their sincere love for their kids. You see them grow through that experience.
How do you explain your world to your children, as far as fame goes and keeping them protected? It's interesting because they're still really young, so they're not aware. It's something that I think about. I think the biggest thing is making life as normal as possible and making sure that they're having the best opportunity at life and being able to do all that they aspire to do; [giving them] the support system they need to be who they are and find their own voice. That's really important to our family.
Your son has already carved out a modeling career at quite a young age. [Laughs] He's a little rock star.
Does he have any projects coming up? Schoolwork? Artwork in class [laughs]? I really believe in letting my kids find out who they are and find their direction. He just started doing T-ball, which is really cool. He's been killing it, if I may say. He got a grand slam on the first hit, which was awesome. I think the key is keeping your kids active. Sienna is so much fun, and I can tell she's going to be able to hang with her brother. Once she's walking, look out.