RESIST, INSIST, PERSIST, ENLIST
On Cinco de Mayo, 5 Latin-American Non-Profits that Need Your Support
From Project Paz to El Museo del Barrio, these five Latin-American-centered organizations are just the start.
---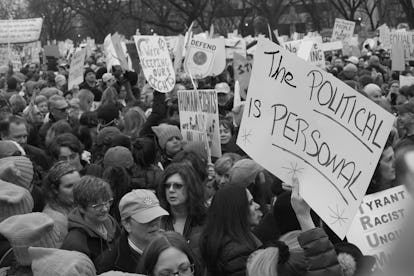 Photo by Victoria Stevens.
Amid the wide-ranging, xenophobic policy proposals put forth by President Donald Trump and his administration, targeting immigrants, disabled individuals, women, and people of color, Mexicans and Mexican Americans have been especially singled out since the beginning of his unlikely presidential campaign.
And since his election, Trump has persisted in demanding a border wall, a physical barricade between the United States and Mexico, to prevent the entrance of immigrants he callously, and falsely, called "criminals, drug dealers, rapists, etc." Though a recent budget deal did not include any funding for such a wall—which Trump assured his supporters would be repaid in full by the Mexican government—Trump still claimed the deal a victory, referring to a "down payment" towards the construction. It is worth noting that an estimated 79 percent of Latino voters turned out in favor of Hillary Clinton in November.
All this is to say, there's particular cause to support Mexican and Latin American-based organizations amid the hateful rhetoric emanating from Trump and his flunkies. Myriad organizations based in both the U.S.—particularly in New York—and across Latin America benefit Latino communities, many of them focusing on education and health care, access to both of which are also a specific target of the Trump administration. Here, we round up five—on the occasion of Cinco de Mayo or any day—that need your support.
Project Paz Founded in 2010, Project Paz works primarily in Juarez, Mexico, offering afterschool arts, athletic, and literacy programs to children. This year, Paz began to expand into the Bronx, New York, with literacy programs for the children of immigrant families. In addition to its community-based work, Paz also coordinates fundraising and collaborations within art and design circles to benefit its mission. Today, in New York, the organization is hosting a fundraiser hosted
Masa On Cinco de Mayo, designers Carlos Garciavelez, of the eponymous label Garciavelez, and George Sotelo, of Thorsun, and Karla Martinez de Sala, a former W editor who's since become editor-in-chief of Vogue Mexico and Latin America, among others, will throw a fundraiser alongside Project Paz to benefit Masa, the New York-based educational organization that focuses specifically on at-risk youth in the South Bronx. According to Masa, Mexican youth have "the highest dropout rate of any ethnic group in the city," with just more than 40 percent neither graduating from nor attending high school. The group was birthed out of the push to pass a bill in 2001 that would allow undocumented immigrants attending public universities to receive in-state tuition. (They succeeded.) Since then, Masa has worked on afterschool programs, mentorship, and college advising across the city with an emphasis on the Bronx.
Fundacion Origen Since 1999, Fundacion Origen has offered relief and aid to women who are victims of domestic violence. Origen operates a hotline, job training, and education programs aimed at narrowing the wage gap, helping women become more financially autonomous, and promoting legislation that helps victims of partner violence.
Glasswing With headquarters in New York and El Salvador and additional offices in Aruba, Nicaragua, Guatemala, Colombia, Venezuela, and beyond, Glasswing's impact is wide-ranging. The organization, which celebrates a decade in operation this year, has programming nearly as wide-ranging as its geographic locations, spread across education, healthcare, volunteer coordination, and immigration safety and reform.
El Museo del Barrio On New York's Upper East Side lives El Museo del Barrio, the museum whose collections focus on Caribbean and Latin American art and artifacts. It named a new director in Mexico City-based curator Patrick Charpenel at the beginning of the month. In addition to its permanent and rotating collections, the Museo also hosts an array of programs including conversations and lectures, concerts, community outreach, and workshops.
Related: On Cinco de Mayo, 7 Mexican Fashion Brands to Shop Now
India Salvor Menuez's Venus is just Like the Original, Only Much Snarkier: