Cindy Crawford Is "a Lot More Concerned" About Kaia Gerber Driving by Herself Than Walking Runways
Gerber made her fashion week debut last month.
---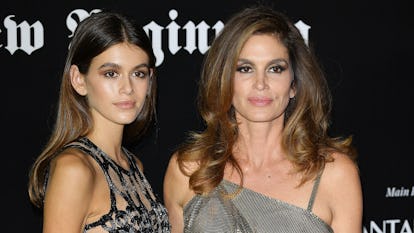 Venturelli/Getty Images
Kaia Gerber spent the first month after she turned 16 traveling around the world, walking countless runways, and generally taking the fashion world by storm, but Cindy Crawford was less concerned with her daughter's professional debut than with the other big achievement that came with Gerber's 16th birthday.
While attending a charity event near Detroit over the weekend, Crawford spoke to the Associated Press about Gerber's new status as a licensed driver. "My daughter just got her driver's license. I'm a lot more concerned about her driving by herself than her entering the world of modeling," said the supermodel and mother of two (Gerber's older brother Presley, 18, is also a model). "The great thing for my kids is that I know a lot about that world. I feel like, who better to help guide them than me?"
Crawford said her lookalike daughter's following in her footsteps was inevitable. "In some ways, I wish I could have pushed it off a year or two. But she's 16. That's how old I was when I started, which is young, but in fashion that's kind of the normal age when people start," she said.
The 51-year-old also talked about the Versace show at Milan Fashion Week, which featured a special moment where she and fellow supers Claudia Schiffer, Naomi Campbell, and Helena Christensen walked the runway before the new generation of models did to pay tribute to Gianni Versace 20 years after his murder in Miami. "I didn't know my daughter was doing that show. The models themselves don't really get booked until the day before or two days before," Crawford said. "And finally Kaia got booked for it, and I said, 'You know I'm doing that show, right?' She's like, 'Wait, do we have to walk down together?' I said, 'No. I don't even want to walk down with you. I'm going to walk down with the ladies that are my age. You can go with the girls that are your age.'"
Gerber officially made her fashion week debut at Calvin Klein's NYFW show on September 7, four days after her 16th birthday and just two days after passing her driving test. "It was amazing, so exciting," she told W after the Calvin Klein show. "I couldn't have asked for a better show. I was trying not be nervous, and I kind of blacked out once I got out there." Crawford also praised her daughter's big moment. "It was so good. She looked so comfortable. I was so excited for her and she was super excited," she said. "She told me on Saturday, and I told her, 'You know what, sometimes stuff happens—your shoe breaks or you trip. Don't pretend that it didn't happen—you'll feel it. But I knew she was going to be fine."
Related: Kaia and Presley Gerber Are the Next Gigi and Bella Hadid
See All of Kaia Gerber's Fashion Month Looks, Both On and Off the Runway
Kaia Gerber is seen on September 06, 2017 in New York City. (Photo by BG021/Bauer-Griffin/GC Images)

BG021/Bauer-Griffin
Kaia Gerber walks the runway for the Calvin Klein Collection fashion show during New York Fashion Week on September 7, 2017 in New York City. (Getty Images)

ANGELA WEISS
Kaia Gerber attends Daily Front Row's Fashion Media Awards at Four Seasons Hotel New York Downtown on September 8, 2017 in New York City. (Photo by Paul Bruinooge/Patrick McMullan via Getty Images)

Paul Bruinooge
Kaia Gerber is seen on September 7, 2017 in New York City. (Photo by Marc Piasecki/GC Images)

Marc Piasecki
Kaia Gerber walks the runway at Alexander Wang show during New York Fashion Week on September 9, 2017 in New York City. (Photo by Antonio de Moraes Barros Filho/Getty Images)

Antonio de Moraes Barros Filho
Kaia Gerber attends the 2017 Harper's Bazaar Icons at The Plaza Hotel on September 8, 2017 in New York City. (Photo by Jim Spellman/WireImage)

Jim Spellman
Kaia Gerber walks the runway at the Fenty Puma By Rihanna fashion show during New York fashion week at Park Avenue Armory on September 10, 2017 in New York City. (Photo by Peter White/Getty Images)

Peter White
Kaia Gerber walks the runway at Coach Ready to Wear Spring/Summer 2018 fashion show during New York Fashion Week on September 12, 2017 in New York City. (Photo by Victor VIRGILE/Gamma-Rapho via Getty Images)

Victor VIRGILE
Kaia Jordan Gerber is seen arriving the FENTY PUMA by Rihanna Spring/Summer 2018 Collection at Park Avenue Armory on September 10, 2017 in New York City. (Photo by Gilbert Carrasquillo/GC Images)

Gilbert Carrasquillo
Kaia Gerber walks the runway for Marc Jacobs SS18 fashion show during New York Fashion Week at Park Avenue Armory on September 13, 2017 in New York City. (Photo by Slaven Vlasic/Getty Images for Marc Jacobs)

Slaven Vlasic
Kaia Gerber walks the runway at the Burberry show during London Fashion Week September 2017 on September 16, 2017 in London, England. (Photo by Jeff Spicer/BFC/Getty Images for The British Fashion Council)

Jeff Spicer/BFC
Kaia Gerber walks the runway at the Fendi Ready to Wear Spring/Summer 2018 fashion show during Milan Fashion Week Spring/Summer 2018 on September 21, 2017 in Milan, Italy. (Photo by Victor VIRGILE/Gamma-Rapho via Getty Images)

Victor VIRGILE
Kaia Gerber walks the runway at the Prada Spring Summer 2018 fashion show during Milan Fashion Week on September 21, 2017 in Milan, Italy. (Photo by Catwalking/Getty Images)

Catwalking
Kaia Gerber walks the runway at the Versace Ready to Wear Spring/Summer 2018 fashion show during Milan Fashion Week Spring/Summer 2018 on September 22, 2017 in Milan, Italy. (Photo by Victor VIRGILE/Gamma-Rapho via Getty Images)

Victor VIRGILE
Kaia Gerber walks the runway at the Moschino Ready to Wear Spring/Summer 2018 fashion show during Milan Fashion Week Spring/Summer 2018 on September 21, 2017 in Milan, Italy. (Photo by Victor VIRGILE/Gamma-Rapho via Getty Images)

Victor VIRGILE
Kaia Gerber walks the runway at the Moschino Ready to Wear Spring/Summer 2018 fashion show during Milan Fashion Week Spring/Summer 2018 on September 21, 2017 in Milan, Italy. (Photo by Victor VIRGILE/Gamma-Rapho via Getty Images)

Victor VIRGILE
Kaia Gerber walks the runway at the Versace Ready to Wear Spring/Summer 2018 fashion show during Milan Fashion Week Spring/Summer 2018 on September 22, 2017 in Milan, Italy. (Photo by Victor VIRGILE/Gamma-Rapho via Getty Images)

Victor VIRGILE
Kaia Gerber and Cindy Crawford attend theVogue Italia 'The New Beginning' Party during Milan Fashion Week Spring/Summer 2018 on September 22, 2017 in Milan, Italy. (Photo by Venturelli/Getty Images)

Venturelli
Kaia Gerber walks the runway at the Bottega Veneta show during Milan Fashion Week Spring/Summer 2018 on September 23, 2017 in Milan, Italy. (Photo by Andreas Rentz/Getty Images)

Andreas Rentz
Model Kaia Gerber is seen on September 25, 2017 in Paris, France. (Photo by Marc Piasecki/GC Images)

Marc Piasecki
Model Kaia Gerber leaves her hotel on September 26, 2017 in Paris, France. (Photo by Mehdi Taamallah/NurPhoto via Getty Images)

NurPhoto
Kaia Gerber walks the runway during the Saint Laurent Ready to Wear Spring/Summer 2018 fashion show as part of the Paris Fashion Week Womenswear Spring/Summer 2018 on September 26, 2017 in Paris, France. (Photo by Victor VIRGILE/Gamma-Rapho via Getty Images)

Victor VIRGILE
Kaia Gerber walks the runway during the Saint Laurent Ready to Wear Spring/Summer 2018 fashion show as part of the Paris Fashion Week Womenswear Spring/Summer 2018 on September 26, 2017 in Paris, France. (Photo by Victor VIRGILE/Gamma-Rapho via Getty Images)

Victor VIRGILE
Kaia Gerber walks the runway during the Off/White show as part of the Paris Fashion Week Womenswear Spring/Summer 2018 on September 28, 2017 in Paris, France.

Estrop
Kaia Gerber walks the runway during the Chloe show as part of the Paris Fashion Week Womenswear Spring/Summer 2018 on September 28, 2017 in Paris, France. (Photo by Peter White/Getty Images)

Peter White
Kaia Gerber attends "Her Time" Omega Photocall as part of the Paris Fashion Week Womenswear Spring/Summer 2018 on September 29, 2017 in Paris, France. (Photo by Bertrand Rindoff Petroff/Getty Images)

Bertrand Rindoff Petroff
Kaia Gerber walks the runway during the Isabel Marant Ready to Wear Spring/Summer 2018 fashion show as part of the Paris Fashion Week Womenswear Spring/Summer 2018 on September 28, 2017 in Paris, France. (Photo by Victor VIRGILE/Gamma-Rapho via Getty Images)

Victor VIRGILE
Kaia Gerber walks the runway during the Valentino show as part of the Paris Fashion Week Womenswear Spring/Summer 2018 on October 1, 2017 in Paris, France. (Photo by Peter White/Getty Images)

Peter White
Kaia Gerber is seen arriving at Chanel show during Paris Fashion Week Womenswear Spring/Summer 2018on October 3, 2017 in Paris, France. (Photo by Jacopo Raule/GC Images )

Jacopo Raule
Kaia Gerber walks the runway during the Chanel Paris show as part of the Paris Fashion Week Womenswear Spring/Summer 2018 on October 3, 2017 in Paris, France. (Photo by Pascal Le Segretain/Getty Images)

Pascal Le Segretain
Getting ready for Tom Ford's New York Show with Cindy Crawford: