Cindy Crawford Shows Off Her Glowing Skin in Makeup-Free Gym Selfie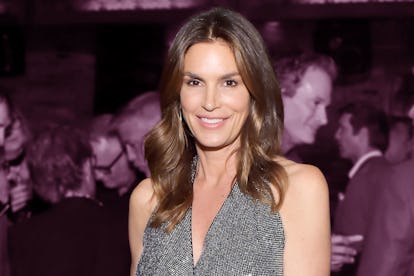 Composite. Stefanie Keenan/Getty Images
It may have been decades since Cindy Crawford first burst onto the scene as one of the world's original supermodels, but her most recent bare-faced photo proves that she definitely still got it. The model turned mogul posted a makeup-free gym selfie to Instagram on Wednesday, and her followers were nothing short of impressed by how stunning she looked.
The au naturel pic earned double-taps from stars like Reese Witherspoon, Olivia Munn, and Lily Aldridge, the latter of whom was so starstruck by Crawford's gorgeous skin that she commented, appropriately, a bunch of starstruck emojis. "That skin," Ellen Pompeo chimed in, while TV host Daisy Fuentes added, "So beautiful." Actor Lori Loughlin and Selma Blair also joined the hordes of people fawning all over the photo, and Elle Macpherson pointed out that Crawford seems to have not aged a day since she first became famous, comparing the 52-year-old to her 17-year-old daughter with, "Kaia face."
Crawford's approach to aging has always been a refreshing one. In a nutshell: She isn't afraid of it — and, clearly, that's working for her. "There is a lot of pressure on women to, well, not age. Being a model and having your whole career being based on how you look, I am probably even more sensitive to it — but you can't keep chasing this impossible thing," she said in a 2016 interview with Refinery 29.
She continued, "It's not about looking 20, or looking 30, 40, or 50, it's about looking like you take care of yourself. Exercising, eating right, taking care of your skin — that is looking great at every age, and that's the message that I really believe in, partly because I'm getting older. As much as I try to take care of myself, I still don't look like my daughter when I wake up in the morning — and I don't want to feel bad about that." Preach, Cindy.
Crawford is the founder of her own line of skin-care products, called Meaningful Beauty, which, it's worth noting, I personally once ordered from an infomercial, and which the model credited for her glowing skin in the comments of Thursday's 'gram. She's previously revealed that she often looks to her own skin concerns when developing new products for the line. "I notice what my skin needs are and what kind of feedback we're getting from our customers. As I get older my skin needs change. I need hydration. More, more, more hydration," she said of her decision to add a facial oil to the line a few years ago.
All of the Supers and '90s Models Who Ruled the Spring 2019 Runways During Fashion Week
Kristen McMenamy walks the runway of the Valentino spring 2019 show, which she opened, during Paris Fashion Week, on September 30, 2018.

Getty Images
Liya Kebede walks the runway of the Versace spring 2019 show during Milan Fashion Week, on September 21, 2018.

Getty Images
Karen Elson walks the runway (with Kailand Morris) of the Dolce & Gabbana spring 2019 show during Milan Fashion Week, on September 23, 2018.

Getty Images
Alek Wek walks the runway of the Marc Jacobs spring 2019 show during New York Fashion Week, on September 12, 2018.

Getty Images
Carolyn Murphy walks the runway of the Ralph Lauren spring 2019 show during New York Fashion Week, on September 7, 2018.

Getty Images
Gemma Ward walks the runway of the Proenza Schouler spring 2019 show during New York Fashion Week, on September 10, 2018.

Getty Images
Stella Tennant walks the runway of the Salvatore Ferragamo spring 2019 show during Milan Fashion Week, on September 22, 2018.

Getty Images
Natalia Vodianova walks the runway of the Burberry spring 2019 show during London Fashion Week, on September 17, 2018.

Getty Images
Eva Herzigova walks the runway of the Dolce & Gabbana spring 2019 show during Milan Fashion Week, on September 23, 2018.

Getty Images
Mariacarla Boscono walks the runway of the Salvatore Ferragamo spring 2019 show during Milan Fashion Week, on September 22, 2018.

Getty Images
Gemma Ward walks the runway of the Alexander McQueen spring 2019 show during Paris Fashion Week, on October 1, 2018.

Getty Images
Lara Stone walks the runway of the Escada spring 2019 show during New York Fashion Week, on September 9, 2018.

Getty Images
Helena Christensen walks the runway of the Dolce & Gabbana spring 2019 show during Milan Fashion Week, on September 23, 2018.

Getty Images
Anja Rubik walks the runway of the Versace spring 2019 show during Milan Fashion Week, on September 21, 2018.

Getty Images
Amber Valletta walks the runway of the Proenza Schouler spring 2019 show during New York Fashion Week, on September 10, 2018.

Getty Images
Liya Kebede walks the runway of the Haider Ackermann spring 2019 show during Paris Fashion Week, on September 29, 2018.

Getty Images
Carla Bruni walks the runway (with Marpessa Dawn) of the Dolce & Gabbana spring 2019 show during Milan Fashion Week, on September 23, 2018.

Getty Images
Malgosia Bela walks the runway of the Victoria Beckham spring 2019 show during London Fashion Week, on September 16, 2018.

Getty Images
Jamie Bochert walks the runway of the Saint Laurent spring 2019 show during Paris Fashion Week, on September 25, 2018.

Getty Images
Guinevere van Seenus walks the runway of the Marni spring 2019 show during Milan Fashion Week, on September 23, 2018.

Getty Images
Lindsey Wixson walks the runway of the Miu Miu spring 2019 show during Paris Fashion Week, on October 2, 2018.

Getty Images
Abbey Lee Kershaw walks the runway of the Saint Laurent spring 2019 show during Paris Fashion Week, on September 25, 2018.

Getty Images
Shalom Harlow walks the runway of the Versace spring 2019 show, which she closed, during Milan Fashion Week, on September 21, 2018.

Getty Images
Kristen McMenamy and Mariacarla Boscono walk the runway of the Valentino spring 2019 show, which McMenamy opened, during Paris Fashion Week, on September 30, 2018.

Getty Images