Cindy Crawford Has a Specific Formula for Wellness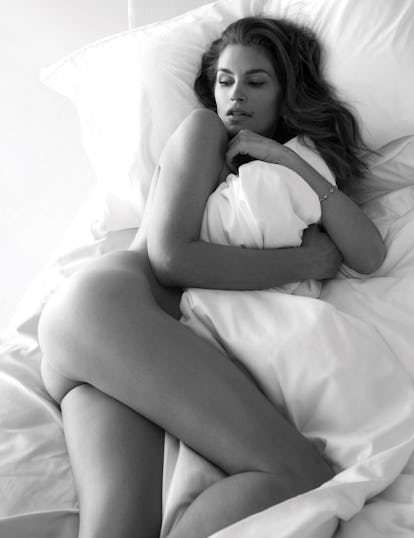 Photo by Mert Alas and Marcus Pigott
Cindy Crawford isn't just a trailblazing OG when it comes to modeling.
It almost goes without saying that Crawford, 54, can still wipe the floor with any young supermodel of today (and by extension, her daughter Kaia Gerber is experiencing massive success in her own career as a budding super). But Crawford has also managed to successfully cross over into business entrepreneurship—most notably in 2005, when she launched her first and only skincare line, Meaningful Beauty, with her friend and skin specialist Dr. Jean-Louis Sebagh.
In the years since Meaningful Beauty was released, it's become de rigueur for public figures of all kinds to play their hand at the skin and beauty game. While some have prospered, rarely have their beauty endeavors had the staying power (or the commitment) Crawford's does. Her belief in the brand doesn't stop short on the business side of things, either—she's been using her melon-infused product line consistently for years now. In an interview with W, Crawford spoke about her newest product launch, the Youth Activating Smoothing and Refreshing Eye Serum, a soothing solution that remedies under-eye bags and dark circles brought on by irregular schedules amid the pandemic. She also detailed her own health regimen these days and how it's taking shape during such an unprecedented time.
You've led a remarkably successful and responsible life; you never got caught up in the allure of excess, especially in an industry where there was plenty of it. Have you always been into wellness? Did you develop an appreciation for healthy living as your career progressed or were you like this from an early age?
I was raised in DeKalb, Illinois, and while I didn't grow up eating a lot of processed food, I wouldn't exactly say we had a healthy diet—I thought all vegetables should be served with cheese melted on top. When I moved to New York and started living on my own, I realized that in order to fit in the sample sizes, I had to figure out how to take care of myself.
It started with exercise. Even though aerobics were the exercise of choice for most of my friends, I found a trainer in N.Y. named Radu. He taught me how to exercise and feel strong. I think when you are working out that hard, it's natural to want to carry over that good feeling by eating healthy. I started reading books and sometimes following more "fad" diets, but eventually I figured out what works for me. Besides avoiding "bad" carbs such as white bread etc., I try to be 80 percent good 80 percent of the time. I feel like that's an achievable balance. Obviously, the way I exercise, and the intensity of my exercise programs has changed over the years based on what is going on in my life. For instance, when my kids were little and I wasn't getting great sleep, I would give myself a break and have an easier workout. These days, I am including Pilates twice a week along with the treadmill and some strength training. My favorite way to get some exercise is to take a hike with a friend. Good for the body and soul!
Let's discuss your new eye serum from Meaningful Beauty, which launched last week. How is this serum effective specifically? What makes it stand out?
It's an instant pick-me-up. It has a special formula that includes our Melon Leaf Stem Cell technology, which helps support the natural production of collagen, and Osilift, to provide an immediate smoothing effect and hydrate fine lines and wrinkles. The serum also helps to firm the under-eye area over time. I love the applicator with the special tip which helps reduce puffiness. Personally, I keep mine in the fridge for an extra cooling effect on the eyes.
Is it strictly an eye serum? Do you need to add an eye cream after you apply the serum?
The serum is my go-to under-eye solution in the mornings. I use the Meaningful Beauty eye cream at night, but the thing that I love about the set of these products is that each woman can customize it to suit her needs and they get a feel for what combinations work for them.
While we are on the subject of eye care and skin regimens, there is a lot to be said about finding the right balance of diet, exercise, sleep, and water to make a lasting difference for a healthy complexion. Makeup helps too—to a different degree of course, especially in terms of coverage. What products are you using these days? In terms of coverage, do you have a favorite concealer?
Working from home certainly has reduced my use of makeup, although I still feel better with a touch of concealer, a little blush, and mascara and lip balm. Lately I have been using Oxygenating Foundation by Oxygenetix. I dab it on with my fingers where needed. It doesn't need to be powdered. I'm also obsessed with Jones Road Miracle Balm in Tawny. I use my fingers to apply to my cheeks and eye lids and lips—talk about one-stop shopping. Then, a quick sweep of Charlotte Tilbury mascara. I don't know if I will ever choose to wear more makeup again (unless I'm at a shoot)!
What's your morning skincare routine like? Have you kept it fairly structured during the pandemic?
Part of the reason I created Meaningful Beauty was to have a simple skincare routine that I knew was giving me everything I needed. Nothing much has changed during these pandemic days. I always use the Youth Activating Melon Serum (and now eye serum) and then top off with Meaningful Beauty Anti-aging Day crème with Environmental Protection—this protects my skin from blue light exposure from all my Zoom calls) and of course an SPF of 30.
Since I've had a bit more time these days, I find that I'm using our Intensive Triple Exfoliating Treatment more often. I use it before I shower, and I love waking up my face by using a prototype of our new MB Rose Quartz gua sha tool that's coming out this spring. Sometimes I use the gua sha to apply my day crème.
All of the disruptions to regular life can certainly be taxing. How have you handled stress and managed to stay centered during these uncertain times? How do you not lose your mind?
Every stage of life has its stresses, but this year has been particularly challenging for all of us. I am blessed not to have to worry about paying rent or putting food on the table, but the uncertainty and isolation has taken its toll at times. One of the biggest challenges for me personally has been the inability to make plans or to know what's next. I'm a big planner and love a schedule. I've had to let so much of that go. My coping strategy has been to maintain some semblance of my normal routine—getting up at the same time, exercising, getting dressed, etc. I've also had more time to develop a more regular meditation practice. I have found this great for just being in the moment and calming my mind.
Pre-Covid, did you get facials regularly?
Pre-Covid, I did get facials regularly, about once a month from Cristina Radu in L.A. She uses micro-dermabrasion. Obviously, that changed when everything shut down. I did find that I didn't feel like I needed it as much, as I wasn't working or wearing makeup. But I do miss the pampering.
Are you a fan of retinol, or even the yearly peel that so many women get this time of year?
I am a big fan of retinol—especially for cell turnover. The Meaningful Beauty Age Recovery Night Crème contains both Retinol and our Melon Extract. Dr. Sebagh helped educate me that nighttime is the perfect opportunity to rest and repair you skin.
Are there certain supplements for wellness and your complexion that you use consistently?
I do take several vitamins and supplements under the direction of my doctor for things like joint health, etc. I am excited that Meaningful Beauty is coming out with our first supplement this Spring called "Beauty Sleep." This supplement will support both better sleep and your skin by increasing hydration and elasticity.
Related: Cindy Crawford Doesn't Believe In Keeping Good Beauty Secrets To Herself