A Mother's Day
Citizens of Humanity hosts a screening of Christy Turlington's new film.
---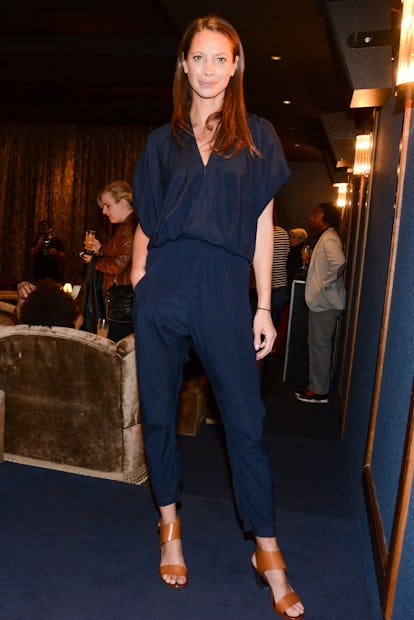 On Wednesday night, Citizens of Humanity hosted an intimate screening at Soho House of two inspirational short films, one directed by Christy Turlington and the other by Roger Ross Williams. "Every Mile, Every Mother," the model-advocate's documentary, follows her as she and members of her charity, Every Mother Counts, tackle Oregon's Hood to Coast marathon relay race in order to raise awareness about the distance some young mothers must travel to get access to maternal care. After the film, Turlington graciously answered questions from the audience, which included Dree Hemingway and Karlie Kloss—and agreed to answer a couple of ours.
Your last film told stories of people who are inspiring. Who most inspires you in your personal life? I view every person I meet as a potential teacher, but it's probably my children who inspire me to continue to do the work that I do for others.
Who is on your list of inspiring people you have yet to meet? I would love to meet Sonia Sotomayor someday. She seems like a cool lady, and she is a New Yorker.
How did you begin working with Citizens for Humanity? Last year I was invited to be featured in their "Just Like You" series. They traveled down to Haiti with us to film it, and we started to think of other ways we could collaborate. We talked about doing a short film and because we were planning to run the Hood To Coast relay for Every Mother Counts later in the year we decided that that would be a good experience to film. We have also just launched a product partnership with them for Mother's Day. A percentage of sales from a few of their most popular Maternity Jeans styles will now benefit EMC. We couldn't be happier about the way this relationship has evolved.
Since founding Every Mother Counts, what do you consider your biggest success? I am so proud of the growth of our small organization over such a short period of time. To think that my birth story has touched so many others already and that what we are doing is inspiring more people to join the effort is just so meaningful to me. I want us to continue to grow to reach many more but I want to do that very carefully. I am not afraid of making mistakes personally but when you work on behalf of others, the stakes are just too high.
What motivates you as an advocate? I experienced a childbirth-related complication when I became a mom that many women don't survive. I am advocating that every mother have the same chance to survive as I did.
It's almost Mother's Day. How are you celebrating? I like to think that every day is Mother's Day. Every Mother's Day 800 women die bringing life into the world, and that's not just on Mothers Day, its every day. But the good news is, 90 percent of these deaths are preventable. That's something we can celebrate. But we need more people to be aware of this so we introduced our Every 2 Minutes campaign, which is designed to educate and engage others to be part of the solution. The campaign provides a lot of great ways that people can take two minutes to take two actions to help raise awareness and spread the word, which is detailed on our site.
Christy Turlington. Photo by BFAnyc.com.
Karlie Kloss. Photo by BFAnyc.com.
Dree Hemingway. Photo by BFAnyc.com.
Colleen Atwood. Photo by BFAnyc.com.
Kassia Meador. Photo by BFAnyc.com.