Claire Danes Expecting Her Second Child With Husband Hugh Dancy
She's "deep" into her second trimester.
---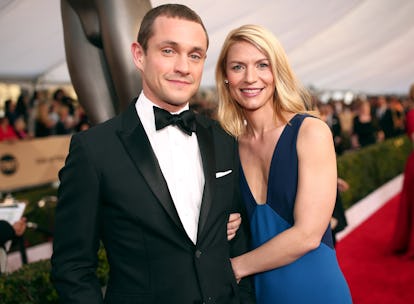 Christopher Polk/Getty Images
Congratulations are in order for Claire Danes and husband Hugh Dancy. The Homeland actress revealed that she is pregnant with her second child on Howard Stern's SiriusXM show on Wednesday. "I am pregnant. I'm seriously preggo … I'm deep into my second trimester," 39-year-old Danes said, per People.
When Stern asked if the pregnancy was a surprise or planned, Danes replied that she and Dancy were trying to get pregnant. "Yeah, this was planned," she said. "We've been wanting another kid for a while, and it happened." Despite revealing this personal news, Danes says she is keeping the baby's sex a secret.
Danes and Dancy, 42, met while filming the 2007 movie Evening in Rhode Island and became engaged in 2009; the two were married later that same year. Their son, Cyrus, who is now 5, was born in December 2012. One year after Cyrus was born, Danes spoke to Elle about motherhood and her decision to wait to have kids. "I've always wanted to have kids, but I'm glad I didn't until now," she said. "When I was thinking about [working and being a mother] originally, I was really nervous about it … I think I would make a lousy stay-at-home mom. It just wouldn't suit me. I feel so fortunate, in that I've had this arrow-straight focus … that I wanted to act."
The My So-Called Life star also heaped praises on her husband. She said, "Hugh was just the right partner for me. I got very, very lucky. There's only so much credit you can take when it just sort of works, you know? And obviously we work hard at maintaining our relationship—that is central to both our lives—but at the same time, it's just this kind of ease that I can't really account for."
Related: Claire Danes Loves Frank Ocean Just as Much as You Do
Claire Danes's Style Evolution
Angela Chase, Claire Danes's character in "My So-Called Life," was an icon to teenage girls everywhere. And in 1995, no moody teen was immune to Chase's signature dark lips and hair—not even Danes herself.
Photo by Getty Images
Danes scored her first major film role in Baz Luhrmann's "Romeo + Juliet" and feted the part with an appropriately dramatic silk jacket and gown, and spiked updo.
Photo by Getty Images
But the actress showed off a more refined style in a pale blue dress when the film was nominated for an Oscar later that year.
Photo by Getty Images
Danes epitomized late-'90s style at the 1999 VH1 Vogue Fashion Awards in an ivory sequined tank top, satin ankle-length trousers, low-heeled sandals, and—are those butterfly clips?
Photo by Getty Images
No A-lister's style evolution would be complete without a chic black dress moment. Danes chose this number for the Costume Institute Benefit Dance in 2003 with, what else, a classic red lip.
Photo by Getty Images
The actress continued her undefeated red carpet streak at the 2009 SAG Awards in a crimson Nina Ricci gown, Jimmy Choo sandals, and timeless Fred Leighton jewels.
Photo by Getty Images
Danes's red carpet charm comes from her ability to make even the most glam gown look effortless. Exhibit A: The Calvin Klein Spring 2011 dress she wore to the 2011 Vanity Fair Oscar Party.
Photo by Getty Images
The actress wowed in a red Versace dress and bold curls as she took home an award for her role on "Homeland" at the 2013 Golden Globes.
Photo by Getty Images
By 2015 Danes's appearance on any Best Dressed list seems like a given—her feathered Valentino gown at the 2015 Golden Globes being just one stunning recent example.
Photo by Getty Images