Clara Molloy on The Secret Lives of Perfumers
The Memo Paris co-founder and and renowned perfumer tries to capture the essence of real and imaginary places with her fragrances.
---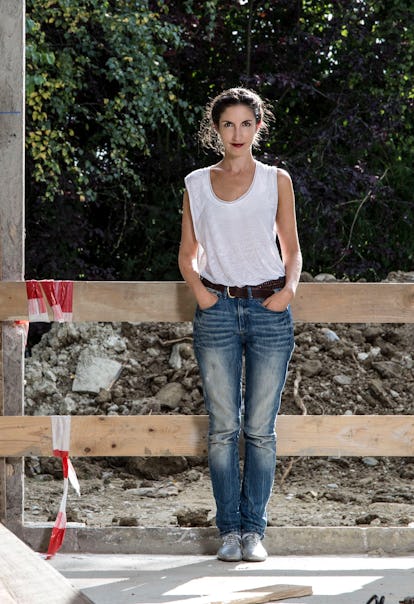 For Clara Molloy, co-founder and creative director of the fragrance company Memo Paris, travel and scent go hand in hand. After editing a book on the creative process of perfumers, she and her husband launched Memo in 2007, in hopes of capturing the essence of a place—both real, and imaginary. Moon Fever, for example, is the supposed smell of the lunar surface, while Ilha do Mel was inspired by an island off the coast of Rio de Janeiro. Here, Molloy shares her five-minute beauty routine, her first olfactive memory, and her favorite scent right now.
How did you first become interested in fragrance? When I was very young, I saw an ad for a woman's perfume, Fidji by Guy Laroche, and asked my mother for a bottle. I was so impressed by the image and ultimately persuasive in my desire for it that she kindly gifted it to me, but she was clever enough not to let me wear it just yet. For me, wearing perfume became a symbol of my femininity, something a bit (but not too) forbidden.
Fidji was inspired by the Pacific Islands, right? Has scent always been emblematic of a place for you? Yes, my first memories are olfactive. One of my most distinct childhood memories is when I traveled to Spain and suddenly caught the smell of the air full of pine and sea. Since then, scent has always represented memory for me.
You just opened your first store in Paris, congrats! How would you describe 24 Rue Cambon if it were a fragrance? Elegant, sophisticated and unpredictable like Memo Paris' French Leather.
Are there any discontinued scents that you mourn? Almost all of the classics! Particularly some gorgeous vintage Guerlain scents. Sadly, their formulas have changed over the years.
How do you find that fragrance designers and perfumers usually wear scents? Perfumers are often the worst people to wear fragrance! You can't wear one as you create a new scent because you won't be able to smell all the individual notes.
And when you do, which fragrance from your own line do you usually reach for? I enjoy the freedom of changing from one perfume to the other within Memo's collection. Sometimes, I wear the same scent for a long time, and sometimes I change it up frequently. That all said, for the past month I've fallen in love with Marfa, our newest scent from our Land Art Collection.
What's your five-minutes-or-less beauty routine? One kiss, one prayer, one splash of perfume, one swipe of mascara. I adore Lancôme Hypnose mascara – it creates so much volume that it's as if I have 1,000 lashes!
And if you had ten more minutes, what would you do? I would take the opportunity to just relax while pampering myself with a luxurious face mask. I love to use the Sisley Black Rose Cream Mask, it is such an indulgence and instantly makes my skin feel beautiful. Or, I would read a poem, call my mother to catch up, or just cuddle with our cat!
Are there any ideas that you disagree with beauty-wise? When people believe that there is only one kind of beauty, or that beauty is what would make someone love you.
What are your current obsessions? Learning how to do a flip underwater when swimming, poetry by the Polish Nobel Prize winner Wislawa Szymborska, making blue cookies with my children.
The 10 Best Fragrances of All Time
Lauren by Ralph Lauren Affluence in a bottle. That's exactly what this green, jasmine and carnation scent evoked when my preppy (and affluent) friend Kim wore it in college. And getting my hands on a bottle was certainly more feasible than nabbing that Ralph Lauren cashmere sweater that Kim also wore.
Ralph Lauren in 1977, a year prior to Lauren by Ralph Lauren's release. Photo by Getty Images.
Diorissimo One of my first bosses wore this bergamot, lily of the valley and civet scent. It epitomizes sophistication to me, and I still wear it to black tie shindigs.
Diorissimo in Vogue, 1964. Photo by Getty Images.
L'eau D'Issey One of the pioneers of the 90s Ozonic fragrance explosion, this mix of lotus, freesia and melon is like wearing eau d'ocean. L'eau D'Issey by Issey Miyake. Photo courtesy of Issey Miyake.
Carolina Herrera by Carolina Herrera A diminutive fragrance, this is not. That said, orange blossom, honeysuckle and tuberose have never sparkled as beautifully together as they do here.
Carolina Herrera by Carolina Herrera. Photo courtesy of Carolina Herrera.
Chanel No. 19 I'm not really a No.5 type, but when I found this green, galbanum and vetiver mix, I knew I'd found my number, as it were.
Chanel No. 19 by Chanel. Photo courtesy of Chanel.
Calèche by Hermès To me, the blend of neroli, ylang-ylang and oakmoss is like a Birkin bag in a bottle.
Calèche by Hermès in Vogue, 1964. Photo by Getty Images.
Lys Mediterranée by Frederic Malle Thou might covet thy friends' fragrance, but it can be tricky to actually steal it and wear it yourself. When I smelled Lys Mediterranee on a friend, it really did smell as if it were made for her, so I found another Malle scent to wear. But this will always be my favorite of his.
Lys Mediterranée by Frederic Malle. Photo courtesy of Frederic Malle.
Privet Bloom The very cool thing about Privet Bloom is that it was born in a sunscreen, scenting Hampton Sun tanning products. The linden blossom, gardenia and lemon verbena fragrance was loved so much, customers begged for a stand-alone creation. Thank goodness for pushy consumers.
Privet Bloom by Hampton Sun. Photo courtesy of Hampton Sun.
Le Labo Here's another pushy customer story, this one from yours truly. When Le Labo first launched, I became so obsessed with their Santal 26 candle that I begged and begged for them to turn it into a fragrance. I remember the day they told me my wish had been granted. I'm sure I'm not the only one, but I do enjoy believing—and implying—that I am personally responsible for Santal 33's genesis.
Le Labo Santal 33. Photo courtesy of Le Labo.
Bois D'Encens by Armani Privé These days I'm all about fragrances that smell like fireplaces, old churches or libraries. This leathery mix of incense and woods evokes all three to me.
Bois D'Encens by Armani Privé. Photo courtesy of Armani.