Music Video Premiere: Clay's "Forgotten How to Fly" Is an Important Reminder to Take Care of Yourself (Exclusive)
An intimate bedroom visual for an intimate song.
---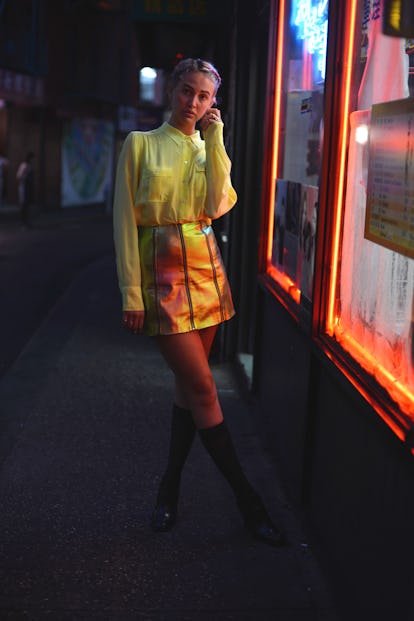 As with all good ideas, the melody for "Forgotten How to Fly" came to Gabrielle Walter-Clay in the shower. Walter-Clay, who records as Clay, had begun writing the track's spoken-word passages more than a year ago, and, like her single "Wild Thing/3's a Crowd," the resulting song comprised different pieces that eventually coalesced in the studio earlier this year. Recorded as a demo, Clay and her guitarist decided to release the rough take, in which she croons over a sparse electric guitar line, as the final track.
"It's definitely so self-reflecting that I think recording it again would take some of the authenticity away," Clay, 23, said recently over the phone from Los Angeles. It was more than a year since our first meeting (for dim sum) in New York, and more than a year since we premiered her previous single, "Follow Me Down." "I don't mind little hiccups—I kind of like it when something's not perfect," she added.
The sheer rawness of the track complements its themes. Written over the course of an embattled year—personally as well as politically—"Forgotten How to Fly" finds Clay reasserting herself, focusing her energy inwards on "self-love and self-preservation," she said. "This year has been really tough for a lot of people. Coming back to that place of peace within the self is the only way to find peace outside of the self." The title, theb, implies a position of vulnerability, as well as a defiance of reality, and the result is a renewed focus on self-care: "I guess it's proven that we can't fly, physically," she said, laughing. "I suppose."
Clay spent the past year since the release of "WildThing/3's a Crowd" writing and recording, and around the time she decided to release "Forgotten How to Fly," she also decided to make a video for the track, which premieres exclusively here. The video opens in soft focus in Clay's L.A. bedroom, the only sound her quiet breathing as she lies in bed. The sunflower painted on one wall is recognizable to anyone who follows her Instagram; it's a nod to her #SoulfulSunday videos, in which she performs stripped-down covers of jazz standards as well as the likes of Kendrick Lamar and SZA in front of that sunflower. It's definitely "not glamorous," she said, and simply a snapshot of daily life: She throws on a robe, also illustrated with sunflowers; she roots around in a dresser drawer; and she pages through a paperback copy of Letters to a Young Poet by Rainer Maria Rilke.
The video was shot last month by a creative team that includes director-slash-cinematographer-slash-editor Kanya Iwana and creative director Danna Takako, and comprised entirely of women of color. At one moment, when they all gathered in her bedroom to begin shooting, Clay looked around in wonder. "This is what I dreamed for my creative, collaborative team to look like," she realized. A previous iteration of the concept for "Forgotten How to Fly" didn't feature Clay at all—so placing herself at the center of the visual was felt momentous. To her, this was the most honest way to express the intimacy, as well as the personal catharsis, of the song.
"People sharing themselves, and sharing their hard stories, it strips you raw," she said of releasing the track in the current social and political climate, when each day, women are unmasking even more sexual misconduct. There's a certain measure of power in being able to step back from everything for a minute and turn inwards.
"Trauma looks different for everyone," she said. "Therefore, healing looks different for everyone." This is what it looks like for Clay.
See what's trending on W video: