Coachella 2018 Is Full of Potential Dream Collaborations
Expect lots of hip hop, more women and potentially a few dream collaborations on stage this year.
---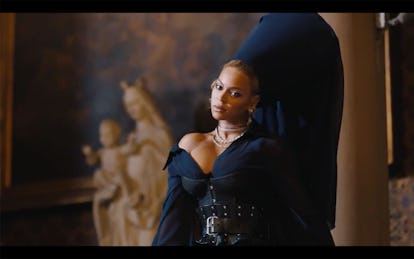 Courtesy of Tidal
With headliners Beyoncé, Eminem and The Weeknd, the Coachella 2018 lineup is already looking like a winner. On the weekends of April 13-15 and 20-22, thousands will flock to Indio, California for the yearly pilgrimage of watching nearly 150 artists perform, nonstop partying and sporting some unmistakable festival style.
The Weeknd will kick off the festival as the headliner for the Friday shows, followed by a mix of Coachella first timers and veterans—but highly anticipated acts nonetheless—like SZA, St. Vincent, Daniel Caesar, The War on Drugs, Haim, and Kelela. After last year's announcement that she would be delivering twins Rumi and Sir Carter, Beyoncé had to cancel her Coachella appearance and was replaced by Lady Gaga. This year, however, she will be headlining for Saturday on both weekends, and Eminem will close out the festival on Sunday.
What's notable about this year's lineup is its increase of female performers (the festival has caught flack in the past for not booking enough female performers, but especially for not bringing in women to headline the shows), and the heavy emphasis on R&B and hip hop performers (Cardi B, 6LACK, BROCKHAMPTON and Tyler, the Creator are all scheduled to perform). The 2018 Coachella lineup also opens up a space for some dream collaborations, as many of the performers have successfully collaborated in the past. It's almost a rite of passage to collaborate on stage at Coachella—Kendrick Lamar was joined last year by Future and Travis Scott, the infamous Tupac hologram appeared alongside Snoop Dogg in 2012 and Gwen Stefani once hopped on the stage with Pharrell—so this year we should expect to see at least one good onstage collaboration (and hopefully a certain girl group reunion with one of the headliners).
Cardi B and Migos teamed up more than once in 2017 for a smash hit, David Byrne and St. Vincent have recorded an entire album together, and Tyler, the Creator's producing fingerprints can be heard all over the work of many others on the lineup, so it's safe to say that if any of those collaborations were to metabolize onstage at the festival this year, crowds would surely be more than pleased. The one collaboration that probably shouldn't happen is one between Eminem and Beyoncé—Queen Bey may have graciously lent her vocals to Eminem's 2017 single "Walk on Water" but that doesn't mean any of us actually want to listen to that song performed live; listening to it once on Eminem's new album was more than enough.
Related: A Look Back At the Wildest, Most Over-the-Top Parties of 2017