Inside the Coco Chanel Retrospective at Palais Galliera in Paris
Gabrielle "Coco" Chanel's history, legacy, and fashions are on display in a new, expansive exhibition at the renovated art museum.
---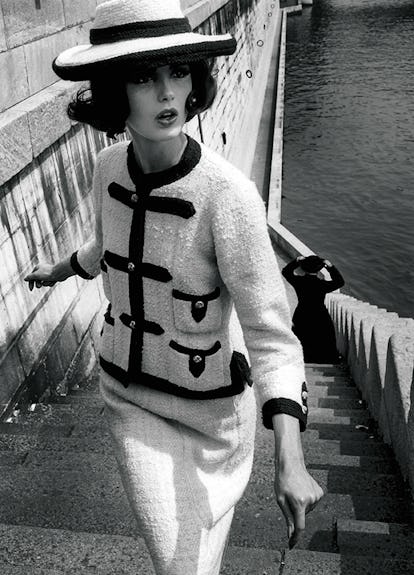 William Klein. Dorothy and Little Bara dressed as a priest. Published in Vogue Paris, October 1960
The Palais Galliera in Paris is the city's foremost fashion museum; retrospectives honoring Givenchy, Balenciaga, and Jeanne Lanvin have all appeared within the art museum's walls. Now, after undergoing a two-year renovation, the Palais Galliera is reopening to the public—during Paris Fashion Week, no less—with a retrospective honoring French designer Coco Chanel on October 1.
Gabrielle Chanel, Fashion Manifesto traces the career of the designer who broke the glass ceiling in fashion design. Over 350 dresses, accessories, and jewels are on view until March of 2021, alongside a room devoted to her trademark scent Chanel No. 5, as well as old photos, purses, and shoes.
It's what the museum's director Miren Arzalluz calls the moment when 20th century women were freed from constraining corset-like garb. "It was a new kind of elegance based on freedom of movement, a timeless style for a new kind of woman," she said. "This was Chanel's 'fashion manifesto.'"
Upon entering the renovated museum, the main galleries and front entryway don't look to be wildly reimagined. But a new lower-level gallery (aptly named "Galeries Gabrielle Chanel") adds 6,000 square feet of exhibition space, which (after the Chanel exhibit closes), will showcase the history of fashion from the 18th century onward—over 200,000 garments currently in the Palais' possession will be on display.
But back to Chanel. This chronological exhibition is divided into ten chapters of her life as a couturière, each accompanied with a portrait of Chanel throughout the years, from the 1930s—when she ruled the fashion scene—to the trippy 1960s (she passed away in 1971 at 87).
The exhibit traces her humble beginnings, from opening a hat shop in 1909 on Boulevard Malesherbes, to her first fashion house in 1915, during the First World War. There are some of her earliest designs, still in pristine condition, like her 1916 marinière (the sailor blouse), dresses from the Roaring Twenties, and her trademark little black dress.
Where it really shines, though, is her fashion throughout the 1930s, from gloves to purses and dapper two-piece outfits that set the tone for the extravagant, prewar Europe. "Chanel created first and foremost for herself," said Arzalluz. "By designing clothes for an independent and active woman, she knew more than anyone how to anticipate and meet the expectations of the women of her time; she paved the way for a new feminine elegance."
But rather than focus on the scandals of her life—including, but not limited to: her apartment in the Ritz Paris, how she managed to survive as a entrepreneur during two world wars, and how she cooperated with the Germans as a spy during the Nazi occupation of Paris (and dated Nazi intelligence officer Hans Günther von Dincklage)—the museum wanted to focus on the high-quality nature of her work.
"We chose to focus on the work of the seamstress who became one of the most influential fashion designers of the 20th century," said Arzalluz. "We wanted to look at her professional career, the development of her style, and her contribution to the history of fashion."
The exhibition also details how Chanel went against the grain for her time. Male fashion designers of that era decided how women should look—that is, until she came along. French fashion designer Paul Poiret, for one, who dressed women in sultana skirts in the 1910s, went bankrupt when Chanel came along, as she shifted the conversation of fashion from elaborate dresses to simplicity and comfort. "She was totally at odds with the fashion of her time, which was run by a stereotyped image of femininity," said Arzalluz. "Her style was based on comfort and respect for the female anatomy, but also, on the chic elegance of her designs—Chanel avoided unnecessary decoration."
Though World War II forced Chanel to shutter her shop, it wasn't until the 1950s, when Christian Dior opened his house with his "new look" dresses, which were a return to the feminine hourglass figure, that Chanel was quick to return. Even though she was over 70 years old in 1954, she revisited couture, relaunching her fashion house to take a stand against the fashion of the time, to keep fashion moving forward.
"Chanel, in a nutshell, is casual," said Arzalluz. "Casually in the way we present ourselves to others, a form of chic that is never too much."
Chanel was often associated with women's liberation for giving freedom a sense of elegance. She not only designed simple clothing, but with nontraditional details—like pockets, freeing a woman from her handbag. "Her clothes combined the ordinary and the elegant, masculine and feminine," she adds.
The room dedicated to No. 5, the scent Chanel introduced in 1921, is lined with bottles, as an audio clip of Marilyn Monroe from a 1952 interview plays on a loop. "I wear nothing to bed but five drops of Chanel No. 5," says Monroe, giggling. "I don't want to say nude, but it's the truth." The scent debuted during a time when perfumes were mainly floral and packaged in ornate Art Deco packaging, making Chanel's approach radical, and influential for the cottage industry of celebrity perfumes.
The exhibition that continues downstairs feels like a vault of gold jewelry. Hundreds of necklaces, rings, and pendants are on view, alongside her trademark 2.55 handbag from the 1950s. The ornate jewels Chanel used were a contrast to her minimal style, mixing up gold with costume jewelry. "She gave costume jewelry a new status, she also made accessories essential to the Chanel look," said Arzalluz.
Perhaps one quote from Chanel sums up her simple style, her approach for the modern woman: "It is the material that makes the dress and not the ornaments that can be added to it."
Related: Chanel Muse Alma Jodorowsky on Life at Home, the Paris Protests, and Making Music for Herself