Cody Simpson, Surprising Renaissance Man, Qualifies for Olympic Swimming Trials
He's a poet, a Masked Singer, and now he might be headed to the Olympics. What can't he do?
---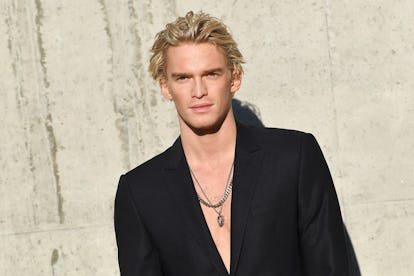 Photo by Jacopo Raule/Getty Images
Who is Cody Simpson, exactly? Well, maybe the question is, who isn't he? The former Australian teen idol has had one hell of a 2020. He had that entire relationship with Miley Cyrus, released his debut poetry book, was propelled by winning Australia's version of The Masked Singer in 2019 (yes, the one judged by Lindsay Lohan) to start releasing solo music again, and somehow has now found time to qualify for Australia's Olympic swimming trials. At least someone has used the disastrous year to actually find time to pursue all their hobbies.
Simpsons is the son of two competitive swimmers, and grew up competing quite successfully in the sport, but eventually his athletic goals took a backseat to his youthful quest to become something like Australia's Justin Bieber (he had some international hits and dated Gigi Hadid for a few years). At 23, however, Simpson has doubled down and achieving his other childhood dream. For more than a year now, he's been intensely training.
Back in October 2019, he made his return to competitive swimming by taking part in a meet at the University of Southern California representing the Trojan Swim Club-CA. He's since returned to his motherland where he's been training under coach Brett Hawke.
Apparently that hard work has paid off.
"I just qualified for my first Olympic trials," Simpson wrote on Instagram Saturday.
"Growing up competing, and then inevitably having to cut my career short as a 13-year-old Australian champion when I was given an opportunity in music that I couldn't refuse…Now almost exactly 10 years later, here I am once more," he continued. "After only 5 months back in the water with my incredible coach @hawkebr, I was able to take out a win and secure a spot at next year's Australian Olympic trials in the 100 fly."
"It is my greatest ambition to expand the limit and perceived notion of what's possible for someone to achieve in a single lifetime, and I'm here to tell you can do absolutely ANYTHING if you are willing to work for it."
We appreciate the sentiment, although many don't have the time or resources to pursue even one life goal. Still, it's impressive.
Though, there's no guarantee Simpson will actually wind up competing in the Olympics. Australia has one of the most successful swim programs in the world; second in total medals only to the United States. It's a country with warm weather, lots of beaches, and a whole lot less social stigma about wearing a speedo. Of course, they're going to crack out competitive swimmers at roughly the same rate they crack out Oscar-winning actresses like Nicole Kidman and Cate Blanchett. Making their team is no small feat even for the most seasoned of athletes.
Simpsons will, however, get his chance to prove himself now at the official Olympic Trials in June in Adelaide.
The 2021 Summer Olympics in Tokyo had been postponed one year due to the global pandemic, but are, for now, slated to be held starting in late July.