Cole Sprouse Posted His First Photo of Himself and Lili Reinhart Together
Issa relationship milestone!
---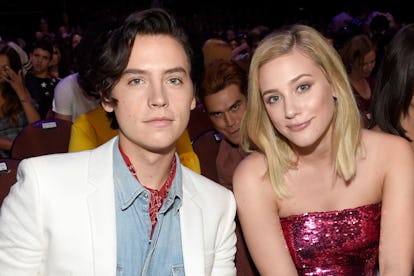 Kevin Mazur/Fox/Getty Images
"It's pretty, pretty late," Cole Sprouse captioned his latest Instagram picture of himself going in for a kiss with girlfriend Lili Reinhart. That could be a reference to the time, or the fact that it's pretty late in the low-key relationship for Sprouse to be posting his first actual photo with girlfriend Reinhart in his feed. Yes, the Sprouse-Reinhart union is finally grid official, months after they made it red carpet official at the Met Gala.
The photo arrived online just a few hours after Reinhart broadcast her own message about the increasingly public couple's cuddling habits. On Sunday evening, she tweeted, "Fashion week is great and all, but have you ever spent a rainy weekend inside cuddled up with your bae?" Fans of the duo, of which their are many, wasted no time sharing their ecstatic reactions to both posts. "Iconic. broke the internet. legends. otp. breathtakingly beautiful. extravagant. astounding. mesmerizing. truly amazing. wOw," one person commented on the photo, while Sprouse's onscreen dad, Skeet Ulrich, wrote, "Great moment, remembered forever!" The replies to Reinhart's tweet, meanwhile, were mostly flooded with Riverdale reaction GIFs of the duo.
Though Sprouse has posted many gorgeous shots of Reinhart on his Instagram before, this marks the first one that includes him too. (Back in January 2017, he did repost a shot from a magazine spread about the entire Riverdale cast, but that hardly counts.) The peek inside his maybe-relationship comes just about a month after Sprouse announced that he'd be sharing "more personal photographs" on his page, a promise that he's clearly keeping.
For her part, Reinhart has uploaded quite a few cozy pics with Sprouse. Most recently, at the end of August, she posted a snap in which the two of them, looking chic as ever, stand in the middle of a street in Paris at sunrise. "6am," she captioned the photo, which has garnered nearly 4.5 million likes since its posting. Don't you just love love?!
Related: For Lili Reinhart, Her First Met Gala Is as Exciting as Her Wedding Day
Dylan Sprouse Prepares For His First Hugo Boss Show During New York Fashion Week
Dylan Sprouse at the NoMad Hotel before the BOSS show during New York Fashion Week Men's on February 7th in New York City. Photo by Shawn Brackbill for W Magazine.

© Shawn Brackbill
Dylan Sprouse at the NoMad Hotel before the BOSS show during New York Fashion Week Men's on February 7th in New York City. Photo by Shawn Brackbill for W Magazine.

© Shawn Brackbill
Dylan Sprouse at the NoMad Hotel before the BOSS show during New York Fashion Week Men's on February 7th in New York City. Photo by Shawn Brackbill for W Magazine.

© Shawn Brackbill
Dylan Sprouse at the NoMad Hotel before the BOSS show during New York Fashion Week Men's on February 7th in New York City. Photo by Shawn Brackbill for W Magazine.

© Shawn Brackbill
Dylan Sprouse at the NoMad Hotel before the BOSS show during New York Fashion Week Men's on February 7th in New York City. Photo by Shawn Brackbill for W Magazine.

© Shawn Brackbill
Dylan Sprouse at the NoMad Hotel before the BOSS show during New York Fashion Week Men's on February 7th in New York City. Photo by Shawn Brackbill for W Magazine.

© Shawn Brackbill
Dylan Sprouse at the NoMad Hotel before the BOSS show during New York Fashion Week Men's on February 7th in New York City. Photo by Shawn Brackbill for W Magazine.

© Shawn Brackbill
Dylan Sprouse at the NoMad Hotel before the BOSS show during New York Fashion Week Men's on February 7th in New York City. Photo by Shawn Brackbill for W Magazine.

© Shawn Brackbill
Dylan Sprouse at the NoMad Hotel before the BOSS show during New York Fashion Week Men's on February 7th in New York City. Photo by Shawn Brackbill for W Magazine.

© Shawn Brackbill
Dylan Sprouse at the NoMad Hotel before the BOSS show during New York Fashion Week Men's on February 7th in New York City. Photo by Shawn Brackbill for W Magazine.

© Shawn Brackbill