Lili Reinhart Makes Her Relationship With Cole Sprouse Instagram Official on His Birthday
See Reinhart's sweet, and less sweet, message to Sprouse for his 26th birthday.
---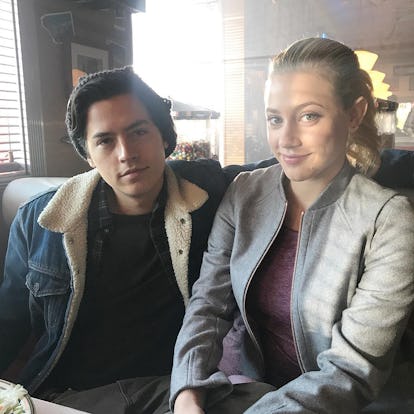 August 4 was a big day for birthdays. Meghan Markle turned 37 (while some friends of hers and Prince Harry's got married); Barack Obama turned 57; and Cole Sprouse turned 26. (As did his twin brother, mead operator Dylan Sprouse.) Only two of these, however, earned a shout-out from the Riverdale star Lili Reinhart.
On Saturday, Reinhart tweeted a screenshot from a Google search for celebrities born that day: "Born Today," it read, above photos of "Meghan Markle, Actress (37)" and "Cole Sprouse, Actor (26)."
"Happy birthday to the princess, and also to Meghan Markle," Reinhart wrote. Shortly after, though, she penned a far more earnest message to her Riverdale costar and reported boyfriend—after all, they walked the Met Gala red carpet together, which either means everything (Grimes and Elon Musk) or nothing at all (Hailey Baldwin, newly engaged to Justin Bieber, and Shawn Mendes), and they have vacationed together—that she posted to her Instagram the same day.
In the photo, Sprouse appears straddling the wall at the edge of a balcony, pointing at the camera. "It seems as if the world would still be a stranger to me, if not for you. I'm so thankful that our paths intertwined to form this beautiful adventure~," Reinhart wrote. And then: "Happy birthday, my love."
It's only natural that fans have interpreted this as confirmation, at long last, of their relationship. In the comments, fans have left notes like "SPROUSRHART IS CONFIRMED [sic]" and "when was bughead not real" and "That sounds like a confirmation!!!" Kiernan Shipka liked it. So did Sophie Turner and the designer Brandon Maxwell. Costar Madelaine Petsch wrote, "F U C K this is cute," while Vanessa Morgan wrote, "i love you guys," accompanied by many, many heart emojis. If Reinhart's own caption wasn't confirmation enough, the reactions of her Riverdale peers seem to point in the same direction. (Meanwhile, costar Camila Mendes wrote Sprouse a song, to the tune of Kanye West's "I Love Kanye," which includes the line, "I even locked lips with Lili, I thought I WAS Cole Sprouse!")
It might not be the first time the couple have dropped hints that they're a thing—no, that would probably be the Met Gala, despite its sometimes ambiguity—nor even the first time they've appeared on each other's Instagrams. But it is, apparently, the first time they've been so explicit about the matter. It's a day for celebration: many birthdays, and also a couple beloved by the Internet goes public.